It's Never Too Late to have your Perfect Wedding Ceremony
And this time, bring your children along!
March 1, 2016
Gloria Ang
When my daughter was four years old, she asked if she could see my wedding gown. As she watched me pull the ivory suit out of my closet, she didn't hide her disappointment.
"That's IT?!?" she exclaimed.
Well, yes.  That was it.  
When Bob and I were married, we were both students at UC Berkeley and had no funds of our own for a "real" wedding.  Our parents weren't willing to pay, either.  We came from different cultures.  According to my family's tradition, parents pay only for a wedding for a son.  And Bob's family tradition dictates that parents pay only when it's their daughter who is getting married.
So, I bought the ivory suit, and we had a civil ceremony at San Francisco's City Hall.  Jan, our mutual friend who had introduced us, was our only witness.  I don't remember if we used a disposable camera or a simple instamatic, but these are the photos we have: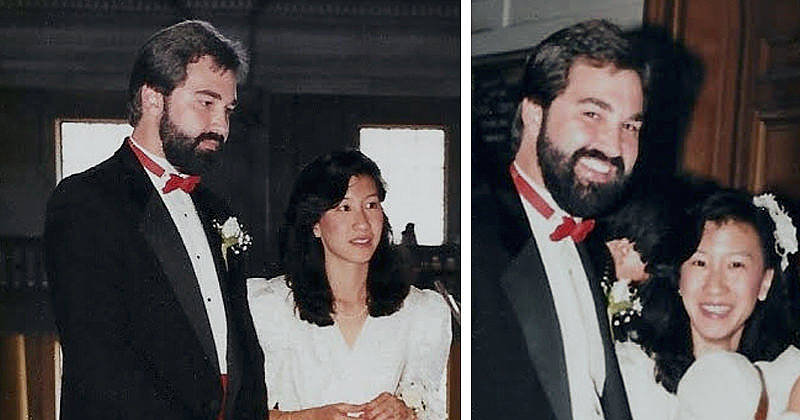 Flash forward twenty years from that day at City Hall.
I was always a little sad that I had never had the chance to wear a wedding gown nor had any real "wedding" photographs.  I enjoy scrapbooking and photography and did not have any wedding photos to create an album.  And — as so many moms can relate — when we travel, I am often the photographer and therefore I am rarely in our vacation photos.
So, I decided to do something special to celebrate our twenty years of marriage — a vow renewal ceremony in Hawaii.  I hired a photographer, and we had a beach wedding!!  
We are not into big or showy parties, but we love to travel.  A vow renewal with our children as our witnesses was perfect.   It was very personal, and I treasure this moment with my family.  What better way to show your love for one another than to renew your vows with your spouse — and include your children in the ceremony?  
Finally, we have beautiful pictures to create a "wedding" album.  
Now, the question is: what to do for our thirtieth wedding anniversary?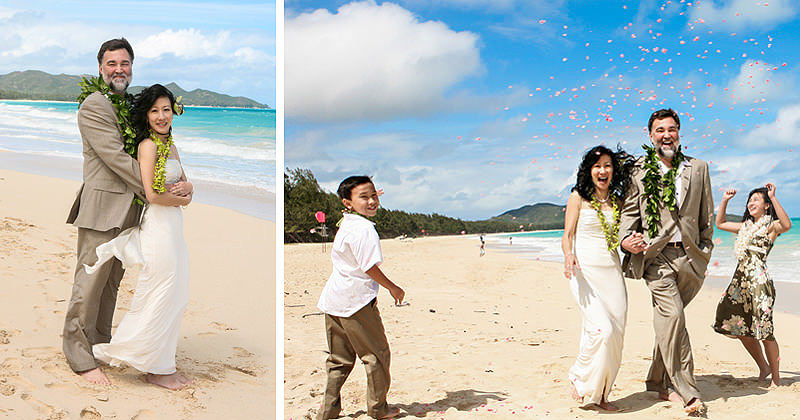 Thank-you to Picaboo Customer, Gloria Ang, for sharing your story with us!  
Did you find a way to amend, redo, or improve upon something from your past?  Do you have a great wedding or vow renewal story?
Or, do you have another story to share?  Tell Us Your Story