And She's Free, She's Free Fallin' …
Since she was a little girl, Emily has always sought out thrill rides. Here, she shares amazing pics — and even a short video — of her "thrill of a lifetime."
March 1, 2016
Emily Saltsman
Ever since I can remember, skydiving has been on my bucket list.  Even as a little girl I wanted to ride the tallest, fastest, and scariest rides at amusement parks.  
A few years back, we went to Las Vegas, and I rode the "Stratosphere Tower."  That's where they hang you off the side of the tip top of a building and spin you around.  Crazy as it may sound, I knew then and there that I wanted to be up in the sky, jumping out of an airplane!  
But I didn't want to try skydiving without my husband, Louie, and my dad joining me.  We are an adventuresome family, and I couldn't imagine doing this without them.
Louie and I were highschool sweethearts and have been together for ten years and married for four.  We don't have any children of our own yet, so I wanted to do this before we really settled down.
I am blessed that Louie cares for my mom and dad just as much as I do, and when we had the chance, we embarked on this skydiving adventure together.  My mother rode in the plane along with us and was able to watch each of us jump.
Have a look at the pics and video below to get a taste of our extraordinary family excursion: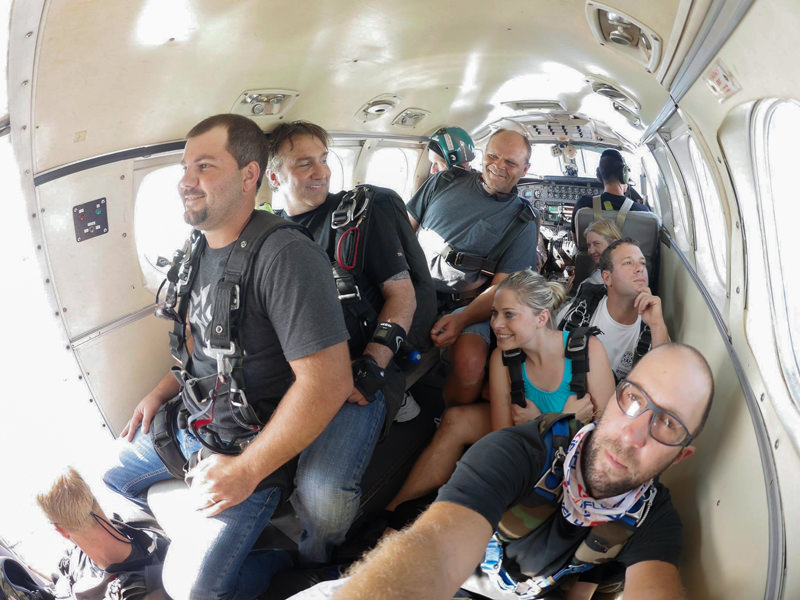 Riding high at almost 14,000 feet.  My dad and I are pumped!  Louie is pensive.  He can't believe I convinced him to do this.  See my mom peeking in the back there?  
I've been wanting to do this for years.  But as I glance out the open door, I start to feel all sweaty and panicky.  Oh my goodness!  What have I gotten myself into?  What have I gotten us into?!?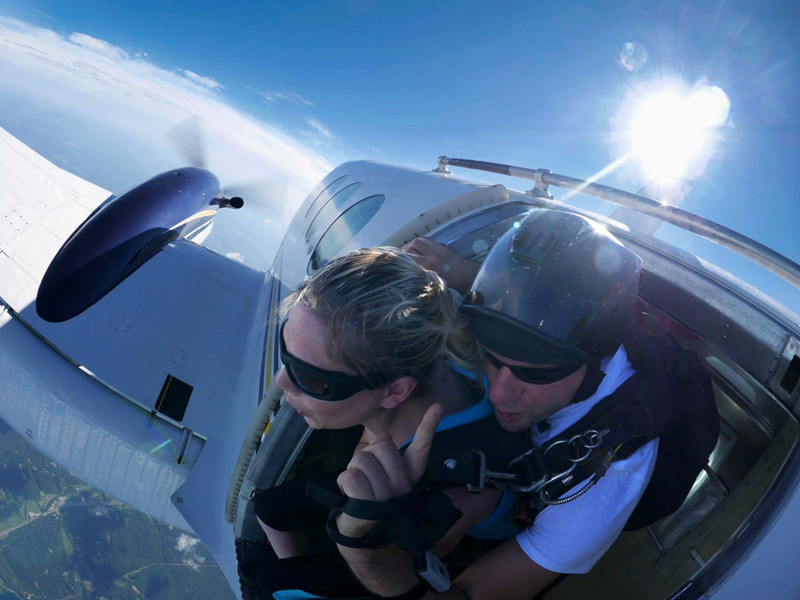 Uh oh.  I'm not sure I want to do this after all.  But there's no going back now.  And my tandem leader wastes no time. Three…. Two….. One…..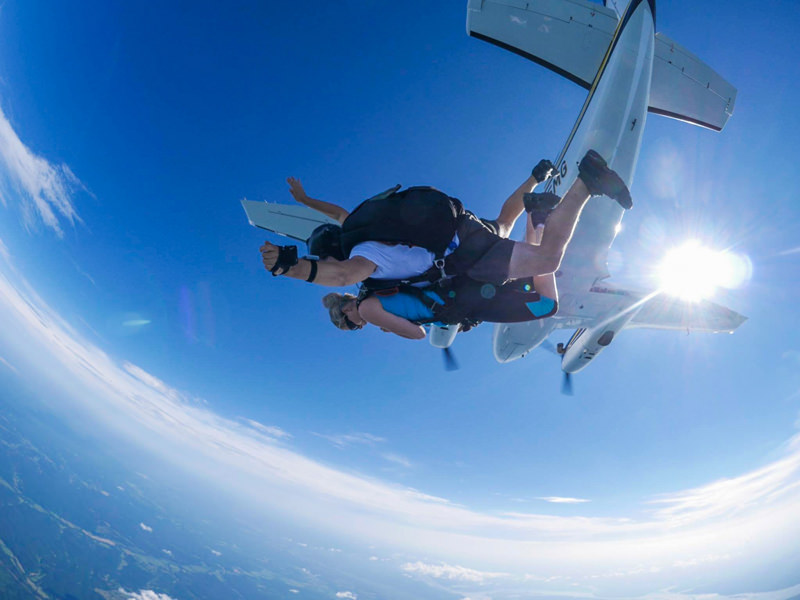 JUMP!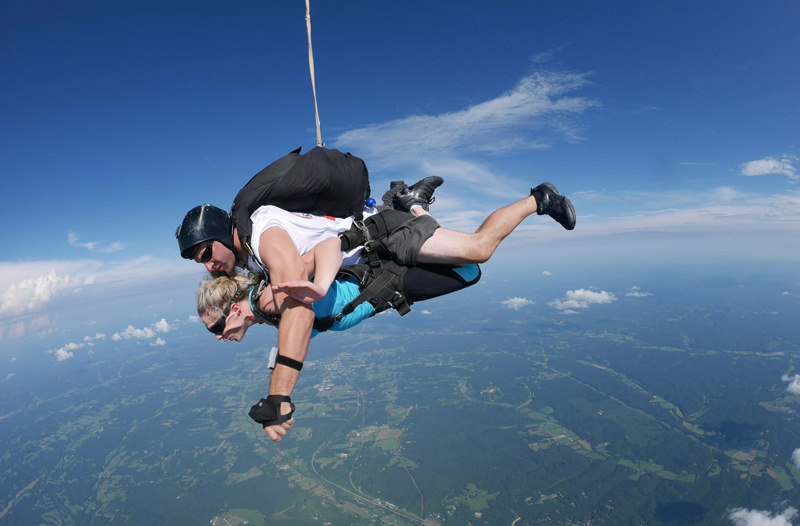 We're diving now!  Look at my floppy cheeks.  The wind is strong, and I am still feeling a bit panicked.  I'm not sure how I can catch my breath!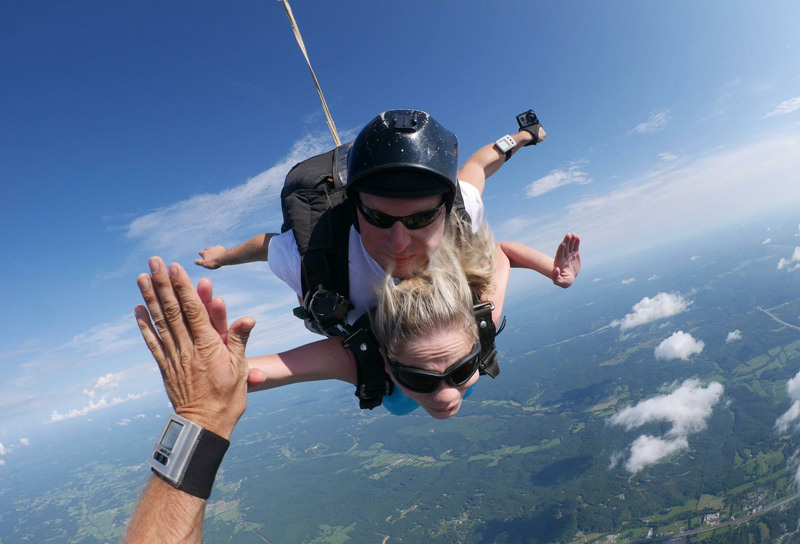 My teammate gives me a reassuring "high five" to remind me: I can do this!  I AM doing this!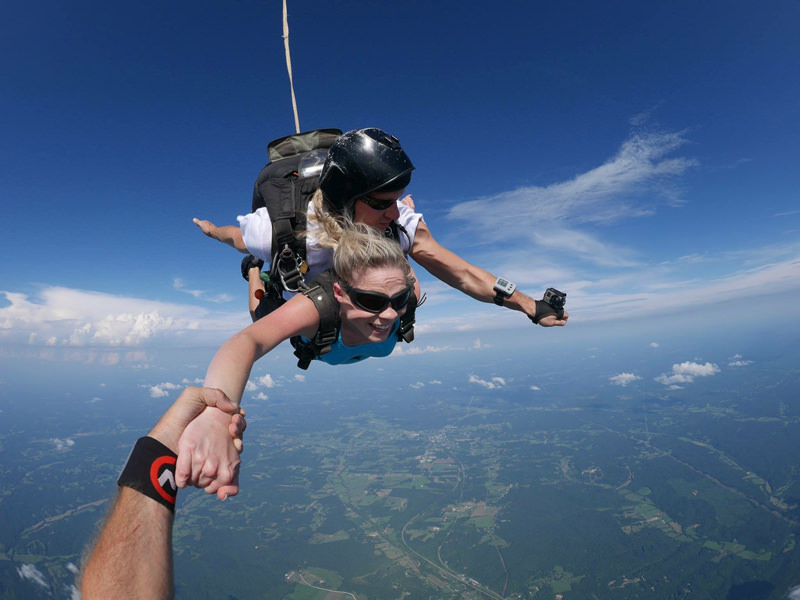 Weeeeeee!  This is my favorite pic from the adventure.  So exhilarating!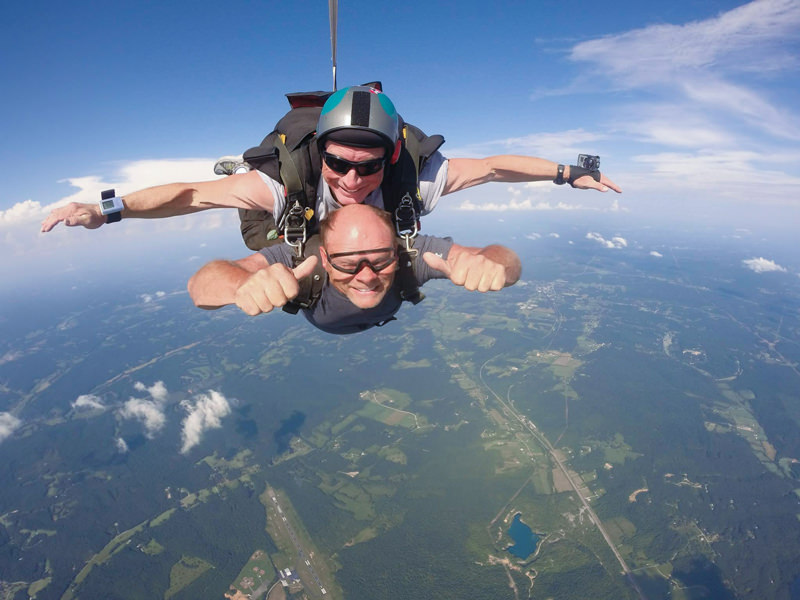 And here's my dad!  I'm so glad he's here.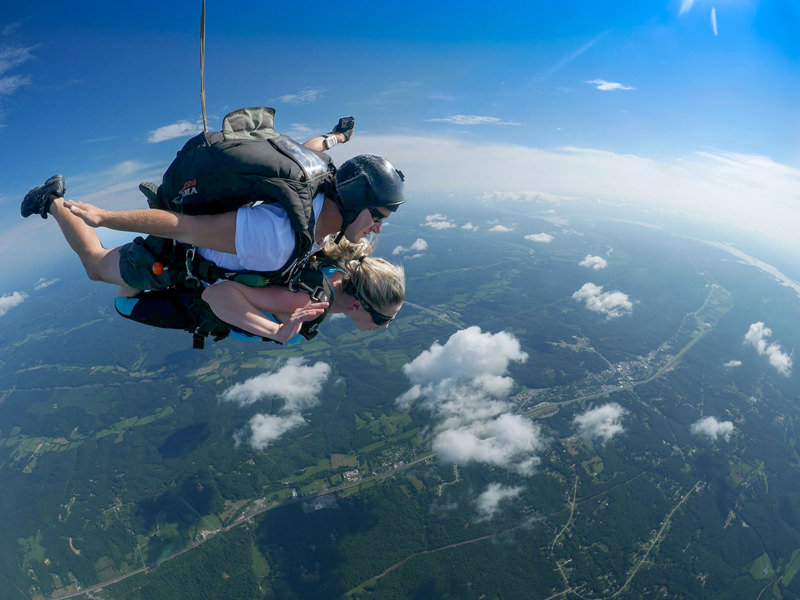 Look at the beautiful world below.  Simply Stunning.  I can't believe I'm doing this!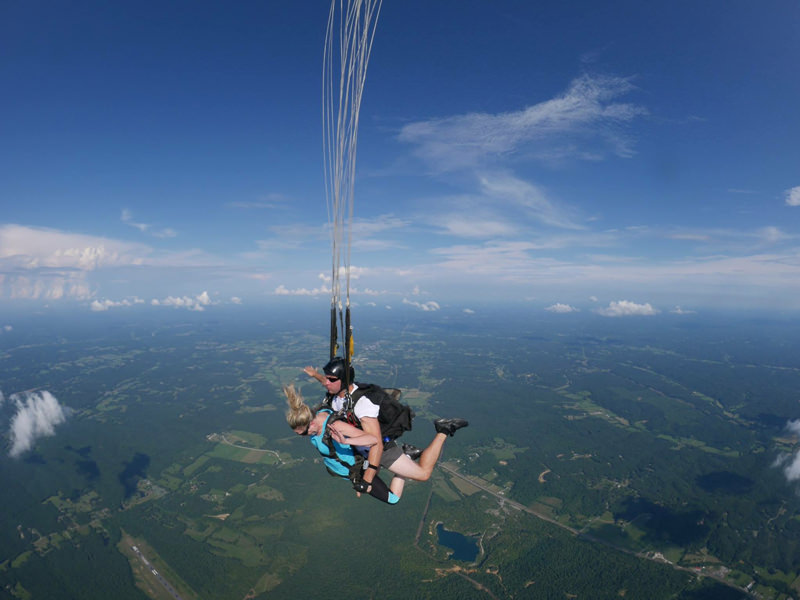 Before I know it, my tandem partner pulls the cord and opens the chute. Our bodies jerk down, and it hurts my chest.  But I feel better, because my panic subsides, and I find it easy to breathe again!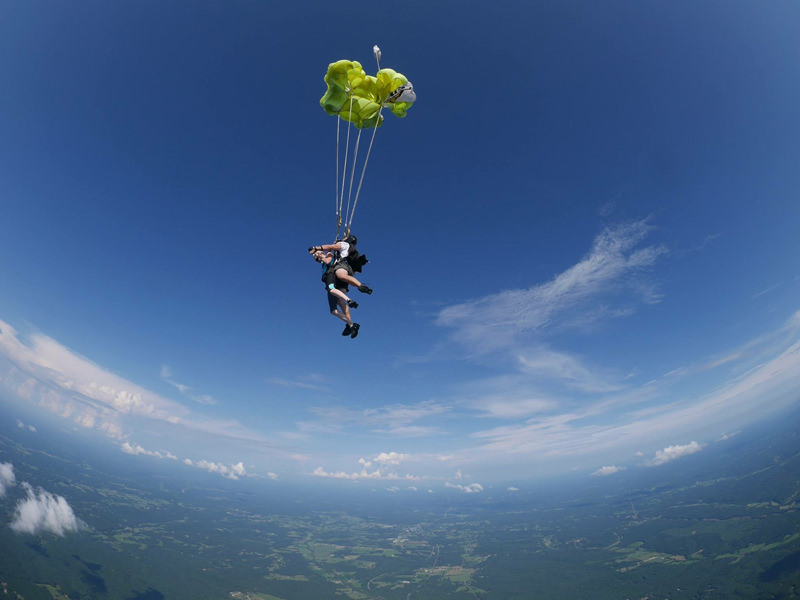 And so, we float gently back down to earth.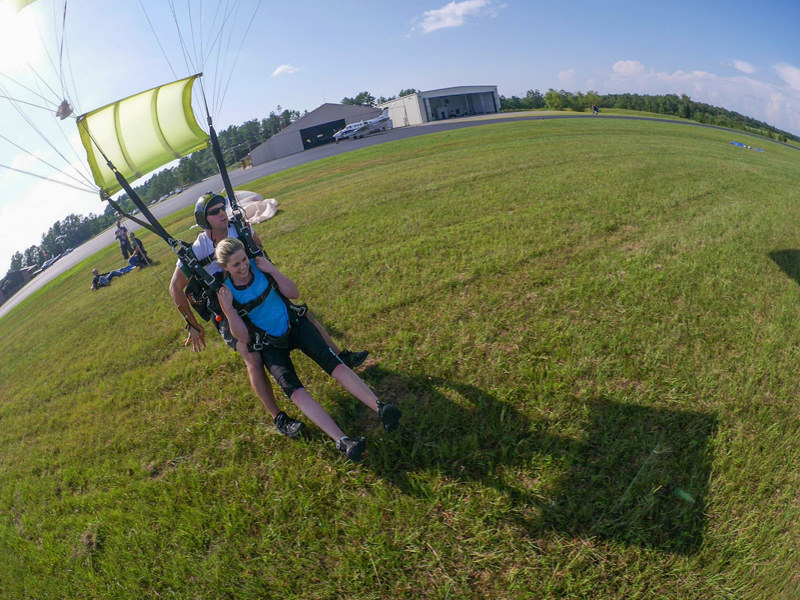 Terra Firma!  This is where the expression "wanting to kiss the ground" has true meaning.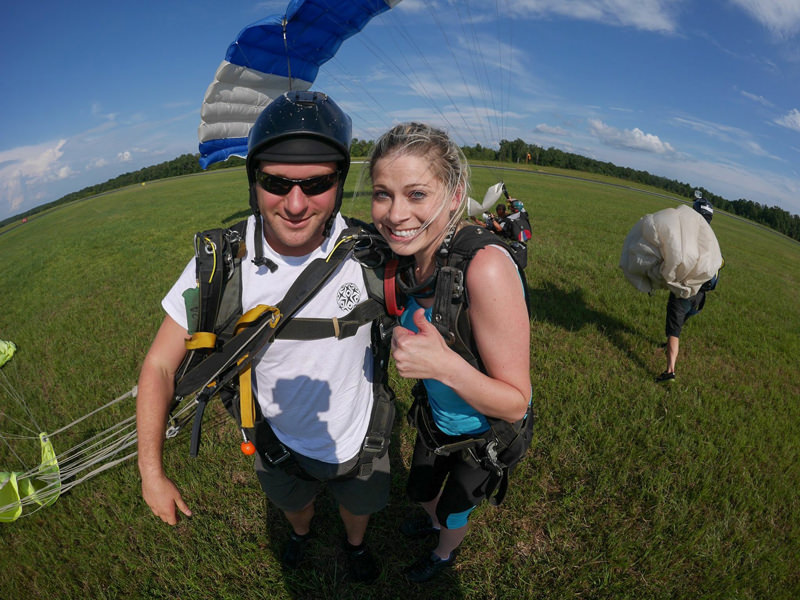 And here I am with my tandem partner.  I am still shaking.  But I am so glad I had the opportunity to share this adventure with Louie and my parents.
Will I do it again?  I'm not sure.  But I look forward to all the many marvelous adventures that lie ahead for me and my family.
Want to "experience" my dive?  Watch this video, and be sure to go to "settings" and select "HD," if you want to see my cheeks flapping!
Thank you to Picaboo Customer Emily Saltsman for sharing your story with us!  
Photography and Videography: Music City Skydiving
Do you have a story about something you've checked off your bucket list?  Or do you have another story you'd like to share?  Tell Us Your Story