Getting Started with Picaboo
What can I purchase with my Groupon?
Different Groupon codes are valid only for certain Picaboo products. Click here to identify which products can be purchased with your Groupon. Groupons cannot be used to purchase gift certificates.Your Groupon can only be applied towards shipping and any applicable tax if the Fine Print on your voucher specifies it is valid toward these items, and can only be used towards shipping and taxes on products which are eligible for purchase with your Groupon offer.
When does my Groupon expire?
The expiration date of your Groupon can be found on the far left of your Groupon voucher below the words "Expires On". Click here to see an example.
Can I use my Groupon past the expiration date?
If you have not redeemed your Groupon voucher by the expiration date, the paid value of your voucher will not expire, even though the promotional value has. Your paid value can be used towards any product purchase with Picaboo. The paid value cannot be used towards shipping, taxes or the purchase of Gift Cards.
For example, if you purchased a Groupon voucher for $50 of photo books for $20, and your voucher has expired, when you enter your voucher code on the Billing page at checkout (next to 'Payment Information'), $20 will be deducted from your order total.
Do I have to pay to use Picaboo?
No. Picaboo is a free application that enables you to easily create stunning photo products with your digital photos. To get started, visit http://www.picaboo.com/web/.
Ordering with Picaboo
How do I place my order using my Groupon?
When you place your order and add your projects(s) to your shopping cart, click "Go to checkout", which is the green button on the right side of the shopping cart. On the "Billing & Summary" page that appears, click the "Groupon" payment link. A dialog will appear where you can enter your Groupon code. Then click "OK".

If your Groupon is not being applied to your order, please make sure that the code you are using is valid for the product type you are ordering. See "What can I purchase with my Groupon?", above.
Do I have to use my entire Groupon on a single order?
No. Your Groupon can be used across multiple orders. If you don't use the entire value on a single order, the balance will be carried forward and can be used on future orders.
Can my Groupon be combined with other promotions or discounts?
No. Since Groupons are discounted already, your Groupon cannot be used in conjunction with any other coupon or promotional discount. You can only apply one Groupon code to your order.
Where do I find my Picaboo Groupon code?
All Picaboo Groupon codes begin with the letters G, P, or N. It is not the transaction number that begins with a "#" symbol. You'll find your Groupon code in the center of your Groupon voucher.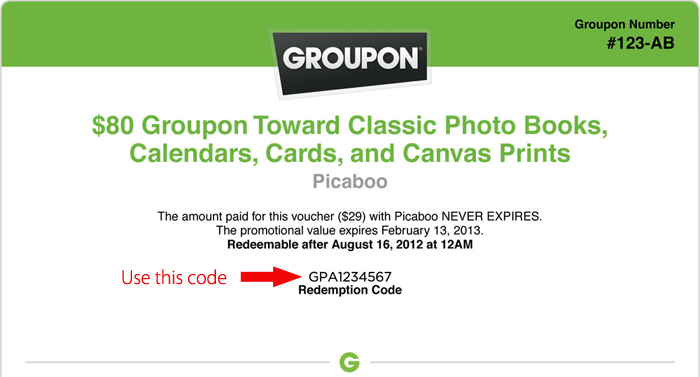 To find your code, log in to your Groupon account and select 'My Groupons' from the drop-down menu in the upper right. Click the print link next to your Groupon to view your voucher.
Canadian Customers
Does Picaboo ship to Canada?
Yes. We have a production facility in Ontario, so many of our items are actually shipped within Canada. View shipping rates for our photo books, cards and calendars.
Are Picaboo's prices in US Dollars?
Yes. All of our pricing is in US Dollars since we are a company based in the US. Your credit card company will process any costs above the balance of your Groupon based on the exchange rate at the time of your purchase.
Will I have to pay customs fees?
No. We have a production facility in Ontario, so many of our items are shipped within Canada. Any products that are shipped from the US include a customs form that is marked such that our Canadian customers are not required to pay customs fees.
Will I be charged GST or other taxes on my order?
There is a 3.0% surcharge that will be automatically applied to the product subtotal on all orders shipping to all destinations outside of the United States. The international surcharge covers the additional costs associated with producing and shipping products to international destinations.