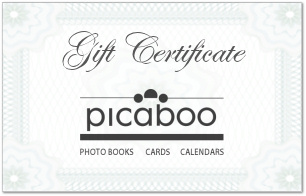 Give your friends and family the gift of creativity. Picaboo gift certificates can be used toward any Picaboo product, any time.
Delivered by email: send directly to friends or print at home and present it yourself
Schedule delivery in advance: plan ahead for special occasions
Never expires
Terms & Conditions
Picaboo Gift Certificates can be applied only to qualified purchases directly from Picaboo in the United States and Canada. Picaboo Gift Certificates are not redeemable for cash and cannot be used to purchase additional Picaboo Gift Certificates. Picaboo is not responsible for lost or stolen gift certificates. To report a lost or stolen gift certifcate, please contact Picaboo. Replacement certificates will be issued after Picaboo verifies that the lost or stolen card has not been redeemed and original purchase receipt is presented. For your certificate's balance, enter your certificate's code at checkout. For additional gift certificate information, please contact us. Not for resale. Void where prohibited or restricted by law. The use of this gift certificate is governed by the laws of the State of California. Picaboo reserves the right to change any of these terms and conditions without notice. TM and © 2011 Picaboo Corporation. All rights reserved.