Yesterday, we asked our  Facebook fans to share their own Holiday Traditions. It was really fun to hear your family traditions. We also randomly picked one person to win $10 in Picabucks and the winner is Tristen O'Brien. Tristen, please contact FBFan@picaboo.com so we can give you a $10 Picabucks ecard. Below are a couple of random responses to our Facebook post.
Thinking about creating a Holiday Traditions photo book? Take a look at Heidi's book. This article walks you through the steps to creating a one-of-a-kind holiday traditions book. It also  includes some great embellishment and design tips.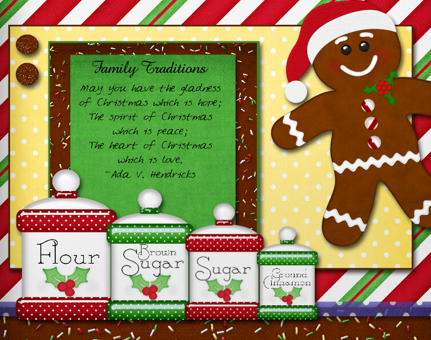 When wrapping gifts, we wrap them early and write crazy clues on the tags to make everyone start guessing about their gifts for weeks!!
Samantha Terris Parks
Getting all the family together and cooking a big turkey dinner while listening to christmas carols. Then we go for a drive to see all the beautiful lights and displays people have put out.
Lisa Marier
My husband makes homemade donuts to celebrate Hanukah. They're called Sufganiyot in Hebrew, these are a Hanukkah tradition. It's the one time of year you get a pass on eating fried food! Jews eat fried foods in commemoration of the miracle associated with the Temple oil.
Tracy Zimmerman
Every year my family seeks a less fortunate family and we do the 12 days of Christmas for them (we take presents to their door, ring the doorbell and run hoping they dont see us! And we do that for 12 days until Christmas Eve. On Christmas Eve, we bring everything they need for a nice Christmas dinner!) I have really enjoyed the tradition because it helps us to remember the true meaning of Christmas!
Jennifer Burk Durham
My immediate family and I started a new tradition a couple of years ago where we buy a lot of small gifts and play Christmas Bingo! It's so much fun!
Christy George
Getting together to make our Christmas tamales.
Veronica Molina
Waffle breakfast Christmas morning in our new Christmas pjs. 
Diana Glade
Our holiday tradition is to go to a tree farm (the one I went to as a child) and cut down our own tree then take it home and decorate it with our Seattle Seahawks christmas decorations.
Erika Smiley
Celebrating my wedding anniversery with our groomsmen and bridesmaids.
Denise Keppel Meredith
Decorating an upside down Christmas tree.
Susan Holloway
Always getting a new pair of jammies to wear on Christmas Eve!
Holly Hebert Gryniewicz
Going to Disney World with our entire family to see the decorations & hear the Christmas story told!
Maris Sessa Grantham
I love the traditional foods. I started a tradition of making fudge (different kind every year). My mother in law makes a different salad every year, raspberry marshmellow or Oreo salad (to name a few). I just loving knowing that the comfort food of the holiday season will be there.
Allison Dawn
My favorite NEW tradition (we are just starting b/c we have a 7 month old) is to put mini ornaments in our advent calendar and our kids will put a new ornament on our mini tree everyday!
Brittany Sunderland Hussain
We write down predictions every year & read them out the following year to see who has the most right. Then we have a white elephant where you wrap something from home, draw numbers, then pick in order and make trades. It's a lot of fun too!
Cody Klosky
My Mom, sister and I always get together a few days before Christmas and do our Christmas Baking. We put together tins with a variety of baked goods and give them to friends, family and neighbors. Everyone loves getting the tins and we love spending time together baking and listening to Christmas music!
Amanda Turner
Attending Christmas Eve candle light church service with my family; having the kids sprinkle 'reindeer food' in the yard; taking tons of pictures; making my grandma's recipe for shortbread cookies; making gingerbread cookies with the kids; and just being together.
Marla Daum Viens
The girls in my family get together for an ornament exchange party… So much fun and I love getting a new ornament for my tree each year.
Christina Chica-Munoz

It's the only time we make REAL hot chocolate on the stove Christmas morning with milk and spices served in Santa mugs.
Jennifer Lockman Lewis
A cow bell on the bedroom doorknob to prevent any early present peeking!
Casie Stratton Davis
Holiday tea at the Hotel Del Coronado!
Kimberly Petrov
Just plain being together!
Amy Rambow
Thanks for sharing your holiday traditions! We really enjoyed reading them! And make sure you "like"
our Facebook page for more chances to win Picabucks.
Want to see more inspiring books? Check out this cookie of the month cookbook, this amazing year in review photo book, this cocktail book or this book that follows a family of 11 through all the fun events of life.