Cliff Jeffery sent us the following summary of his experiences at one of the most internationally recognized national parks – his inspiration for creating a spectacular coffee table book titled "Yosemite National Park". To see the entire book, visit this link: http://bit.ly/igZSQ0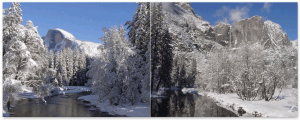 Yosemite is one of the most beautiful places on Earth. Some of my earliest memories are of camping at Yosemite with my family, when I was a kid. I remember renting horses at the stables and riding around the Valley. This was in the early 60's, before shuttle buses and traffic jams. I also remember the Firefall, when they used to push burning embers off of Glacier Point, at night. A spectacular sight that was stopped in the late 60's for safety reasons.
As an adult, I have been going there, regularly, for about the last 20 years. About 10 years ago or so, I decided to start taking pictures. Yosemite has been a favorite place ever since. I try and visit at least once a year. I usually only have a couple of days at a time, so most trips are quick.
It's so relaxing to just walk across Cook's Meadow, staring up at all the grandeur around you. Every time I go, I try to photograph something different. Late spring is a great time to go, as the Tioga Road is just opening, with snow runoff at it's peak, making full waterfalls and snow still on the ground along the Tioga Road. I always try to avoid the Valley during the summer, as I don't care for traffic jams and rangers directing traffic. Every season is different. The Valley in the winter is awesome, and the fall colors in the forest.  Every time I go, I plan my trip around whatever area of the park I want new pictures of. I have explored every road in the park, I think, and have taken pictures of just about every point of interest along the way.
As a history buff, I always enjoy The Pioneer Village in Wawona. It is very interesting to me to see all the old buildings, such as the old Wells Fargo Bank building from the 1800's. It really gives a sense of the history of the park.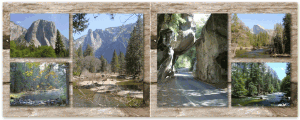 No trip to Yosemite is complete without pictures of animals. Several varieties of squirrels are always fun to watch, and of course, all the deer. Although I know they are there, I have never seen a bear at Yosemite. Since I'm not usually there at night, I have missed seeing them in the campgrounds. Another thing I have missed is the spectacular sunset from Glacier Point. But that's just another reason to go back again.