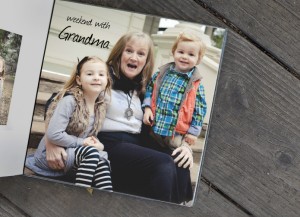 On the weekend, I take so many photos. More than ever, we are capturing life's everyday memories, whether they are big or small. Often times, it's the simple moments that can be life's most touching, fun, or hilarious. These photos are too precious to end up stuck on your phone / camera or buried on a Facebook newsfeed.
Here are a few ideas on how to turn your weekend shots into something special.
1) Day Trip Storytelling – We love travel books, but for most of us the big trip happens far less than we'd like. What about those short day trips that we take on the weekend? Whether it's to the zoo, fishing at the lake or a ski trip, you're having fun and making memories that you'll want to remember.
How to do it:
Layout your photos chronologically and use layouts with text boxes to write your story on what happened each step of the way – no moment is too small. Did dad oversleep? Did mom pack a special treat? Document the day to remember the moments from tender to funny.
Didn't get the shot you wanted? Be sure to write something about it to record it as a memory.
Why we love this idea:
A day trip story book is especially entertaining for little ones to remember their trip through storytime. Writing and creating your own story is engaging for kids and adults alike.
Great for any fun activity – picnics, apple-picking, or a trip to the museum.
2) Date Night Photo Book – Of course for those special events like weddings, engagements or anniversaries, a photo book to memorialize those important dates is a must. But what about all the little moments in between? A Date Night photo book lets you relive those sweet nights.
How to do it:
This is really easy and fun too! Just look back on your date night photos and group them into a photo book to remember those special moments. You might want to add captions as to where you were, the date, and a description of what had happened.
Why we love this idea:
It lets you and your loved-one remember the sweet little moments, which really are the ones that matter most.
PLUS, you can use this same idea for girl's night out, family meals and get-togethers.
3) Weekend at Grandma's Photo Book – While you're off on your  date night, your kids are off at Grandma's, at their aunts or uncles, or having fun with a babysitter. You can bet they are having some fun, perhaps some that may even bend the rules a little. :) Create a photo book of your kids having some cheeky fun with others.
How to do it:
Ask your kid's Grandma, aunts, uncles – who ever they are off having fun with for pictures of their time together. Compile the photos and ask for your kid's help in building out the story of what happened. Use our fun photo shapes and turn your photo into a heart or star shape to further convey what was going on, for example: heart shapes for hugs, stars for karaoke.
Why we love this idea:
This is a great way to get your kids involved in creating a momento of their time with other loved ones. Plus, it makes a great gift for Grandma to say, thanks for all of your help!
Great for any care-takers: Grandparents, aunts, uncles, nannies, babysitters 
4) Document Weekend Projects – The weekend is when we get to do what we enjoy most and accomplish personal goals. What projects do you like doing on the weekend? Do you have a remodeling project, work on a hobby or try a new craft project? Creating a photo book about your project is a great way to commemorate your personal accomplishment.
How to do it:
Have a long-term project you're working on? Document its progress from beginning to end. For weekend hobbies or crafts, compile photos of your finished projects. Use corners and embellishments to add flare and convey your love for your craft.
Why we love this idea:
Creating a photo book of your weekend projects allow you to feel a sense of accomplishment for all you've done!
Great for: Car Restoration projects, weekend baking or recipes, DIY craft projects