You've all heard the old saying "you can't put a square peg in a round hole", right? Well at Picaboo, that isn't entirely true. You actually CAN put a square photo in a round hole and a heart-shaped hole or a star-shaped hole!  Using shaped photo wells is a fun way to add variety and interest to your Picaboo projects. Picaboo makes it so easy to change the shape of your photo wells. Simply go to the Shapes and Corners section in the left sidebar. Highlight the photo on your page that you want to change. Then click on the desired shape from the choices on the left (square, circle, heart, star). Your photo will be changed. Then you can move or manipulate the size using the regular control dots. You can also change the width and color of the border just like a regular square photo well.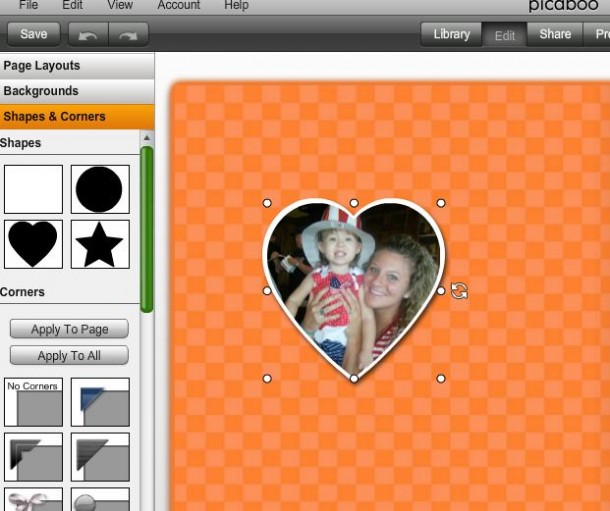 I have used the round photo well shape a lot.  I think it's a great way to accommodate a large number of photos into your layouts.  By using different circle shapes like ovals, making the photo wells different sizes and overlapping photos, you can create fun, high-density layouts.  Here is an example of one layout I created of my granddaughter's swimming lessons.

It was so much fun I decided I wanted to incorporate hearts and stars into more projects. And then July 4th came, which seemed the perfect opportunity!

Heidi Kalpack, one of our Picaboo Pros and a party stylist at The Pink Peach, has used shaped-photo wells to create her own embellishments for some of the coordinated page layouts she creates in books for her clients.  Don't you just love the pulled-together, thematic look she creates by dropping backgrounds into her shaped photo wells?
Here Heidi has created a wonderful monogrammed cover using the circle shape wells with backgrounds for the "photo".
Here she utilizes the heart shaped well to create a clover.  Love it!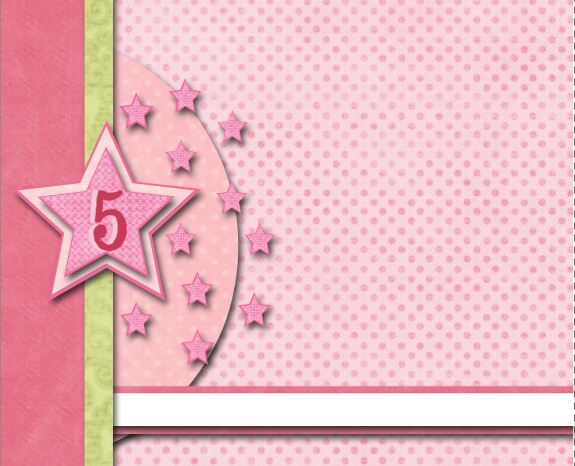 This creative cover has us seeing stars – literally!
These circle shaped wells make an amazing border on this gorgeous layout.
Isn't it incredible what you can do with a simple shape when you change the size, shape and border?  I love all these new possibilities!
One more fun idea I would like to mention is the use of shaped photo wells in a Table of Contents page.  Megan Reid was the Day 14 winner in our Two Weeks of Love Contest.  She created this fabulous layout using the circle well.
So go ahead – put your square photos or backgrounds into round, heart-shaped, or star-shaped holes and make your Picaboo projects into something amazing!
For more ways to add textures to your photo books, check out: 9 New Ways To Use Digital Backgrounds, Adding A Table Of Contents To Your Layouts, How To: Add A Translucent Effect To your Backgrounds, 9 Fun Kids Birthday Party Books and The Story Of Picaboo Backgrounds.