As you know, embellishments are my "thing."  I love collecting, organizing, and using them. In my previous post, I listed my top ten embellishments.  Now I would like to show you ways to use and layer them when creating your card, calendar, and photo book layouts.
1.  Buttons: I like to use buttons to set off the corners of my pictures, text boxes, etc. They can also be used as an "anchor" for tags. Buttons are fun because they can be layered with frames, ribbons, string or other buttons. Button clusters are another fun effect.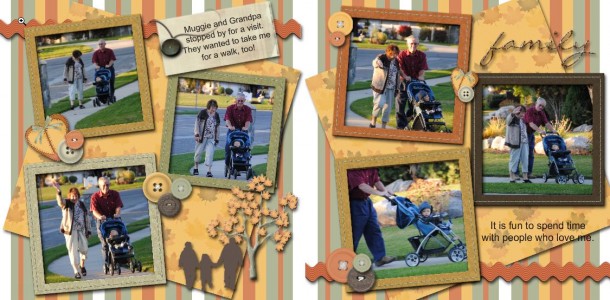 This layout utilizes buttons in clusters to set off the photos on the page. Notice how the button is included with the heart element and the use of a button to anchor the tag.
For this page in a cookbook, I used buttons to accent the  photograph. Also note the tag, ribbon, and recipe card element. And don't you just love that flower stickpin?
2.  Frames: Using frames is a great way to showcase your photographs. It really sets them off and makes them the focal point of your page. I like to layer frames over photographs and tilt them. The result is a fun effect that makes any layout more interesting.
On this layout, I layered a background in a photo well behind the photograph and tilted it. Then I added  a frame on top of the photograph and tilted it as well.  The result is a visually interesting angular effect which works well when using one or two photos on a page. Also note the use of the tags for captions and the ribbons and bows.
For these pages, I used several different frames on each page (including a circle frame) to create variety and visual interest and to set off each individual photo.
3.  Stitching: Adding stitching to your layouts creates a fun, unique effect. You can place the stitching element at the top, bottom or side of a page, or use the stitching to "attach" the photo to your page. I have even used stitching as a frame, adding the element four times, one on each side of my photograph.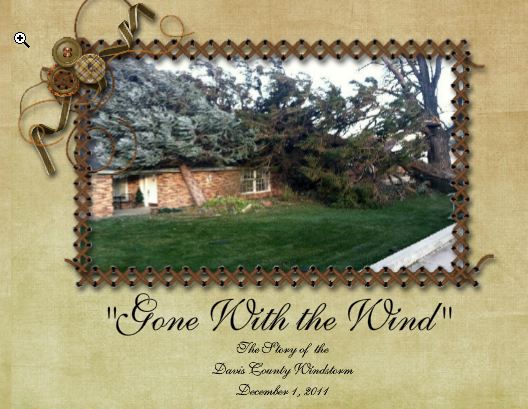 Here stitching was used on a cover to frame the cover photo.  Also note the button/ribbon/string cluster in the upper left corner.  Layering these elements is a fun effect.
For this layout, I used the stitching as a border.
This layout uses the stitching at the bottom as a border, but what I really like are the stitched frames.  Also, take note of the cute tags used for journaling.
4.  Ribbons and strings: These elements can add continuity and flow to your layouts. Using strings or ribbons can connect photographs on a page or tie two elements together. Tied bows can also be used to set off the corner of a photo, tag or frame.
This page illustrates ways to use ribbons, string, trim and bows. They can be used as borders or accents.
This layout uses ribbons as part of the background behind the photos. Also, note the use of flowers, tags, and staples.
5.  Tags: I love to use tags for journaling, page titles, headings or captions. They can be used anywhere you want to include text. Some kits come with several tags of the same size and design but different colors. I like layering two or more of these tags on top of one another. It also adds dimension to your pages to layer a bow, brad, staple or other "anchor" on top of your tag.
This layout illustrates the use of a layered tag. Also used is a premade journaling tag which came as a layered element within the kit.
This page features a tag caption for the birthday cake. Most downloadable digital kits come with coordinating backgrounds, tags, ribbons, frames, buttons and other elements allowing you to create a beautifully put together layout.
6. Alphas: Many of the kits I have downloaded include coordinating alphabets. These elements are great for creating headings and titles within your layouts.  Using alphas is a fun alternative to simply using typed text, and the alphas add variety to your projects. Alphas can also be utilized on covers.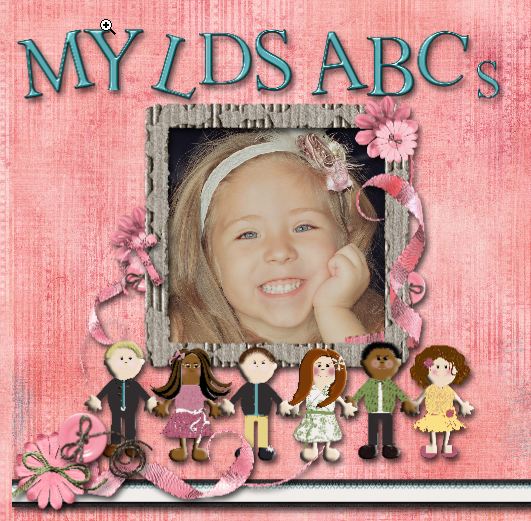 This is an example of using alphas for the title on the book cover. Notice also the use of the frame, ribbons, flowers and buttons. I also love the little children holding hands.  (FYI: They were all individual elements that I put together for the line effect)
For this layout, I used the alphas at the bottom of the first page to create the title. Often it is difficult to get the individual letters sized and aligned exactly right, so I will slightly rotate the letters to give a more random effect.
7. Flowers: Flowers are one of the most versatile embellishments. They can be used anywhere. I usually like to cluster two or more flowers with a button, ribbon, or other embellishment like a butterfly, string, etc. Flowers are also a great way to fill empty space on your page. As with most elements, they can be layered, enlarged, and rotated to create unlimited interesting effects.
On this layout, I used flowers in the bottom right hand corner to accentuate the photograph and fill that empty space. Please take note of the use of the tape on the journaling tag.
Here flowers are used as an accent between the photographs, pulling them together in the layout. Be sure to note the layered frames over the photos on the right.
8.  Word Art: These elements, like alphas,  are a great alternative to typed text.  I like including them on special occasion or holiday pages.  You can always create your own word art on a page using text, colored text boxes, and embellishments, but it is so much easier and faster if you can find just the right phrase or statement already created.  You just plug it into your space and keep going.
This layout is from a calendar.  The word art: "It's a scorcher" is used, along with frames, buttons, flowers and other embellishments.
This layout uses the wordart "celebrating the red white and blue". I also used the ribbon, frame, and pennant from the kit to create this coordinated July 4th page.
9.  Filmstrips: Filmstrips are my favorite way to incorporate a lot of photographs into your layouts. I love the continuous flow that filmstrips create on my pages. You can use them vertically or horizontally.  They can also be layered with other elements like buttons, ribbons, brads, flowers, etc.
These photos were taken from the top of the St. Louis Gateway Arch. The filmstrips let you incorporate so many photos on your page, yet preserve the flow and continuity of the layout.
In addition to filmstrips with several openings, I have used filmstrip frames which feature only one photo. They are a fun way to showcase individual pictures on a page.
10. Staples and Tape: These elements are a fun alternative to photo corners. They can be used to "anchor" photos, frames, and tags.  I really like the three dimensional effect they have.
This page illustrates how staples can be used to "attach" tags to a page.
In this layout, the staples are used to attach the corners of the photograph, a unique alternative to using photo corners.
This fun layout uses tape to attach the corners of the photos, giving the pages an old-fashioned or antique look.  Please also note the way the frames are tilted on top of the photographs.
Layering is an important concept to keep in mind when using embellishments.  The elements will be layered according to the order in which you add them to a project, but Picaboo allows you to bring each element forward or backward individually regardless of the order added.  Simply highlight the element, then go to the bring forward/backward arrows in the left hand toolbox and position your embellishment as desired.
I love using embellishments to create a scrapbook feel in my Picaboo projects.  These concepts  and technique can be used in photobooks and collages, and on cards and calendars.  With Picaboo the possiblities are endless!  Now, let's see what you can create!
***
Looking for more ways to spice up your Picaboo projects? Here are 9 Cool Uses for Backgrounds, Great Places to Find Great Embellishments and the Story of Picaboo Backgrounds.