"The more you read, the more things you will know. The more you learn, the more places you'll go." – Dr. Seuss.
It's no secret that books are great gifts for children.  What could be better for a small child or beginning reader than a book completely personalized for them?  ABC Books are the perfect place to start. It's easy and fun to create an ABC Book with Picaboo for that special little person in your life.
I love making ABC books and I've made quite a few. This post will walk you through how to make an ABC photo book for a child.
The first place to start is to create the cover. I love using the Classic Custom photo book style because you can customize the cover for the child.  I like to include a photo of the child and incorporate their name into the title.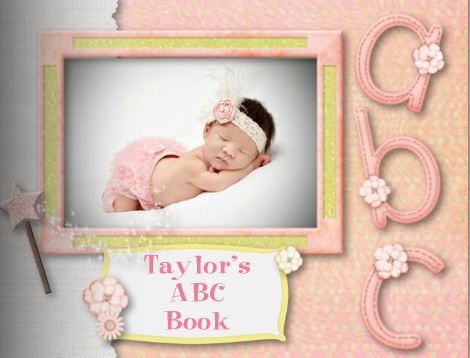 The next step is to create the introductory page. Here is an introductory page I created with a poem that introduces the book. I also love including a hidden element. This gives the kid something to look forward to in each page. And it's a fun way to incorporate digital embellishments or photo-shaped wells. I'm a fan of both!
This page for a girl uses a star wand.  In a book for a little boy you could use a truck, ball, or other boyish embellishment. For a list of our top 10 embellishments graphics, check out this post.
Now it's time to collect the photos. You'll need pictures of the child, their family members, pets, home, toys, activites, etc.  If you're lucky, you'll already have most of these types of pictures saved on your computer. However, it's not a big deal to set up and snap a few shots specifically for your book. For the really challenging pages, I found images on the internet that I copied and used in my books.
Then the real fun begins: Writing the text. If you are a budding poet, try to make your pages rhyme. The following layout shows an example of rhyming text.  The hidden element in this book was the bumblebee :).
If poetry isn't your thing, go ahead and write simple statements that best illustrate the letter on that page.
One great thing about the above layout is that is was created using Picaboo backgrounds. Picaboo's background library has over 20,000 backgrounds that work for any theme, holiday, season or milestone. All you have to do is type in a keyword and you'll find the background theme you need. For babies and kids there are tons of themes! Consider typing in one of these key words: boy, girl, princess, pirates, blue, pink, polka dots, etc. Once you start playing with Picaboo's backgrounds, you'll never want to stop. It gets really addicting!
Once you have completed the entire alphabet, it's time for the big finish: The back cover. I love to make my back covers a sort of "love note" to the recipient of the book. Consider adding in a caption box that states who the book is for and who it's from. Don't forget to include the date. This makes this book extra special for the child.
In addition to a traditional ABC book, I recently made a Sunday ABC Book for my granddaughter.  It's a new twist on the traditional cloth quiet books.  I thought it would help her remain quiet during church services and teach her something as well. I created a book for her specific faith. Of course, the concept could be adapted for any religious affiliation. The following layout focuses on biblical stories.
Click on the image below to view the Sunday ABC Book.
I have had so much fun creating these books for my adorable little people.  It makes me wish I had a dozen grand babies then I'd have more books to make!
Want to see some other ABC books? Check out these lovely books: Anabelle's ABC's and Micah's ABC Book.
If you have great ideas for making ABC Books we'd love to hear them!  Please feel free to comment below, or post a link to your book on our Facebook page.