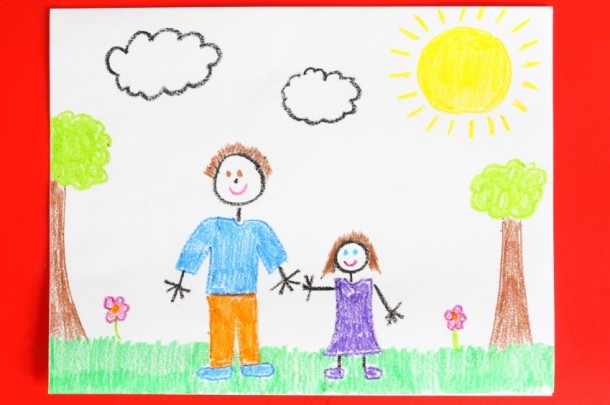 My husband, two kids, a dog and I all live in 1400 sq. ft. It's a tight fit. And while I love our house, I don't like tripping over clutter. For that reason, I cringe every time my daughter brings home stacks of art.
Don't get me wrong I love to see what she creates. But I also treasure a clean house. When I have a clean house, I'm happy. And when I'm happy, I'm a good Mom. (Or so I tell myself.)
So here's my solution. I'm putting all of her art in a Picaboo photo book. That way, I will always remember the amazing stuff she made. (And I won't trip over it anymore.) I'm still in the process of making a photo book for my mother for a holiday gift. If you're interested in making one, here are a couple of tips to creating the perfect Picaboo Art Book.
Simple Tips for Creating A Fantastic Art Book:
Tip 1: Gather + Digitize Your Masterpieces
Make a pile of artwork you'd like to include in your book. You have two options for turning your art into a digital format. You can scan or photograph your art.
If you decide to scan your images, any desktop scanner will do. Just make sure your scanner is set at a minimum of 300 dpi. You can also have a local office supply store scan your art for you. FedEx or Mailboxes, Etc are great places to start.
If you choose to photograph it, use a tripod or set your camera on a steady surface. Make sure the room is well-lit. Natural light is always best. Choose a simple background. You don't want anything taking away from the art. I'm going with hardwoods. But concrete, asphalt and simple tiles work, too.You can photograph your art or you can scan it.
Tip 2: Add Narration To Your Photo Book
After you've imported your images, use our caption tool to describe the art. You could include the date it was created, the teacher your child had, the school they went to and a fun anecdote about the project. You could even ask your child to write something about each piece. I like to ask my daughter what she was thinking about when she was drawing. Simple probing questions like: "What were you thinking about when you drew me as witch?" Or: "Why is Daddy wearing a car?" make for great answers.
Tip 3: Catch Them In The Act
Capture your child creating the art. The process is just as much fun as the end result. One of our Picaboo Pros, Cheryl Parker Miller, created this fantastic layout of fun art projects.