Leslie Gonce is kind of a hero around our parts. She's a Picaboo Pro and the Day 2 Winner in our Two Weeks of Love Contest. You may recall her amazing I Love New York photo book or her How To: Make a Vacation Book post. The cool thing about Leslie's photo books is that along with inspiring page layouts and her innovative digiscrapping techniques, I learn a lot about North America's history. Leslie and her hubby have the goal of taking their kids to all 50 states. And then after each vacation, she makes a Picaboo photo book. Lucky for us, she's willing to share. Here's a look at Leslie's Family Vacation from 2011.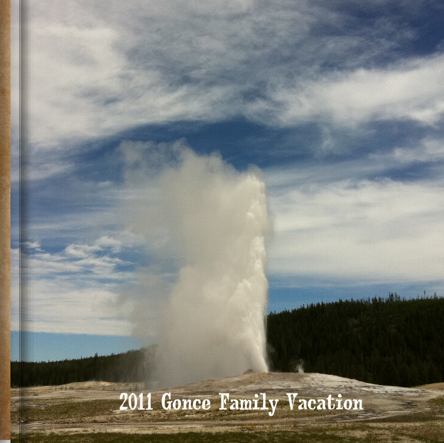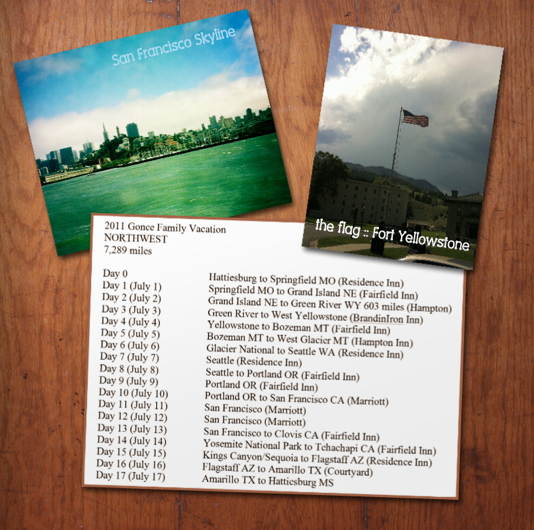 Leslie begins every vacation book with an itinerary. I think this is a great idea. It reminds you of the places you've been and allows you to easily flip through your book and remember a special event or a specific city.
Did you know Leslie takes all of her shots with an iPhone? In this spread, Leslie combines iPhone shots with iPhone screen grabs to highlight different routes on their trip. This is pretty clever because the road we take is just as important as the journey.
Welcome to Grand Teton National Park. Not only do we see some of the beauty of their travels, Leslie makes sure we learn something along the way. Make sure you read the fun facts.
I've never been to Yellowstone Park and now, looking at Leslie's pictures, I know I need to. Take a look at her amazing photography and great layouts. The impressive thing to note her is that she includes a lot of copy and imagery in her spreads by layering photos and keeping the photo frames consistent. This is a good technique when you've got a longer story.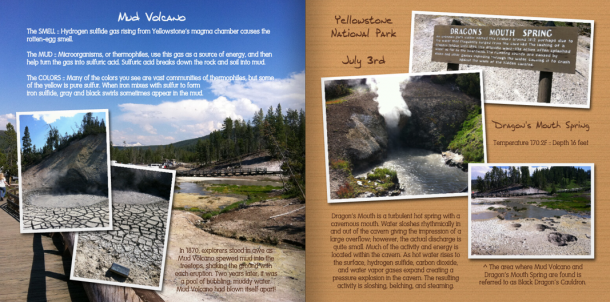 Another thing I really love about Leslie's books is her ability to let full-page imagery tell the story. Here are some spreads that use full-bleed photos to move the story along.
Another creative technique Leslie uses is turning her photos into backgrounds. Picaboo's background library exceeds over 20,000 backgrounds but sometimes, you want to use your own photos as backgrounds. Here are a couple of spreads where Leslie's turned her photos into backgrounds to create a beautiful and cohesive two-page spread. This technique looks really great with lay-flat paper. Lay-flat paper, is a new binding technology that allows your book to lay perfectly flat when open. This extra-special paper incorporates a high-quality finish with extra durability. And when your book lays flat, your pictures can continue across the gutter, creating a seamless look. For more info on lay-flat pages, check out this post.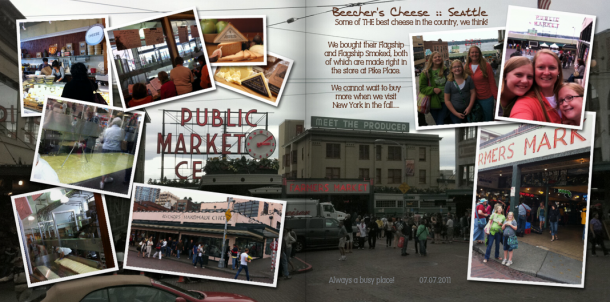 After exploring national parks, the Gonces hit the big city for a stop in Seattle. Leslie uses translucent caption boxes to house type and Hipstamatic, the iPhone camera app, to take pictures. This app allows her to change the lens and the filters to create a shot that's textured and vibrant. To see how Leslie does this, check out her How To: Make a Vacation Book tutorial. To learn more about Smart Phone apps, check out this post.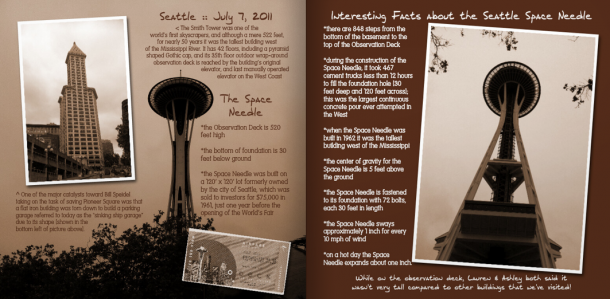 After Seattle, it's on to Mt. Rainer National Park.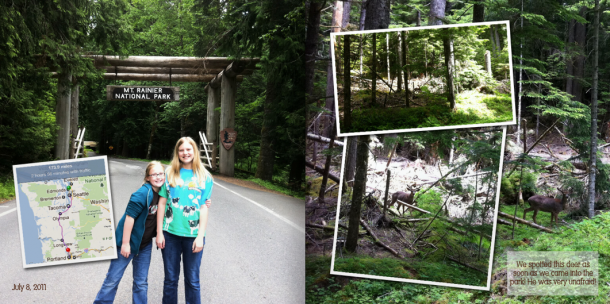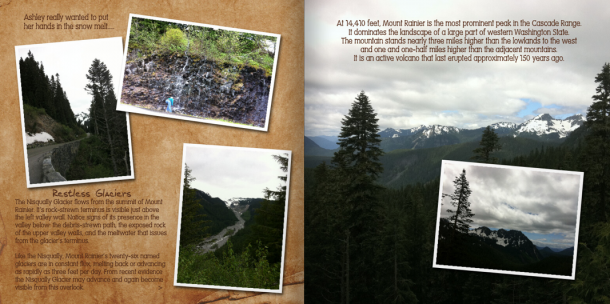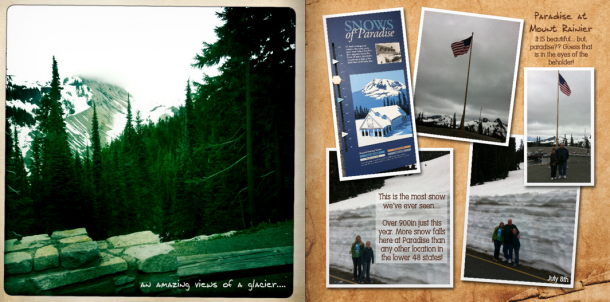 And then, a stop at one of the greatest cities in the world. As one of my old friends likes to say: "The City." The first shot of San Francisco is an amazing shot because Leslie switched up her perspective when taking the shot. This is a great reminder to switch up angles when shooting. This will create new ways of looking at architecture, kids, food and more. For more tips on switching up your angles, read this article.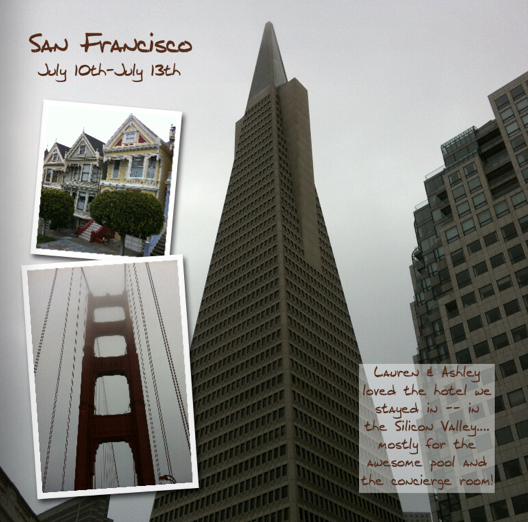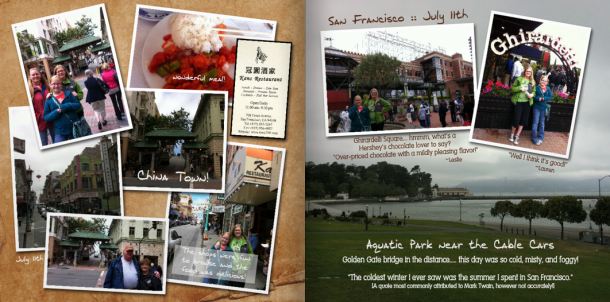 I love the shot below of the four pairs of shoes standing on historic Pier 39. Look for great places to capture everyone in your family. These fun shots are great for photo books and often, make great book covers.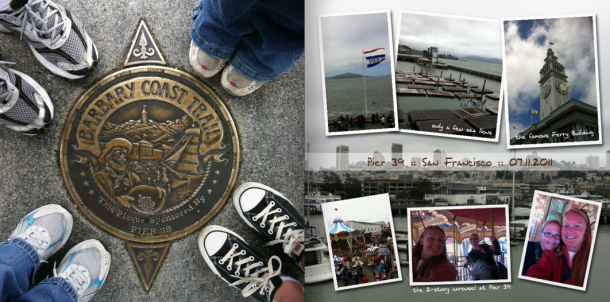 Of course, what trip to San Francisco would be complete without a historic tour through Alcatraz? Here Leslie does a great job capturing the horror and the history of the prison.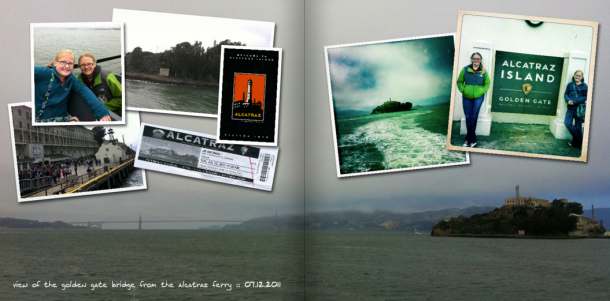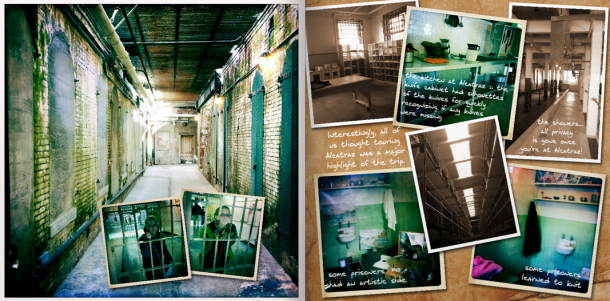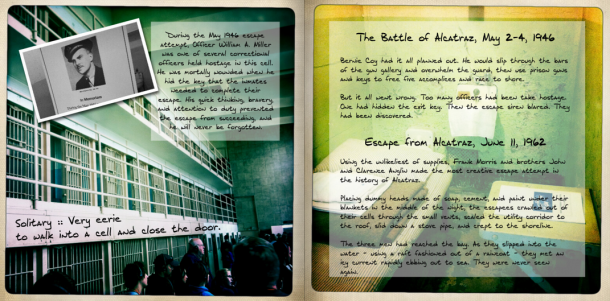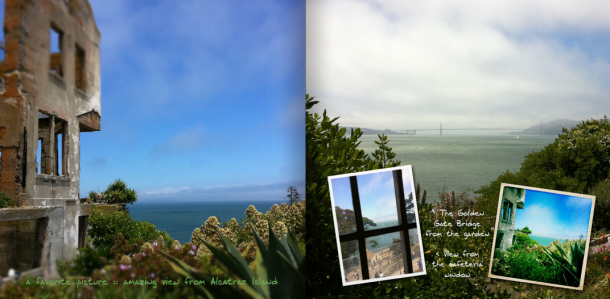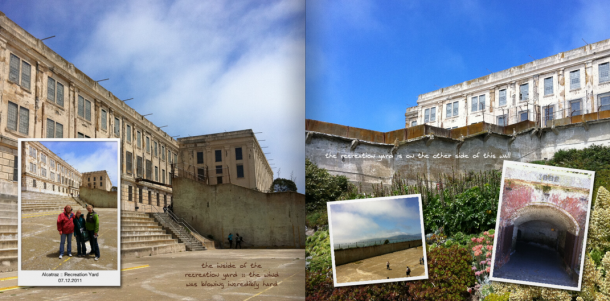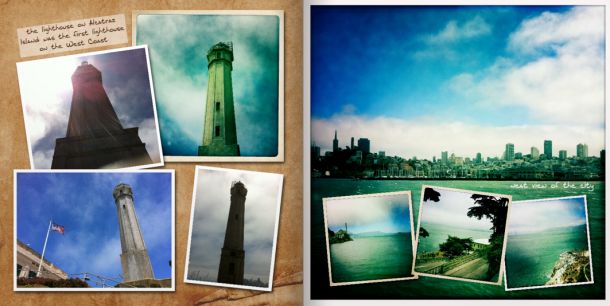 Want to create your own Picaboo vacation book? Start here. Want to see other vacation photo books? Take a look at South African Clinic, I Love New York, My London Book, We'll Always Have Europe, How To: Make a Vacation Photo Book and Italian Anniversary.