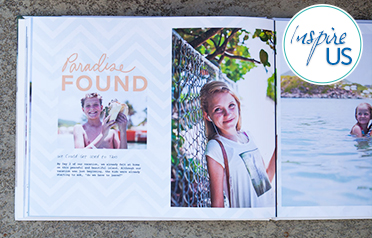 We are blown away by the amazing projects pouring into our inbox since we asked all of you to inspire us. In the space below we've gathered our favorite tips and tricks for vacation photo books from you, the talented Picaboo community.
1) Include a Table of Contents or Introduction (Carol Anne N, San Jose, CA)

As we all know, getting started is often the most daunting task when creating our books. Where to begin, what pictures to use, how to keep it organized are all questions bouncing around our heads. An opening page/ table of contents is a great way to get the ball rolling. Carol Anne N offers a great model to follow – including a map of your journey and list of all the destinations is a great way gather your own thoughts and lay out the different "chapters" to come in your book.
2) Create a Theme for your Book (Steve L)

A great way to create a well thought out book is to start with a theme for the project. Steve L offers a great idea, "I was able to use alliteration to a degree this year and grouped many of the photos in pages linked by words beginning with an 'S'."  This gave his book a lot of structure and continuity – allow the theme to do a lot of the work and organizing for you.
3) Scan in Keepsakes (Jill R, Los Angeles, CA)
Jill R's book from a trip to Italy shows how effective scanning in keepsakes from your journey can be. This is a great way to remember some of the smaller details from your vacation and adds more character than a normal caption. A ticket stub, a receipt from a special meal or a favorite postcard are just a few of the possibilities.
4) Fun Facts and a Little History (Mary O, Utah)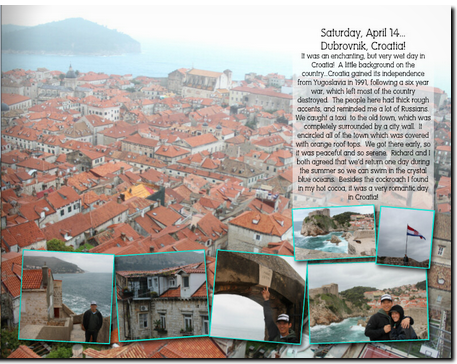 What a wonderful tip from Mary O, "I'm a history teacher and wanted to include different historical aspects in our scrapbook as well. You'll see that not only does the book have awesome pictures, but also captures the beauty of Italian and Greek history." Captions in general are very useful for others when looking through your book, but fun facts are even better!
5) Creating your Own Backgrounds with 2 Page Spreads (Ashley R, CA)

One of the best parts of traveling is seeing the variety of stunning landscapes full of color and life. These create amazing 2 page spreads and in turn can be made into the background for your other photos. Ashley R shows us how it's done here – a photo without too much going on makes for the perfect background.
Inspire US!
Do you want your favorite project to be featured? Click here to learn how. Keep tabs on our blog, Facebook page and weekly emails as we'll have more posts featuring ideas and inspiration from YOU, the Picaboo community.