***
This post is part of our Two Weeks of Love Contest. From now until Valentine's Day, we'll share a book each day submitted by our customers. The author of each book will win a prize and be entered to win a cruise from CruiseDeals.com. If you have any questions about this contest, please read the FAQs here.
***
Isn't this the best cover ever? It's metaphorical. It's beautiful. And it's just the beginning of a great love story.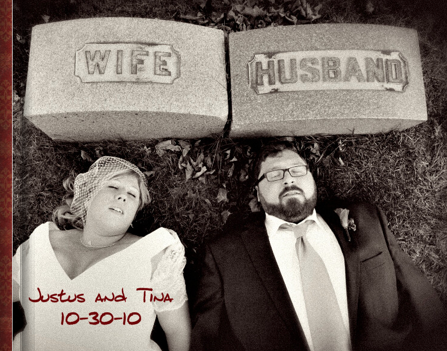 Congrats to Tina, our Day 1 Winner in The Two Weeks of Love Contest. We loved reading your amazing wedding book! Thank you for sharing it! Since you are the DAY ONE winner, you will receive a MADISON Photo Book! (Check your inbox, Tina!)
***
Why do we love this book?
Right from the beginning, Tina's book captures the humor, grace and originality of her wedding. We love how she layered photos, incorporated fun embellishments and included traditional and candid wedding shots to create a truly unique book.


How was this book designed?
With extreme care. We love Tina's design aesthetic. Look at the beautiful combination of colors on this page. The black and white photo works nicely with a vintage wallpaper background and scarlet corner button embellishments.
We love how Tina mixes layered images next to full-bleed photos.
We also love the way the story flows throughout her book. On this spread, your eye starts at the full-bleed image of Tina and Justus kissing in an isolated alley. Then, we glide over to a dark stairwell where we see them stealing a kiss, then, dancing happily together and finally, posing with a friend. Each moment is completely different. But the flower embellishment, placed in the center, allows us to work our way through the special events.

Once again, Tina's use of non-traditional backgrounds and embellishments makes the following spreads fun, silly and full of love.
What makes this book so special?
 Don't you wish you were at Justus and Tina's wedding? That's how the book makes us feel. It's obvious that Tina spent a lot of time making sure every moment was captured. She created a "killer" cover, chose great images, selected beautiful embellishments and used non-traditional backgrounds in a way that enlarged each moment. The final result: A book that's a joy to read.

Here's what Tina had to say about her book:
Our wedding was unique, from the buddhist ceremony, to the karaoke and Halloween candy buffet.  I needed a photo book program that would enable me to preserve my memories in a way that matched the uniqueness of the memories themselves.  I loved making the Picaboo photo book.  There were so many options, and the program was intuitively simple to use.  The final product was perfect!
***
Looking for more inspiring Picaboo Stories? Here are 14 amazing Picaboo Photo Books. These books are about kids, moms, baseball, love, weddings and so much more. Take a peek. We know you'll be inspired.