Thinking of making a photo book for someone on your gift list? Take advantage of our FREE NEXT DAY AIR SHIPPING offer.
Place your order by 12/19/11 at 5 PM PT and you'll get your gift in time for the holidays. This offer applies to Classic Linen, Classic Leather, and Classic Custom book styles. Details.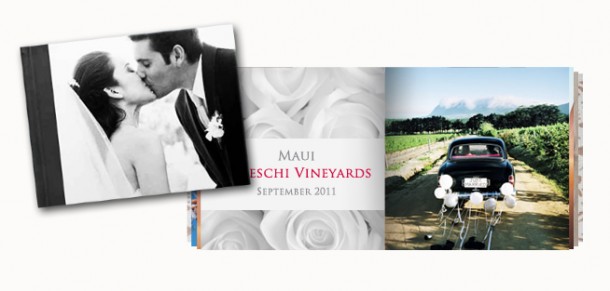 During the holidays, time is short and To-Do lists are long. That's why we created BookGenie. This nifty feature helps you make a custom photo book in minutes! It takes the pain out of sorting and importing images so you can focus your time and energy on the fun part: Adding your personal touch.
Here's how BookGenie works: Every photo you take is stamped with a date. BookGenie reads the time stamps on your pictures and groups them together. After you enter the dates, BookGenie magically imports the images from the date range selected into your book in minutes.
Then, it's all about having fun and exploring your creative side. Add embellishments, backgrounds or captions. Add, delete or flop images. The heavy lifting has already been done. BookGenie allows you to spend your time being creative. Not organizing!
Along with saving time, BookGenie can also save you money. Order a Classic Book from now until 12/16/11, 5:00 PM PT and you'll save 10% off orders of $50 or more and get FREE SHIPPING. That means your present will arrive in time for the holidays! Use code HOLIDYTEN. Details.

When To Use BookGenie
BookGenie can import images from a certain time period or you can use our preset dates (Summer, Last 3 Months, Images from 2010). It all depends on what sort of book you'd like to make. Here are a couple of themes BookGenie was made for.
Vacations
Week-long, month long or a three-day weekend, BookGenie makes it easy to import and sort vacation images.
Wedding
Capture the weekend, or just the main event. Pop in the date or dates you wish to include and magically your book will appear.
Birthday Party/Anniversary 
Import pictures from the entire event and then arrange them to your liking.
Summer
Capture all the images from Summer 2011. Or Summer 2009.
Winter
Remember Winter 2008? Yeah, me neither. Why not make a photo book about it!
Baby Book
Baby's first month, second month or first year can be made easily.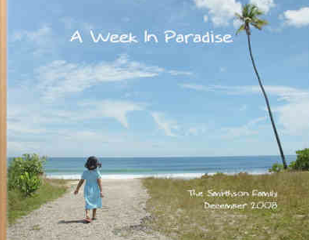 How To Use BookGenie
BookGenie is easy! To see how easy it is, watch this brief video tutorial or follow the directions below.
Step 1: Open Picaboo X and select BookGenie from the left sidebar. You can select a certain date range of images by creating a "New Event" or choose from preset times: Last 3 Months, images from 2010, 2009, etc. If you select a preset time, you can skip Step 3.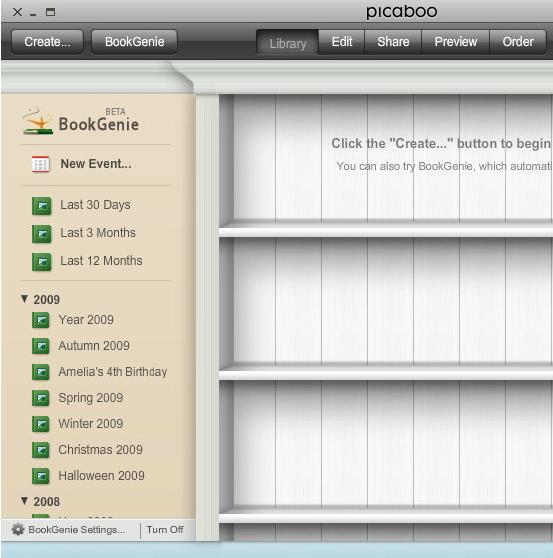 Step 2: Choose Landscape or Square book style.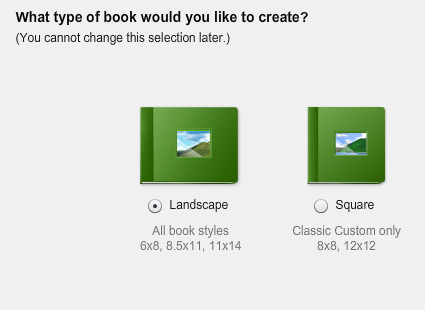 Step 3: If you selected "New Event," enter the dates of the event. If you selected a preset date, skip this step.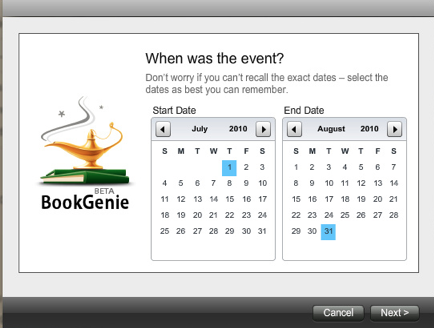 Step 4: Select a theme for your book. Choose from a variety of events and styles: Birthday, Catalog, Seasons, Wedding, Travel, Baby, Holidays or No Theme.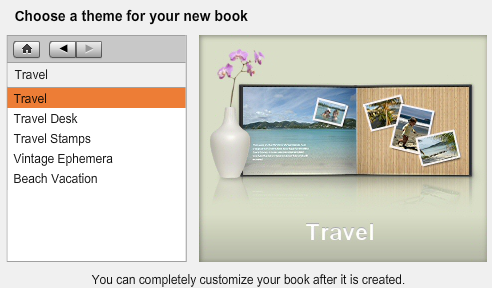 Step 5: Now, BookGenie gets to work pulling in your images. Don't worry, you can always delete or add any photos to your book.

Step 6: After BookGenie magically makes your book, it's your turn to take the creative reigns. Add backgrounds, captions or embellishments to make it perfect. Customize your book so that it could only come from you.
Want more holiday gift ideas? Here are four gifts you can make in 20 minutes. And here's our Top 12 Holiday Gift Ideas.
What kind of book would you make with BookGenie? Leave your book idea in the comments below for a chance to win Picabucks. UPDATE: Congrats to Stephanie and Bobbi B. You were randomly selected and will receive $10 in Picabucks via email! To everyone else that left a comment, thank you! Look for more fun chances to win Picabucks here on our blog.

Don't forget! Time is running out to order your holiday gift! Place your order by 12/19/11 at 5 PM PT to take advantage of our FREE NEXT DAY AIR Shipping offer. Details.