***
This post is part of our Two Weeks of Love Contest. From now until Valentine's Day, we'll share a book each day submitted by our customers. The author of each book will win a prize and be entered to win a cruise from CruiseDeals.com. If you have any questions about this contest, please read the FAQs here.
***
Congrats to Sara, our Day 12 Winner in The Two Weeks of Love Contest. We loved reading Sweet Adelina. Thank you for sharing it! Since you are the DAY 12 winner, you will receive a 11×14 Collage Poster! (Check your inbox, Sara!)
***
Why do we love this book?
For starters, we LOVE the cover. Doesn't it pull you in? The colors, typography and photo all tell me from the start that this is gonna be a fun book. Baby books are a great way to archive memories in a format that is sharable and unique and Sara does a nice job recapping special moments during Adelina's first year.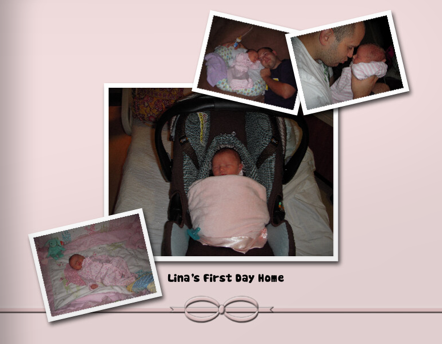 How was this book designed?
Sara used a lot of traditional scrapbooking techniques to create a visual timeline of Adelina's first year. We love how Sara bundled images to document a special moment. Using a gallery-like spread, she made the best photograph the hero and aligned supporting images to further tell the story of the day. We also love her use of color. She chose complimentary backgrounds that corresponded nicely with her photographs. We also love Sara's use of seasonal-themed backgrounds.
What makes this book so special?
The one thing we stress over and over again, is that you don't need professional pictures to make a great book. Sure, photography is important. But the most important thing is your subject matter. And Sweet Adelina is the perfect subject for a baby book. She's full of wonder, curiosity and she's cute as a button. Plus, she looks great next to our backgrounds!
Here's what Sara had to say about his book:
I made this book for my Mom & Dad as their Christmas gift this past year. This book is all about my daughter, Adelina, and her first year with us. This book is special because three years ago my doctor told me I wouldn't be able to have children. Getting pregnant was a big surprise, and then I almost miscarried in the first trimester. And so we celebrate every moment she has! As a scrapbooker and a busy working Mommy, I love Picaboo! The quality is amazing, and I put this together in a weekend.
Want to see more books made for kids? Check out How To Be A Self Publishing Genius, Joshua Makes The Team, Turning Kids Art Into A Book, Little Brown Bear or Anabelle's ABCs.