What's new in the latest Picaboo update?
Our team has been hard at work designing the latest version of Picaboo which has many exciting features and unsurpassed functionality.  Here are some of the highlights:

Picaboo In A Browser.
You can now use Picaboo in any web browser, which means your projects are much more accessible. Whether you're at home, the office, or even at a friend's computer, just go to www.picaboo.com and click the "My Projects" link to access and edit your Picaboo creations. When you can't be online, use Picaboo Desktop, our downloadable version, which allows you to sync your projects when you have an internet connection. This seamless approach means Picaboo is available wherever you are.

Faster. Faster. Faster.
Picaboo is now dramatically faster in several key areas, including photo selection and project creation. In photo selection, the time to load 120 photos has decreased from 10 seconds to 1 second. And creating a photo book with these photos has decreased from 45 seconds to 5 seconds. This means you can spend more time making projects and less time pulling the elements together.
Rich Media Captions.
With our new rich media caption boxes, you can add multiple typefaces to your captions! Underline key words, italicize others and switch up your fonts—all in the same caption box. This is just one more way that Picaboo allows you to completely personalize your creation.
 
Enjoy The Photo Spread.
One of our more popular features is the ability to turn photos into backgrounds and spread them across two pages. Building off this feature, you can now add a photo or an embellishment and spread it across two pages. This new feature makes your page layouts more cohesive and your projects, more creative!

Bigger & Better.
We've made your Picaboo project about 20% larger on your screen. This means you'll have more workspace to create. To make more space, we made the side bar slide open and close. Now you can open it when you need it. Close when you don't. And when you need one of our pre-designed layouts, backgrounds and embellishment corners—they're just a click away.
Magnified Previews.
You create your projects with such a fine-toothed comb and now you can preview them with just as much precision. Our new Preview Mode has a zoom slider that allows you to review your project as though it were under a magnifying glass. This is just one more way we're helping you make every project better.
Find Photos in a Flash.
Now it's easier than ever to know which photos you've already used in your project. In the media tray, when you use a photo, a green checkmark will appear in the left-hand corner of your photo. Want to know which page that photo is on? Click the green checkmark and Picaboo takes you there. This new feature makes it easier than ever to create amazing projects.
 
Add Two Pages With A Snap.
Instead of having the option of adding one page, why not add two? Once again, we're streamlining here.
 
View Photos. View Pages.
The media tray now serves a dual purpose. It holds all your photos and all your pages. Switch back and forth to view your photos or your pages. This quick and easy button makes viewing your whole project faster and easier.

Here's a list of some more features in this latest edition of Picaboo:
Automatic updates (Desktop). Picaboo no longer needs to restart after an update
Project name shown in Edit mode
Fonts are instantly available when selected
Add two pages at once (add spread)
Add a two-page image (Similar to a two-page spread, but as an image, not a background)
Media tray "used photo" indicator – a green check mark appears on the photo in the media tray when used
Jump to page where image is used - click on a used image to be taken to the page where that image is located
Page sorter now part of the media tray
Zoom slider & panning in Preview mode
Order preparation checklist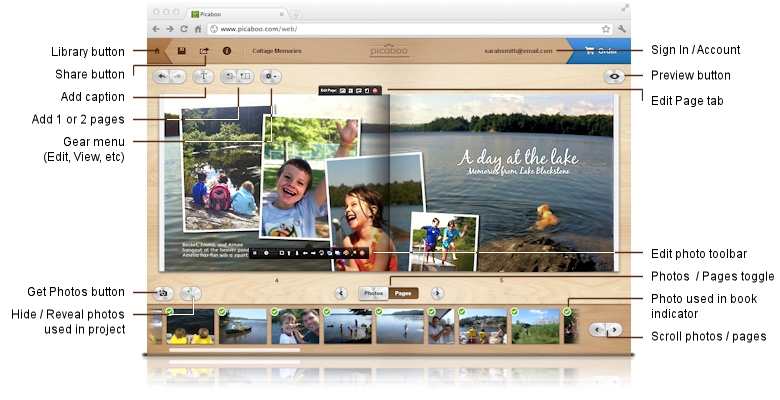 How do I find my projects?
From now on, there are two ways to use Picaboo, and to access your projects. There is the Picaboo Desktop version which is software you can use on your computer, and there is Picaboo that you can access in a browser. Both applications are the same in terms of functionality, with one exception – BookGenie is not available in the browser version of Picaboo at this time.
Here's how you can access your projects:

Desktop users: In Picaboo Desktop, projects are created and saved on your computer's hard drive. Projects you created with Picaboo X or Picaboo Desktop will be available here. Assuming you are using the same computer you used to create your projects, click on the green Picaboo icon on your desktop to launch and see your projects.

Picaboo in a browser: If you are trying to access projects that you created with Picaboo Desktop or Picaboo X, you must first sync those projects. If you haven't synced your projects to the web already, click here for help syncing your projects.. Once your projects are synced, you can access them in the browser when you login at http://picaboo.com/web/ .
How do I access projects in my browser that I previously created in Picaboo X or Picaboo Desktop software?
Your existing projects are stored in the Picaboo software on your computer (either "Picaboo X" or "Picaboo Desktop"). To access them, you'll need to Sync them to our servers so that they are accessible when you login to Picaboo in a browser. Follow these steps to Sync your projects: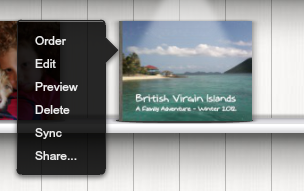 Open your Programs (PC) or Applications (Mac) folder and double click on "Picaboo X" or "Picaboo Desktop".
Left click on the project you want to access on the web and select "Sync". Your project will now upload to our servers so you can view, edit and order from picaboo.com in any browser!
Repeat the steps above on any projects you would like to access from picaboo.com in a browser.
Do I use my existing username and password for Picaboo in the browser?
Yes, when you login using Picaboo in a browser, use the same email address and password that you used with Picaboo X or with Picaboo Desktop to access your projects.
How do I know if I'm using Picaboo Desktop or the browser version?
When you are using Picaboo Desktop, you will see the name "Picaboo Desktop" at the top of the application window. When you are using Picaboo in a browser, you will see http://www.picaboo.com/web in the address bar of your browser.
Are there any known issues with the new Picaboo?
Yes, while we do have some known bugs, we are working quickly to resolve them. If you experience any of the issues below, please click here to contact Customer Care so that we can assist you.
Caption doesn't save text, or you cannot change caption options
Text in Portrait cards appears zoomed-in when previewed
Do you have new features coming soon?
Yes, we will be releasing new features and functionality every few weeks. These are the features we're working on right now:
Zoomed caption boxes so that you can see captions created with a small font
The option to use photos from an existing Picaboo project
Red-eye removal tool
View page numbers in Preview mode
If you'd like to suggest other features that are not listed here, we'd love to hear your request! To send ideas or feedback, please email
support@picaboo.com
.