Stocking stuffers are one of the most fun parts of gift giving during the holidays. Don't you agree? I love this Christmas morning tradition. There's no feeling like opening a stocking full of little surprises next to a warm fire while the morning air is still crisp. Whether or not you open your stockings at night or first thing, most everyone looks forward to this Christmas tradition.
Okay, so an 8.5 x 11 hard cover photo book or a large hanging canvas might not resonate with the idea of stocking stuffers. However, with a little creativity and a lot of love, you can create awesome stocking stuffers (or smaller gifts for the eight nights of Hanukkah) on Picaboo.  Just leave it to me!
Holiday Cookbook
If you don't gain five pounds during the holidays you're not doing it right! The holidays are full of some of the best foods ever invented. And, our 6 x 8 Classic Custom softcover photo book is the perfect way to fit a custom cookbook into a stocking. Create a holiday cookie cookbook, the best winter soups guide or make a mélange of all your favorite recipes. This is one of my favorite stocking gifts this year! (This is such a great gift; you may want to consider printing duplicates and putting one in each stocking.)  Get Started Now.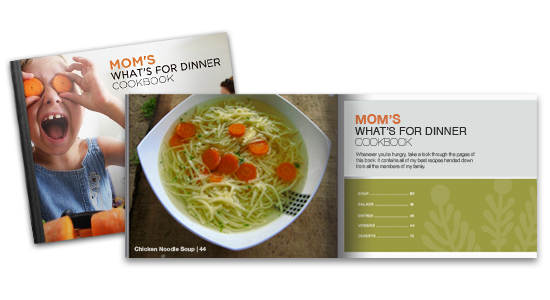 Holiday Cards
This year, create holiday cards for everyone's stockings. A holiday card is a quick, no-mess gift. Plus, it's a tradition that brings smiles to all those who receive them. You know that one photo of your kids covered in mud, of your tropical honeymoon or the photo from you family reunion in the mountains? Grab it and upload it. Then, pop it on the cover. Add a fun greeting inside and viola! Stuck on what to write? Check out Holiday Card Help: Getting Versed. See our card pricing. Get Started Now. 
Holiday Traditions Photo Book
Every family has their own holiday traditions, special and unique ways to spend time together. From baking feasts to lighting candles to volunteering, take the time to write down your family's special blend of events so one day, the next generation can repeat them. Make a list of the traditions your family participates in. What foods do you eat? What games do you play? Then use photos from years past traditions to create a fun holiday keepsake to give to your family. This is a lovely way to cherish and remember important family moments. For a stocking stuffer, select our Classic Custom softcover 6×8 photo book, which comes standard with 20 pages. After your finished with the book, consider turning your memories into a collage poster to roll up and add to the stocking or wrap and put under the tree. Our collage posters start at $3.99. Get Started Now.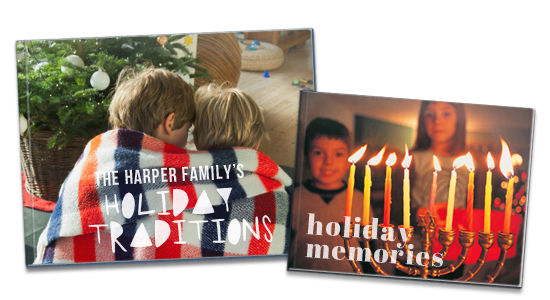 Disney Memory Photo Book
When it comes to kids, we all know Disneyland is the hottest topic! After taking my kids to the Happiest Place on Earth, it was all they could talk about for the rest of the year. Instead of just talking about it, stuff their stockings with a memory photo book of your Disneyland trip. Include favorite moments like meeting Mickey Mouse and Cinderella. If you haven't traveled to the theme park, create a book about their favorite toys or characters. For example, what little boy, or girl for that matter, doesn't love trucks? Mine is pretty obsessed with anything Lightning McQueen! This year you could make your little one custom photo book that showcases his favorite four-wheeled friends. Don't forget to include Sally, Flo, and Thomas the train! With a gift like this they can relive their favorite cartoon memories again and again. Get Started Now.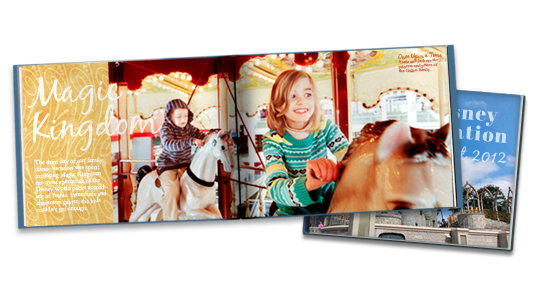 The Places We've Been Photo Book
Capture and preserve the unforgettable memories from your fortnight spent in Paris or the annual family 4th of July trip to the beach house. Caption your trip photos with funny stories and inside jokes to create a travel photo book you can give to your fellow travelers. With tons of travel themes and backgrounds to choose from, it's easy to create a one-of-a-kind journal you, your friends and family can relive again and again. Our standard Classic Custom 6×8 softcover photo book makes the perfect stocking stuffer. Get Started Now.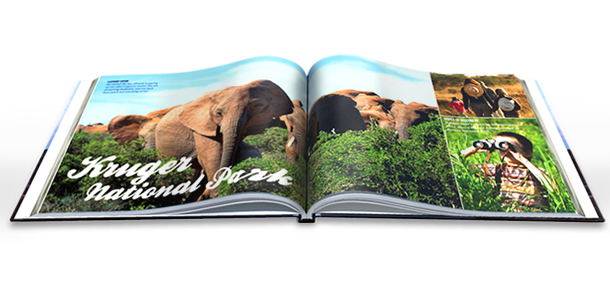 Holiday Collage Poster
Before Picaboo, we'd all sit around with messy glue sticks, old magazines and poster board and create collages of our lives. Now, we've transformed the old-school collage into a custom poster of your life, loves and hobbies. Does your daughter love flowers? Turn floral photos into a custom poster, roll it up and put it in her stocking. Or gather up the best photos of your friend and family over the holidays and make a lovely poster to put in everyone's stockings. This creative and inexpensive gift makes it easy to turn priceless images into custom posters everyone will want to hang in their bedrooms. An 8×10 poster for only $3.99 is a good stocking sized poster. Get Started Now.
Grandma's Brag Book
When families live far away, they miss out on daily events and crossroads. That's why it's important to make a brag book. This is a lovely gift that makes Grandmothers and Mothers happy. They love sharing them with all of their friends! Take a timeline approach and cover the year's events starting in January. A collage-styled book is also a beautiful way to display the unforgettable memories of 2012.  Our 6 x 8 Classic Custom softcover photo book with 20 standard pages starts at $15.99 and is sure to fit inside a stocking.  Get Started Now.
Celebrate Your Inner Tourist
This holiday season celebrate your inner jet setter by turning all of your vacation memories into a shareable photo book to give to your fellow travelers. Include photos from museums, monuments, hikes and even that 3 a.m. visit to the local donut shop. Scan airplane tickets, playbills and matchboxes. Make a book that shares all the places you've gone and all the big things you've done.  Our 6x 8 Classic Custom softcover photo book snuggles nicely inside a stocking. Get Started Now.
***
See our current specials. Get started now!