This post was written by Jim Mitchem.
My mother lives in Houston. We live in Charlotte. We drove there once. It was pretty far. And because flying is expensive, the kids don't get to see their grandmother often. We try to do the best we can in terms of keeping in touch, but my mother is one of the last internet holdouts in the Western Hemisphere, so she doesn't get to experience things in real-time via Facebook like others. Instead, she prefers 4×6 photos when we remember to print them. That's why this Picaboo photo book was the perfect vehicle to share this experience. Not only will it provide her with a keepsake that she can share with friends, but it will also help bring her closer to a specific moment in our lives that she'd otherwise miss out on altogether. A moment that her son, and granddaughter, is pretty proud of.
Here's the story of Soccer Girl.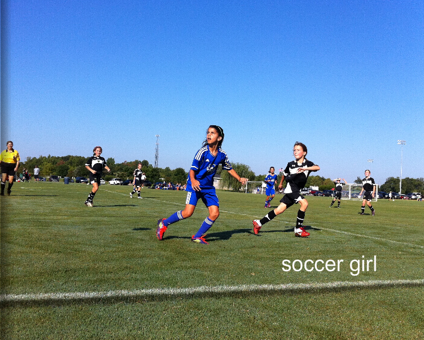 Last weekend we drove to Charleston, SC, for a soccer tournament. Our daughter Agatha Rose, 10, has played soccer for about five years, the last two of which have been competitive. Agatha's team is a great mix of complimentary talents and personalities but they've only been together for a couple of months, so they're still discovering themselves as a team.  They won their first match of the tournament 7-1. Agatha played great. She controlled the ball well, issued laser beam passes and was tenacious on defense. But it wasn't until the second game that I realized how good she really is.
I'm both her biggest fan and toughest critic. It's been more of a learning experience than I expected, monitoring her game closely over the years while trying to be a parent and not a coach. Especially since I never played soccer. I did play sports though, and prefer sport to theater, so any coaching I dish out is always limited to universal ideas like leverage, speed, balance, following through, communicating, etc. Of course I want her to do her best when she plays – I know how fun it is to be competitive and leave everything on the field regardless of outcomes. And for the most part, she does that. But there were a few times this season when she mailed it in – and I've called her on it.

I questioned her passion after these efforts – not as a way to tear her down, but to try and determine whether she's got the kind of competitive spirit that is necessary to succeed in sports. And life.
During the second match she answered any questions that I had about her competitive spirit. Her team was pitted against a team that was slower, bigger and less athletic – but who led at halftime 2-0. Let's just say that the refs were 'letting the girls play.' And during an exchange in the second half, Agatha took a hand across the face. My daughter is on the small side, but is solidly and proportionately built. The other girl was much taller and thicker. After the smack, I saw Agatha's expression immediately change. Her hand went up to her nose, expecting blood and she was on the verge of tears. But the ball came back her way as quickly as it left, and now she and her antagonist were racing for it from opposite directions. They struck the ball at the same moment, and that's when I saw my daughter's expression change again – to something like fury. There's a certain dull 'thud' that occurs when two soccer players connect on a ball during a straight tackle. The 'thud' from when Agatha found her fury was the loudest I've ever heard. The other girl collapsed from the collision while Agatha tore off up field with the ball. Her team ended up winning the second game 4-3, and Agatha had a goal and an assist. It was her finest day as a soccer player.

On Sunday her team beat a very talented squad, 2-1, in the semis to advance to the championship match that they won 4-2. These girls have only been playing together as a team for only a few months, and it's taken that long for them to trust each other enough to play with complete confidence. But the culmination was a beautiful thing to observe.  I'd love to say that I didn't care whether they won or lost and that the important thing was that they left everything they had on the field. But that would be a lie. I remember how great it felt to win when I was 10, and I was rooting for them pretty hard. And I have to tell you that more than the championship, I am even prouder of my daughter for finding her fury and putting it all together to help her team win.
And I'm pretty sure she's proud too.
Wanna create a book around a special event? Why not use BookGenie. This nifty feature takes the pain out of sorting and importing images so you can focus your time and energy on the fun part: Adding your personal touch. Read this post to see how easy it is.