Welcome back to the 365 Project with Picaboo! Don't forget to RSVP so we can message you about prizes, special announcements, and discounts on Picaboo products. For all the information you need on The 365 project, please review this post.
***
Week 8 Challenge: Creative Angles
Week 8 Theme: Perspective
Now that you are learning more about how your camera works, it's time to get creative. This is where you get to let yourself shine through and capture your audience. You don't have to have an expensive camera to be creative. Just let your mind wander and shoot!
There are some things to take into consideration when looking for interesting angles. Most people take a picture standing straight-on to their subject. Now's the time to switch that up.
Try shooting from above. This angle works well with kids. I use it a lot in my sessions with younger children. In this picture, I simply stood over the child and had her look up!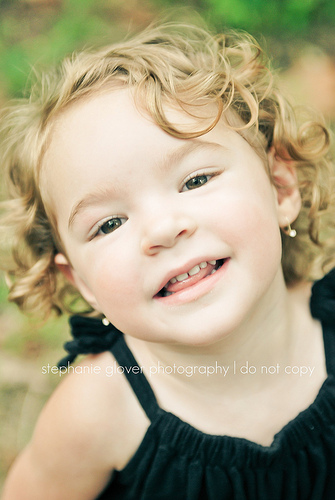 You can also use this angle when working with adults. I tend to use it when photographing maternity sessions to highlight not only the growing baby bump but the mom's glowing face. A bonus to this perspective: This angle is very flattering and makes the face the focus of your picture.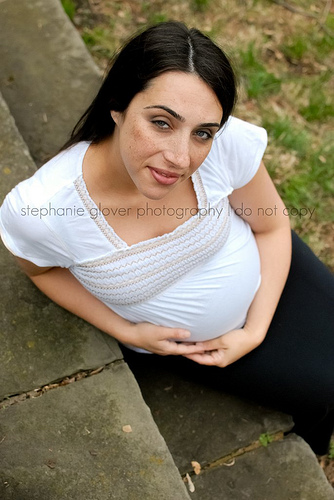 Another vantage point that I shoot from a lot is on the ground. I get right down and dirty and lay on the ground to get the shot. I typically use this for detail shots, such as a shoe shot at a wedding. But it also comes in handy with young children and pets. This works well with children who can't sit on their own but can push up on their bellies.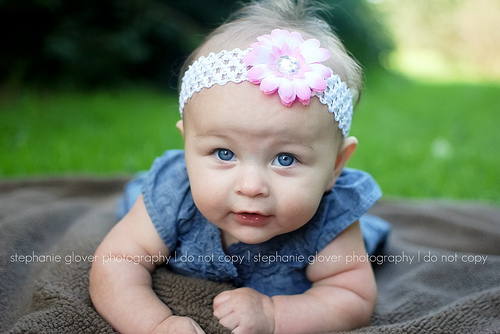 This is also a good perspective when shooting architecture or really tall buildings. This is one of my favorite ways to experiment with angles.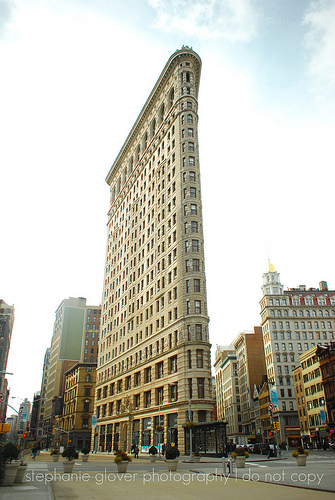 The Flatiron Building is an amazing piece of art. I wanted to try an capture the angles and the shape of the building. After some failed attempts, I moved myself across the street and got down as low as I could. This let me capture the height and its unique shape.
Another interesting angle comes from laying on the ground (on your back) and shooting up. Now, you don't always have to be laying down to get this affect.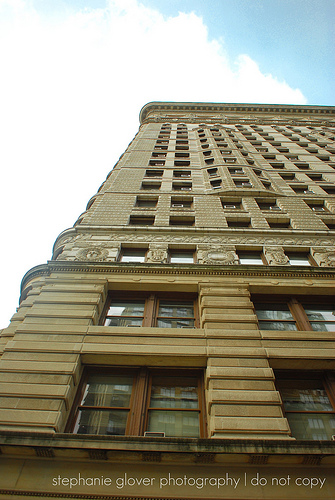 You don't think I laid down on the New York City streets to get this picture, do you? Instead, I got up as close as I could and leaned back.
Finally, there's the camera tilt. Be careful with this one! It can be overused and make your subjects look as if they are falling off the picture. Use with caution and moderation!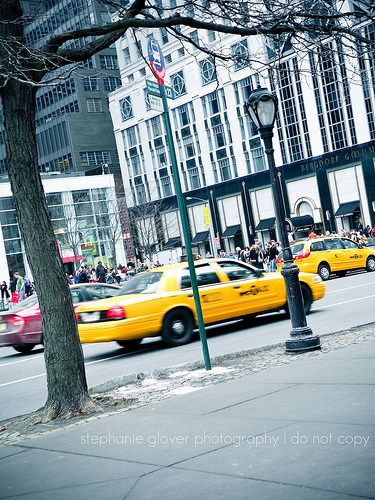 Don't be afraid to look silly. A little embarrassment is worth a great shot, right?
***
Your challenge this week is to find some creative angles! Use your creativity and just go for it.  Don't forget to share your creativity on our Facebook page! There are endless possibilities when it comes to this challenge. Let's see what you got!
Want to be a better photographer? Check out our Photography Tutorial Library!