Holiday cards aren't just for families. More and more companies are sending out custom cards during the holidays as a way to personalize their business. Putting a human face on a business is a smart branding tool and a can be an excellent form of advertising for your company. If you're thinking about creating a card, but aren't sure how you'd customize it, here are some tips.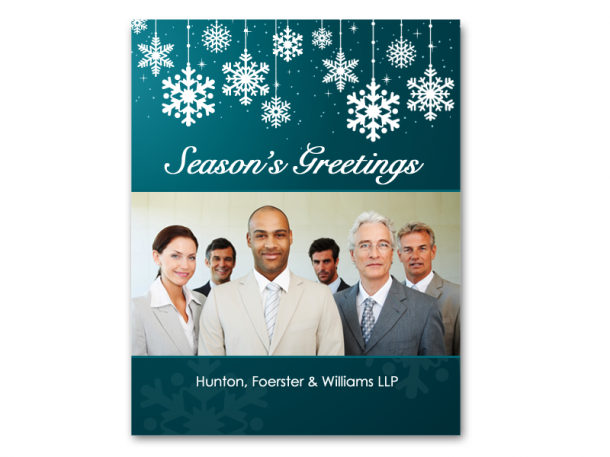 Selecting The Right Image
Take a picture of your entire team or a department within your company (Customer Service Team, Field Sales Team).
Use a picture of your office or factory.
Showcase images of your top-selling merchandise.
Make your logo the centerpiece.
Creating A Mailing List
Along with sending your holiday card to customers and prospective customers. Consider adding service providers, contractors and even family members of employees to your list. This is a great way to express thanks for all the hard work they've done for your company. When selecting a card, a
non-denominational seasons greetings theme
works best. And
Picaboo
has a wide selection of modern choices perfect for all tastes and styles.
Crafting Your Message
Not sure what to say? Don't worry. We've got some options you can use. Feel free to plagiarize!
We hope you have a wonderful holiday season. On behalf of everyone at ________ thank you for your choosing us.
Wishing you a healthy and prosperous New Year from all of us at __________.
Sending holiday wishes and joy to everyone you love. Thank you for all your support this year.
Hope your holiday season is blessed with a spirit of love and celebration.
Holiday Greetings and Best Wishes from the team at ____________.
Extra Tips
Include your URL, phone number and address. Make it easy for your customers to reach you.
Make your cards personal. Have the whole team sign each card.
Skip the Christmas rush. Send your cards after Thanksgiving or even after the New Year. This way, your card won't get lost during the holiday card rush.
Include a surprise in the card. Something that aligns with your business is a plus. For example, if you sell chimineas, consider adding a S'mores recipe. If you work in the healthcare industry, include an article that highlights tips for staying healthy during the holidays.
Handwrite the address. This adds a personal touch and also insures your letter doesn't get shuffled into the junk mail pile.
Want some inspiration? Check out these
Thanksgiving Cards
 a professional photographer sent to her clients.