***
This post is part of our Two Weeks of Love Contest. From now until Valentine's Day, we'll share a book each day submitted by our customers. The author of each book will win a prize and be entered to win a cruise from CruiseDeals.com. If you have any questions about this contest, please read the FAQs here.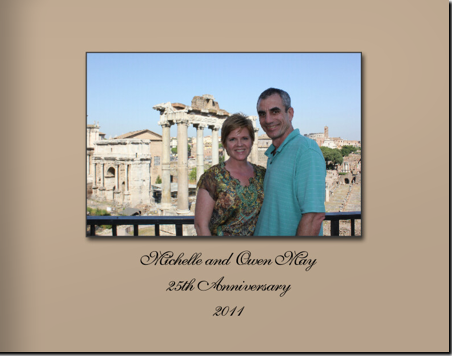 ***
Congrats to Michelle, our Day 11 Winner in The Two Weeks of Love Contest. We loved reading about your trip to Italy. Thank you for sharing your book! Since you are the DAY 11 winner, you will receive a $30 Picaboo Gift Card! (Check your inbox, Michelle!)
Why do we love this book?
This book follows Michelle and her husband as they journey through Italy for their 25th wedding anniversary. From the cover shot, to the classic-style typeface, we get the idea that this is a special trip. Beautiful photography guides us along as they explore different regions, visit historical landmarks and eat and drink like European royalty. This book may inspire you to pull out your tattered copy of Eat, Pray, Love and relive Europe as Michelle and her husband explore.
What makes this book so special?
We love how this book embraces the Italian lifestyle and culture. Up-close snapshots of architecture and amazingly delicious meals adorn each page. As they journey through Corniglia, Tuscany and Riomaggiore, we wish we were there beside them. The "Taste of Italy" was one of our favorite sections.
We're instep with Michelle as she shops the markets, explores the vineyards and makes homemade pasta in her kitchen.  If you've never been to Italy, you could read this book and say you have.
How was this book designed?
We love how Michelle turned photos into backgrounds and layered images on top of images. This allowed us to get a bigger picture of her trip and still focus on the more intimate details. We also love that she eliminated picture frames to create a seamless look that adds dimension and flow.
Here's what Michelle had to say about her book:
We went to Italy to celebrate our 25th anniversary. This long-awaited vacation featured the things we love most: Traveling, hiking, cooking, eating, wine tasting, and most of all, each other! We won't wait another 25 years to go back, but in the meantime, we have this beautiful book to remind us of our first 25 years in love.
Wow! What a wonderful book, Michelle!  Thank you again for allowing us to share your book. Along with your gift card, you will also be entered to win a cruise from CruiseDeals.com!
Looking for more inspiring Picaboo Stories? Here are 14 amazing Picaboo Photo Books. These books are about kids, moms, baseball, adoption, weddings and so much more. Take a peek. We know you'll be inspired.