Today, we asked our Facebook fans to come up with a title for a trip to New York City. As expected, the titles were amazing. Creative, fun and enticing. A trip to New York City is the perfect subject for a Picaboo Photo Book. And it can easily be made with BookGenie.
BookGenie is a nifty feature that helps you make a custom photo book in minutes! It takes the pain out of sorting and importing images so you can focus your time and energy on the fun part: Adding your personal touch.
Here's how BookGenie works: Every photo you take is stamped with a date. BookGenie reads the time stamps on your pictures and groups them together. After you enter the dates, BookGenie magically imports the images from the date range selected into your book in minutes. Learn more about BookGenie.
And now…the winner of our New York Contest is….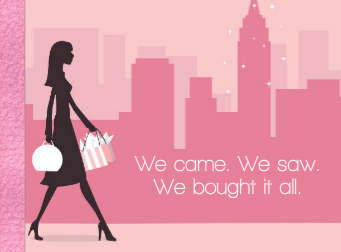 Congrats to Danielle Klecewski. She is the winner with her title, We came. We saw. We bought it all. Danielle, please email FBFan@picaboo.com to claim your $50 Picaboo Gift Card.
Here are some titles that we loved.
New York Times
by Christy George
Don't Settle for Applesauce.  Taste the Big Apple!
by Michael Smolen
You're the Apple of my Eye
by Jane Gray
New York Life
by Lee Farnan Franze
Thank you for submitting your entries. Stay tuned for more fun contests on our Facebook page!