The first page tells the tale from the perspective of the bride's friend: "My friends Becca and David got married this morning!! Both head to toe in Lulumon. In front of Starbucks. They met at Starbucks and David proposed there. One day last week, they decided it was finally time to get married and Starbucks was the obvious choice. A text invite was sent out to their friends and that was it. Wedding planned!
Surrounded by a group of friends and complete strangers who just wanted to witness the joyous event, they exchanged heartfelt vows and were legally married within minutes. Take a look at some of the pages in this fun wedding book.

Love the simple Picaboo background design. A simple background adds texture but doesn't steal front the main show.

We love the simple, laid-back style of the bride and groom. This wedding was definitely created in their very own unique style.
We're not sure if this is the wedding party or a couple of happy customers. Either way, everyone seems thrilled for the bride and groom.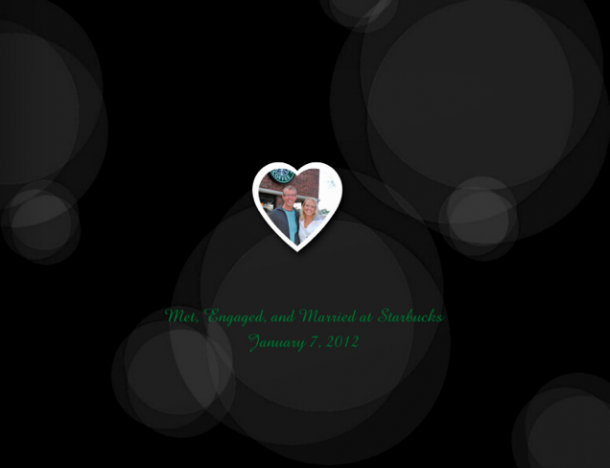 Looking for more inspiring Picaboo Stories? Here are 14 amazing Picaboo Photo Books. These books are about kids, moms, baseball, love, weddings and so much more. Take a peek. We know you'll be inspired.
Ready to get started? Why not make your own Wedding Book. Start your very own Picaboo Wedding book now!