***
This post was part of our Two Weeks of Love Contest. During our Valentine's Day contest, we asked our customers to share their books with us. Then, for 14 days, we shared a different winning book on our blog. The author of each book won a prize and was entered to win a cruise from CruiseDeals.com. If you have any questions about this contest, please read the FAQs here. Note: This contest is now over. Stay tuned to our Facebook page and the blog for more fun contests.
***
Renee was our Day 9 Winner in The Two Weeks of Love Contest. We loved reading Our Life In Pictures. As the DAY 9 winner, Renee received a 8×10 Photo Panel! 
***
Why do we love this book?
Renee is the mother of 11 kids and from the look of this book, her life is BUSY! But she still had time to chronicle her family's escapades for the last six months of 2011. And we're glad she did because this book is FANTASTIC. If you like unique books with sophisticated and creative page layouts, this book is for you. While reviewing her book, we oohed and ahhed at her use of backgrounds, embellishments and photography. And we bet you will too.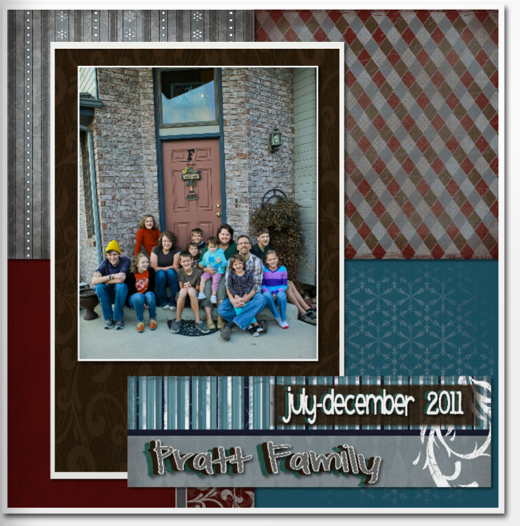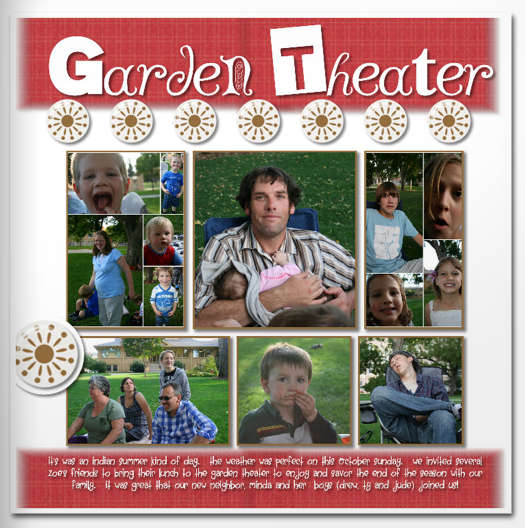 How was this book designed?
This book was designed meticulously. Renee used a grid-like approach to bring consistency to her multiple layouts. Each page is full of memories and to make sure that one picture doesn't steal the show, Renee kept her pictures frames consistent in color and width. Plus we love her use of photo-shaped wells to highlight cute pictures of her kids!
We also love how Renee used page tabs to organize events and special moments. This is an easy and smart way to group pages and spreads together. Graphically, she used Picaboo backgrounds and fun typography to introduce each section.
And of course, we love her use of embellishments!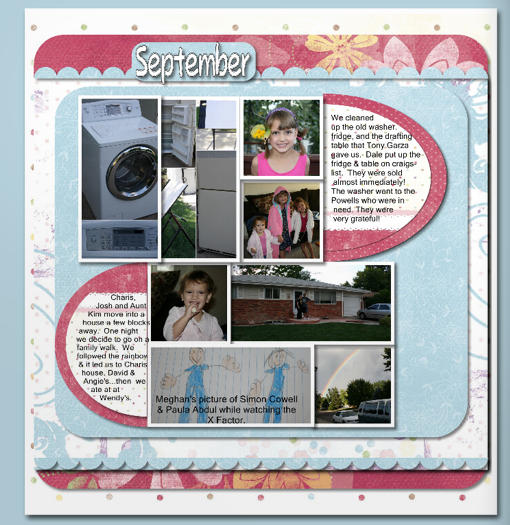 What makes this book so special?
One of the many things we love about this book is how Renee turns everyday moments into events. On the day her family received a new A/C unit, she threw a party! She also dedicated a whole page to one of her favorite holiday gifts: A DYSON. (Are you jealous? I am!) And of course, who wouldn't love to go to a leftover party!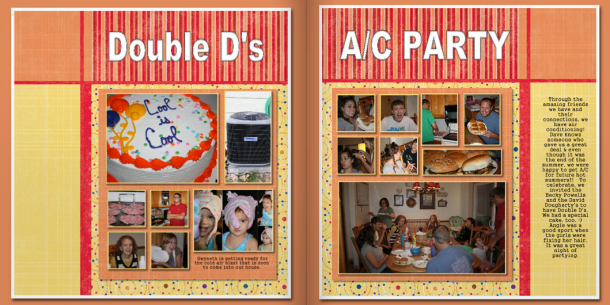 Here's what Renee had to say about his book:
I love scrapbooking milestone events and the events that happen in everyday life. I have 11 children and our family life is full. I used to do traditional scrapbooking until 2011 when I made the switch to digital. Boy, I am so glad I made that change!  It has been fun to have the flexibility to scrap and create pages that showcase my family. My family loves to go through my books and remember what we have done. I am convinced that it's because of my photos and making them available for my kids to see, that they remember what we have done in our lives. My big kids "remember" events when they were 2 and 3 years old because they have seen the photos in books. I love that. And I get credit for being a good mom for it, too. Bonus!  So, my "special" book is quite ordinary…it is my family album.  It is so full, it can only contain 6 months.  Yes, I am blessed.
Thank you for sharing your book with us, Renee. Along with your 8×10 Photo Panel, you will also be entered to win a cruise from CruiseDeals.com!
***
Looking for more inspiring Picaboo Stories? Here are 14 amazing Picaboo Photo Books. These books are about kids, moms, baseball, love, weddings and so much more. Take a peek. We know you'll be inspired.