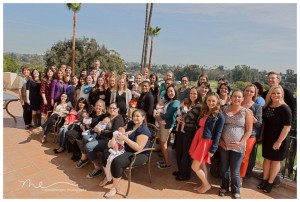 Picaboo was very honored to be a part of a recent Operation Shower event in Los Angeles, California for expectant Moms and recent Moms of children whose  dads are serving in the US Military. Operation Shower is a  non-profit organization whose mission is to provide joyful baby showers for military families to ease the stresses of deployment. It's a wonderful day filled with shower gifts, treats and all around pampering. The moms are the spouses of deployed members of Naval Station San Diego, Edwards Air Force Base and other California military installations.
Picaboo was thrilled to donate a custom photo book for each Mom at the shower
The vintage "Play Date"-themed event was sponsored by baby bedding company Carousel Designs and The Mahan Foundation, with support from Riviera Country Club, Northern Trust, the Northern Trust Open and Summer Infant.   In addition to lunch provided by Whole Foods Market, each of the honored moms-to-be received Operation Shower's signature "Shower In A Box" – a gift of high-quality products for mothers and babies that have been generously donated by companies including Carousel Designs.   Special guests at the event included PGA TOUR player Hunter Mahan and his wife, Kandi.
Photography provided by Maxine Evans Photography