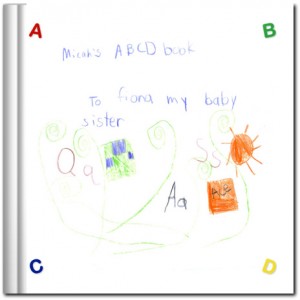 Click here to see it!
I worked with my 7-yr-old daughter to make this one, which is an ABC book for her baby sister. She drew all the artwork, which I then scanned and added the formal text lettering and her sentences for each letter. I kept things really simple for this book, no need for borders or backgrounds at all, so the focus is on her artwork, and we're both happy with the result. If I had it to do again, the only I would change is have the artwork done on a landscape page rather then square, but I would then still make a square book and then have the space below each picture to add the caption there rather than squeezing it in around the artwork. Now to convince my son to make a 123 book!
Want to see more books made for kids? Check out How To Be A Self Publishing Genius, Joshua Makes The Team, Turning Kids Art Into A Book, Little Brown Bear, Sweet Adelina or Anabelle's ABCs.