Halloween rocks. Running around after dark, eating candy, knocking on stranger's doors—what more could a kid ask for? This book by Mary Monistere Dargis, one of our resident Picaboo Pros, captures all the fun memories we relive through our children. Here's a brief interview with Mary and a look into her creative process.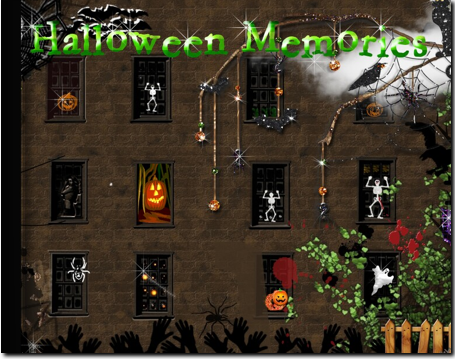 Name, Profession, Age?
Mary Monistere Dargis.
Designer. 51.
I create designs to place on products that I sell on Zazzle and CafePress.
What is your favorite food?
Hmmm, I live in New Orleans, so that's a hard question. We have the best food in the world! New Orleans food is "Creole" not Cajun like most tourists think. I guess my favorite is Creole Seafood Gumbo. I'm in the process of making a cookbook on Picaboo with all my family recipes.
What is your favorite movie?
Funny Girl. (I'm showing my age here!)
Do you have pets?
My two cats are my babies. Figaro and Minnie. And they have their own Picaboo book!
What Picaboo book style did you choose?
Classic Custom Cover.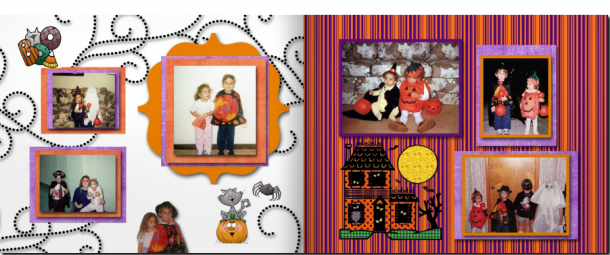 What inspired you to create a Picaboo photo book?
Everything that happens in my life inspires me to make a Picaboo book. This Halloween book was fun because I let my imagination take over. No formal photos. Just my kids in costumes and fun Halloween decorations and embellishments.
You're a long-time user of Picaboo. What keeps you coming back?
My absolute favorite feature is the complete creative freedom it gives me. I create from cover to cover, my own backgrounds, my own embellishments, text, colors, etc. Each book is unique.
How did you choose the photos for your book?
I chose all of the Halloween photos from the time my first child was born until the year I made the book. That's about 25 years of photos!
How did you choose the layouts and backgrounds?
I created all of the layouts and backgrounds. Some pages were made as one complete page on Photoshop and saved as a photo. Now that Picaboo has the features I need to create perfect page designs, I find I'm using Photoshop less.
How long did it take to create your book?
I usually take several months to make my books because I change things around a lot. And I'm usually working on several books at once. The thing that takes the longest for me is finding and scanning the photos, then using Photoshop to change the resolution to 300dpi, which makes them print well. That's the "work" part of each project. If my photos were print-ready, I'd finish quicker. But I love the process of creating and trying different looks. I kind of prolong my book making!
Did you listen to music when you created your book?
I listen to music sometimes. But usually, I just watch TV. Or I enjoy the quiet late at night.

Do you share Picaboo projects with friends?
I recommend Picaboo to everyone. In fact, my family and friends know if there's an event coming up, they'll probably see a Picaboo book. Or I'll try to talk them into making one. I'm obsessed!
What sort of project would you like to create next?
The projects I'm working on at the present are a book of "Wedding Festivities" for my niece who just got married. It includes her engagement party, showers, rehearsal dinner, bachelorette/bachelor parties and photos of her getting ready and the moment she steps out of the limo with her dad.
The next one will be her wedding book. I made her wedding guest book too! It featured images of her and her fiancé from childhood–along with their first few dates. I left extra space on each page for guests to sign. I'm also working on a cookbook, and ancestor-type book from both sides of my family.
You're a big embellishment user. Where do you get your embellishments?
I usually make my own embellishments. My site archive is full of free kits. Occasionally, I'll grab embellishments from other sites. Here are some sites I recommend:
Wanna view the whole book? Check out Mary's Scary Halloween Book.