***
This post is part of our Two Weeks of Love Contest. From now until Valentine's Day, we'll share a book each day submitted by our customers. The author of each book will win a prize and be entered to win a cruise from CruiseDeals.com. If you have any questions about this contest, please read the FAQs here.
***
Congrats to Heather, our Day 2 Winner in The Two Weeks of Love Contest. We loved reading your adoption book, Little Brown Bear! Thank you for sharing it! Since you are the DAY THREE winner, you will receive (25) 4×6 prints from Picaboo! (Check your inbox, Heather!)
***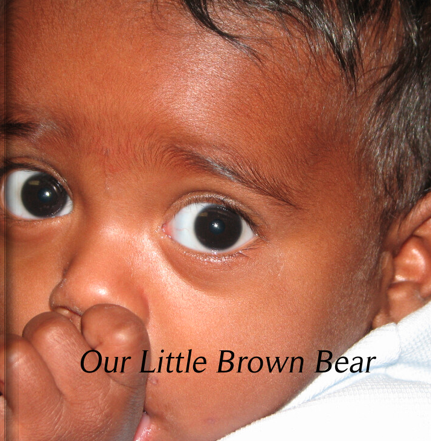 Why do we love this book?
Occasionally, a book comes through our office that touches everyone's heart. The tale of Little Brown Bear is one of those stories. You could classify this as an adoption story. But really, it's so much bigger. This is the story of a how a little boy from Ethopia came into the lives of a loving family. And how he came to be, their Little Brown Bear.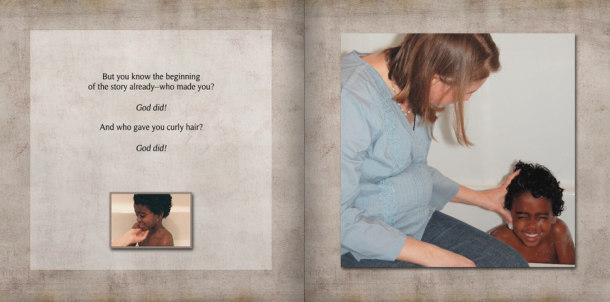 How was this book designed?
Simple and elegant.The words in this book are so powerful that a consistent color scheme is all it needs to bring the story to life. We do love the use of translucent backgrounds to house captions. But what we love most, is that the design doesn't draw away from the star: Little Brown Bear.



What makes this book so special?
Everything about this book is special. We love the dialogue and the simple explanations of complex issues in life. In truth, this is an adoption story. But really, this is the tale of how a little boy found his people. Can you finish this book without crying? What's your reaction? Share it here.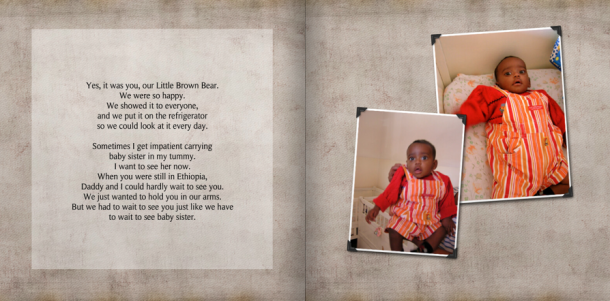 Here's what Heather had to say about her book:
This is a book written for our adopted son to help him know his story. It is similar to a baby book, but if we made a typical baby book, there would be many parts missing. So this is our way of letting him know how and where he belongs. This book was several years in the making, but now that it's finally done, I couldn't have imagined a better reaction! When my son finally received his gift (right after Christmas), he made sure everyone saw it.  He practically has it memorized already.
We'd love to hear what you thought of this book. Leave a comment below or share it on our Facebook Page.
Looking for more inspiring Picaboo Stories? Here are 14 amazing Picaboo Photo Books. These books are about kids, moms, baseball, love, weddings and so much more. Take a peek. We know you'll be inspired.