This post is part of the Picaboo Book Awards. From now until 10/22/12, we'll share a book each day submitted by our customers. The author of each book will win a prize. On October 23rd, we'll randomly pick one person to win the camera and one person to win a cruise from CruiseDeals.com. If you have any questions about this contest, please read the contest FAQs.
***
Congrats to Cheryl, our Baby/Kids Photo Book Winner in The Picaboo Book Awards. Thank you for sharing your Learning to Ride Our Bikes photo book. As a first place winner, you will receive a Mabel's Labels Crafter Pack and a $30 Gift Card from Picaboo. (Check your inbox, Cheryl!)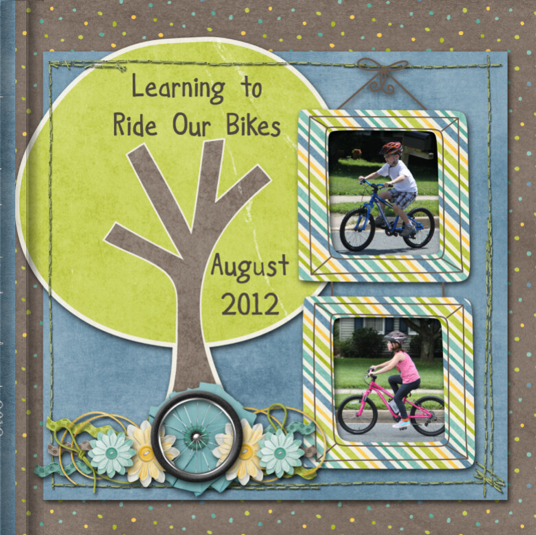 Often, we create photo books around weddings, birthdays, births and vacations. But other moments in life are just as big. That's one of the many reasons why I love this photo book by Cheryl. Learning to ride a bike is a rite of passage and well deserving of a photo book. And this photo book focuses on how to teach your child to ride a bike. Let's take a look at Cheryl's amazing photo book.
I love this intro page. Here, in nice, easy-to-read captions, we understand the premise of the book. I also love the layering of Picaboo backgrounds to create a 3D effect that pulls your eye into the page and makes the bike pop.
Lovely and simple. Cute vertically-striped backgrounds, button embellishments and fun shapes carry the story.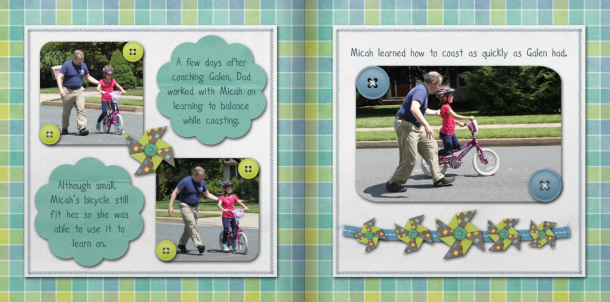 Layering Picaboo backgrounds is a great way to create dimension. And I love the backgrounds that Cheryl selected. Their cute, kid-friendly and match nicely with the buttons and flower embellishments.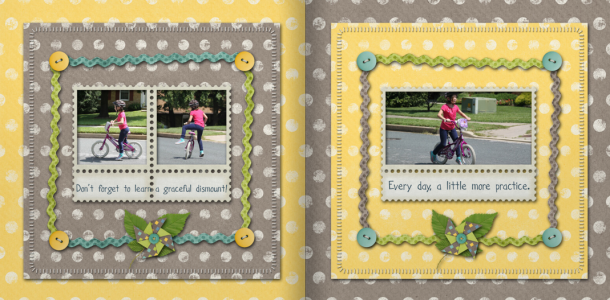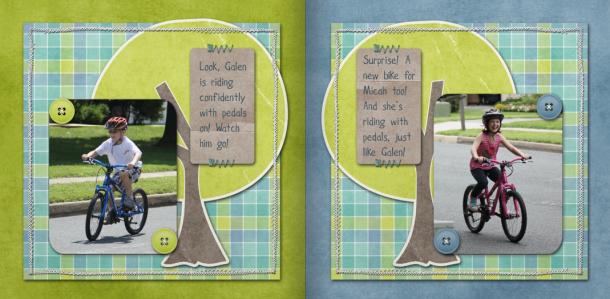 I love this symmetrical two-page layout. I'm thinking–and I could be wrong here–but Cheryl may have used Picaboo's copy and paste feature. You can easily copy and paste elements on a Picaboo page layout. Just use your typical copy and paste key codes. Mac users would use Command + C for copy and Command + V for paste. You can also select "Edit" from the Tools Menu and then select "Copy" on the item you'd like to copy. This is a great way to create a repeated pattern or image.
Lovely, inspiring, fun and emotional. I truly love this book and I hope you guys do too! Thank you for sharing your book, Cheryl!
***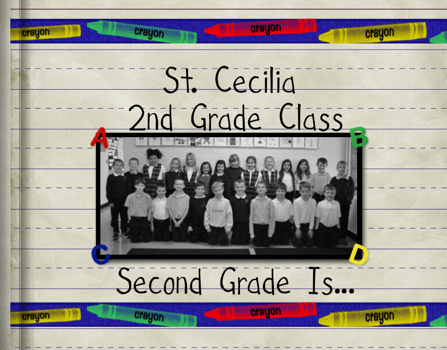 Our runner-up in the Kids/Baby category goes to Laura who made this amazing 2nd grade yearbook. Did you know we're kinda into Yearbooks here?  This year, we launched Picaboo Yearbooks, which is our take on standard yearbook. Except our yearbooks are far from standard. They're personal, easy to create and you only order the ones you need. When we came across Laura's lovely yearbook, we got pretty excited.  This fun, personal yearbook includes images of the kids along with personal notes in their own handwriting and their own pictures about the 2nd grade.
Thank you for sharing your photo book, Laura. For being our runner-up, you will receive a $10 Picaboo Gift Card. Check your inbox!