Today, Laura shares her Spring Break Cruise photo book with us. And since we loved her book so much, we asked her to tell us a bit about her experience making it. Pay close attention to her photo organizing tips. She has some great advice!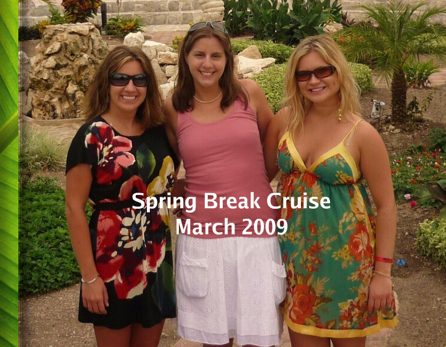 This was actually the first Picaboo book I've ever made. My friends and family have been using Picaboo for a long time and I've always enjoyed their creations!! I love taking pictures and turning my images into a photo book was a great way to keep my memories fresh.
For months, a couple of my friends had been talking about taking on spring break trip. One day, we decided to go for it. And within a week, we had everything booked.
This was the perfect opportunity to combine my love of photography with my fun memories. I have always loved taking photos and this trip, I took over 1,000 shots! I know that sounds like a lot of shots, but I'm a very organized person and I came up with a organization process before I starting making my book. Here's what I did: When I download photos to my computer, I put them into folders. I created a folder for each day of my trip. I then gave each folder a title. The title reflected the places we visited or the activities of that day. If you're planning on making a photo book, I recommend thinking about how you'll organize your photos before you begin. And when you do get down to business and make your book, you'll thank me later. (To learn 5 quick ways to organize photos, read this post.)

After I downloaded my images, I made a rough outline of how I wanted to tell me my story. Our cruise was 7 nights, so I decided to allot 3-4 pages per day. Then I selected my backgrounds. I loved turning my photos into backgrounds. But sometimes my photos didn't work and for those cases, I used Picaboo backgrounds. It's easy to find a Picaboo background. Just search by keyword and you'll find several that fit perfectly.

When it came to sizing my pictures, Picaboo's FAQs section or what they call their
Knowledge Base
was a great help. There I found recommended resolutions for all my images and how to use some of the fun features. It was nice to know that if I needed assistance, I could start a Live Chat with a member of their Support Team at any time. Since they're open from 7 AM to 8 PM (PT) every day, I knew I was a window away from getting help. For this reason, using Picaboo is really easy. I highly recommend this program for beginners, not only for its ease of use, but for the book you'll make!! I'm taking a trip to Ireland this April and I can't wait to start creating my next Picaboo book!