Turn Valentine's Day into something more than a box of chocolates and cheesy one-liners. Chocolates get devoured. Flowers wilt. But photos last. Remind your parents, kids, friends, grandparents or a significant other how much you adore them every day of the year with a gift from Picaboo.
This Valentine's Day, surprise your loved ones with a gift they'll never forget. Turn your memories into heartfelt gifts that will remind them of your affection for years to come. Did I mention that these gift ideas only take minutes to make?!
Vacation/Honeymoon Memory Book
Estimated Time: <30 min      Need: 20+ photographs (the more the better)
Create a photo book of your favorite trip together. Reminisce about how you fell in love in Europe, weathered that blizzard in Colorado or danced until the sun came up in New Orleans. This is a book that someone special will want to look at again and again.
Tips and Tricks
In a hurry? Arrange your photos in order in a folder on your Desktop. Upload them into Picaboo. Then select "Auto Create" to have Picaboo arrange your photos in the album for you.
Create your own book "From Scratch" if you have extra time to spare, unleash your inner inspired creativity.
Don't forget to caption your photos with inside jokes, funny stories and life changing moments. Go ahead; add in one or two cheesy, romantic one-liners. We know you can't resist!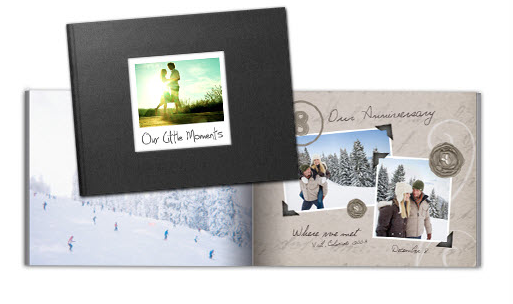 2013 Calendar
Estimated Time: 25 minutes      Need: 12+ photos
It's not too late to give someone you love a 2013 calendar. A calendar is a gift that lasts all year. Relive the memories of the past year as you celebrate a new one! Fill each month with your favorite photos of your relationship, friendship, family vacations and more. This is one of my favorite gifts to give to a boyfriend or husband, both practical and romantic!
Tips and Tricks
Match photos to months. Use a photo of your wedding in May and your ski vacation in December.
Insert pictures to important dates like birthdays, anniversaries, sports game and upcoming vacations.
If this is a gift for the family, make one calendar with your favorite photos and give copies to everyone!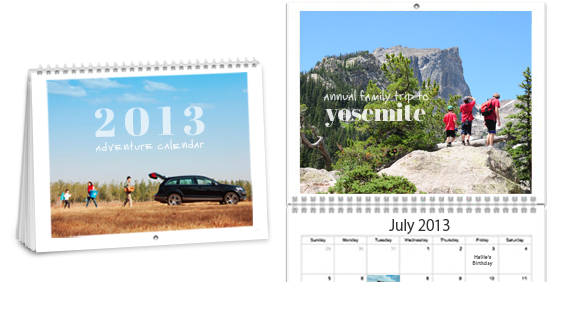 Valentine's Cards
Estimated Time: 5 minutes      Need: 1-5 photos
Be traditional and tell the people you love how much they mean to you in a Valentine. We make creating cards for your Valentines quick and simple with our beautiful designs and layouts.
Tips and Tricks
You know that photo of your daughter in her ballerina outfit, of you and your husband with faces full of wedding cake or of you and your best friend in Europe? Grab it and upload it. Then pop it in the card.
Write a loving greeting inside. Yes, this is where the "Be Mine" one-liners are perfect!
If your kids have Valentine exchanges at school, they will love sharing their very own, customized card with all their classmates
The Story of You
Estimated Time: <30 min      Need: 20+ photographs (the more the better)
Kids love stories about themselves. Why not show them how much they've meant to you since day one with a custom birth story? This meaningful photo book will teach your bundle of joy about all the important people in their life. Be warned: this may become the bedtime book.
Tips and Tricks
Add photos from your wedding, your pregnancy and every birthday thereafter.
 Scan in birth certificates, birth announcements and birthday invitations.
 Use captions to tell a story about the people in the photos and how your little one knows them.
My Favorite Things Canvas Print
Estimated Time: 5 minutes     Need: 1 photo
Share all the things you love about your Valentine with this canvas print gift idea. Love comes in all different shapes and sizes. This is a gift that your mom, kids, grandparents, or even best friend will cherish. Include their favorite foods, books, movies and hobbies. This artistic canvas will show your loved one how much you know and adore them.
 Tips and Tricks
 Make a diverse list of things you know your someone special loves.
 Choose a photo with a solid background. This will make your captions pop.
 Select a font that is easy to read so they won't miss a word.
 Memory Poster
Estimated Time: 10 minutes     Need: 1-20 photos
Auto-create is a beautiful thing when you're in a hurry. A collage poster is a one-click wonder that you can customize to surprise your loved ones. Just pick the photos and Picaboo will automatically create a layout for you.
Tips and Tricks
Create a thematic poster with your favorite photos from your relationship, vacations over the past year or all the photos of both of you making funny faces.
If this is for your significant other, create a poster of firsts! Your first date, first trip together, first Christmas, first New Years, first apartment, and yes even the first time you both caught the flu at the same time.
Other popular themes include their favorite sports team, a special birthday party, favorite places, or family photos.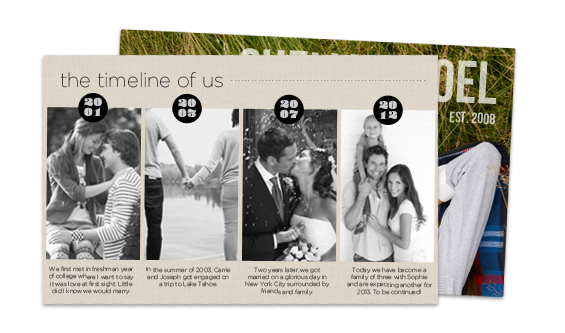 ***
Why wait? Create personal Valentine's Day gifts now and save up to 65% off!