Oh Dads. When it comes to my clients, Dads can be challenging to shoot. Some Dads couldn't be bothered with pictures and are just there "Because my wife made me." Others are totally into the session and even like to help with posing. But just like women, men can be hesitant to get in the picture.
"We just want pictures of the kids."
Whenever I hear this, I usually go into my speech of "When will you have the opportunity to get a family picture?" Or the traditional: "They are only this age once." Reluctantly, after hearing my inspiring words, they'll hop in for a quick family picture.
That's half my battle. Then I go in for the kill. I suggest they take some pictures of just Dad with the kids. Sometimes, I'm brushed off. This is when I let dad take the kids off to the side and just be Dad. And those are usually the pictures I adore.
Other dads? They jump at the chance. Think of it this way:On their wedding day, it was all about the bride. I'm not even going to try and hide that fact. It's about the bride and her dress. The groom, for lack of a better word, is the prop. Sorry but it's so true! Then they have a baby. It's all about the baby. So when someone shows them a little attention and make the picture about them, they jump at the chance.
If you struggle getting the man in your life to get in the picture, I put together a few tips.
1. Catch them being a dad. Keep the event casual and shoot like crazy! Nine times out of 10 it's mom's favorite picture!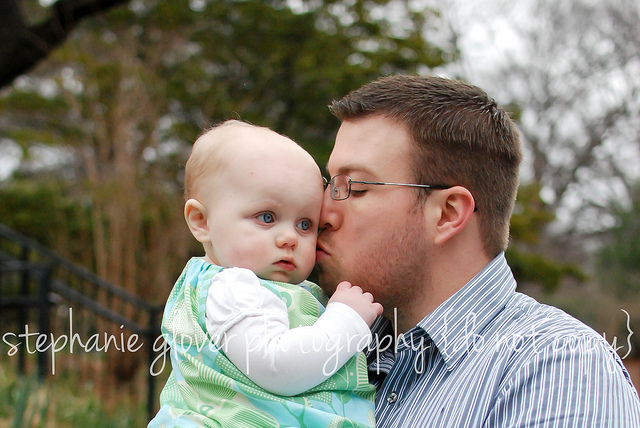 2. Capture size. I love doing this with newborns. There's something about showing a tiny baby in the strong hands of their father. You can also do this as they are growing up as well.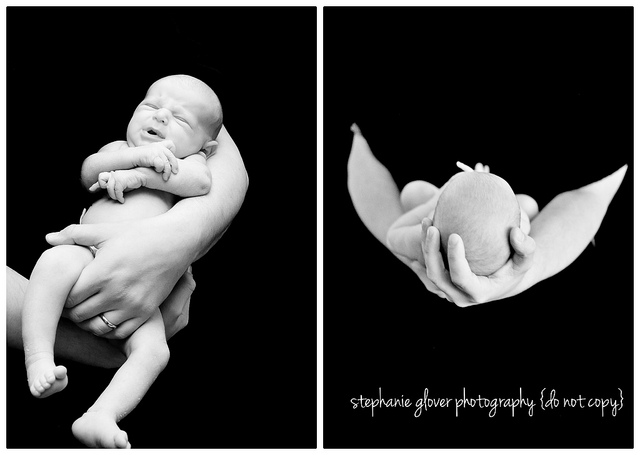 3. Bribe them. I am not even joking. I've heard wives remind their husbands that they are going to their favorite restaurant after the session or that they will stop by Best Buy to look at that TV he wants. Basically, you are saying "You do this teeny little thing for me and we can do whatever you want for the rest of the day." Works every time!
4. Keep them moving. I find that if we are the same location for a while, the men tend to get a bit antsy. Men never know what to do with their hands or how to pose. This is when I refer back to tip 1 and catch them doing something that comes naturally like playing sports with their kids or something playful like giving their wife a piggy back ride.
5. Be quick. Dads aren't going to sit around forever and wait for you to get the right pictures. Make sure you have settings and composition just the way you want them before they sit down. Start snapping away! If you are capturing them playing with the kids, you might want to use your "Sports" mode if you aren't shooting in manual so you can take pictures quickly.
This week your challenge is to show off the men in your life. They don't have to be a dad, it can be your son, brother, cousin, uncle or even your poodle!  The tips above apply to all men. Don't forget to share your photos on our Facebook wall.
And speaking of Dads, Father's Day is just around the corner. Check out our 9 Gift Ideas for under $20 and you could win a free Photo Book or Picaboo Gift Cards.