Photographing pets doesn't come naturally to me because we don't have any! But I love a challenge. Sure, it's just like photographing a person but sometimes pets need a little something else. My goal with every photo I take of an animal is to pull out their personality. But it isn't always that easy. Especially when you have that thing called fur! To help you take better photographs of pets, I've developed seven tips. Make sure you check out tip #6 for my must-have during any animal shoot.
Pet Photography Tip #1: Focus on the Eyes
I've mentioned before that when you photograph people, you want to focus on the eyes. This helps give your photograph stability. And I recommend you take the same approach with animals. Although, some animals have really dark eyes. The goal here is to get some light into their eyes so they don't look flat. To do this, make sure they are either facing the light source or the light is hitting them from the side. This will pull out their eyes. If you are shooting a pet that has lighter eyes, like a bull dog,  and you are using a flash, make sure that your red eye reduction is on! If you forget to turn it on, you will end up with red eyes.
If you are photographing a cat, it's a good idea to turn your flash off. If you don't, your cat's eyes will look demon-like! The reason their eyes glow when flashed is due to their light reflecting layer that just behind their retina. This helps them absorb extra light and helps them see at night.
Pet Photography Tip #2: Get Down on their Level
You can get a lot of cute pictures of animals looking up at you, but getting down on their level will help capture them being themselves. Plus, it makes them feel more comfortable. Capturing your pet from a different perspective can turn a snapshot into a portrait.
Pet Photography Tip #3: Be Patient
When you're photographing children, you have a to have a lot of patience. The same goes for animals. They are going to do what they want to do when they want to do it. Don't get frustrated! Use that time to catch them being themselves or to get your settings right. And if they won't comply, follow them around. Catch their wagging tail. Their muddy paws. Cropped shots also make for fun photographs. This is the perfect time to take some Macro shots.
Pet Photography Tip #4: Get in On the Action
Let's face it, your pet can move pretty quickly! If you are catching them in action, make sure to set your shutter speed around 1/125. You will want to reduce any blur and capture a crisp photo. If you aren't comfortable in Manual mode yet or are shooing with a Point and Shoot, the Sports mode is perfect for getting nice crisp photos.
Pet Photography Tip #5: Bring Treats
When I head out for a shoot, I pack up my equipment and some snacks. Young children always need a little nourishment during a session and pets are no different. We all know a little reward goes a long way. This is another great way to catch them being themselves.
Pet Photography Tip #6: Use Props
When I'm photographing a young child, I often hold one of their favorite toys near the camera to get them to look at me. When it comes to pets, the same methods apply. I have found that using a laser pointer works wonders in trying to get an unwilling animal to look in my direction! Does your dog have a favorite chew toy? Or a yummy bone? Make sure you incorporate their favorite things in your pictures.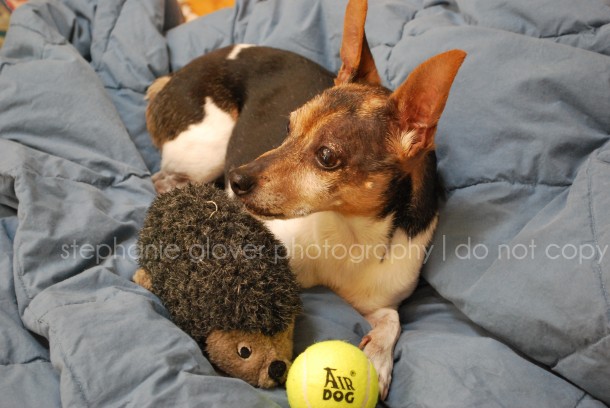 Pet Photography Tip #7: Make It a Family Affair
Pets are such a part of the family, make sure you capture the entire family together!
Your challenge this week is spend some time with your furry friend! Don't worry if you don't have any pets yourself. Borrow a friend's pet, head to the zoo, or find some squirrels running around the yard! And don't forget to share your photographs on our Facebook wall.
***
Have you missed a Photography Tutorial? Don't worry! Just check out our Photography Tutorial Library. It's jam packed with over 30 photography lessons. And we add to it every week!