Show of hands. How many times have you been so proud of an awesome picture you took, ran to Facebook, uploaded it and were then confused as to why it didn't look awesome anymore? This has happened to me on more than one occasion.
Today, I am sharing a little tip with you on how to make your picture look just how you see it on your computer! When you upload a picture to Facebook, it gets resized to 960 pixels on the long end. If you upload a large size file to Facebook, it will be compressed which makes it look pixelated and sometimes fuzzy. All you have to do is resize that big boy and add a little sharpening!
How To: Make Your Pictures Look Better on Facebook
1. Head to your favorite photo editor. I am going to use PicMonkey for my example.
2. Upload the image you need to resize.
3. Click the Resize button on the left hand size.
4. Resize your image so that the longest side is 700 pixels. In my case, I changed the pixels so that the picture was 700px wide. Important: make sure you keep the box for "Keep Propotions" checked!
5. After you resize, you may notice that your picture looks a little blurry. This is when you want to head over to the Sharpen button. When you shrink an image, you need to resharpen it so that it's crisp. Choose the "Unsharp Mask" option.
6. Since it's a small picture, start with small numbers. I started with 60%  strength with a pixel radius of 0.5.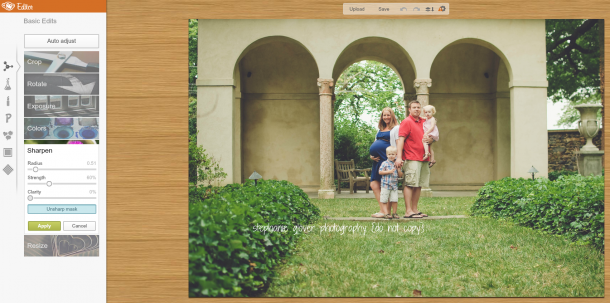 7. Save your picture!
Not only will your pictures look better on Facebook, they will upload faster as well!
I know what you're thinking. "Steph, where's the challenge?"  This week, I want you to great really creative. I want you to capture size in your photographs. Interpret that any way you want! Be creative! Before you post your pictures to the Facebook page, make sure you follow the steps above so that your pictures look amazing this week!
Have you missed a Photography Tutorial? Don't worry! Just check out our Photography Tutorial Library. It's jam packed with over 30 photography lessons. And we add to it every week!