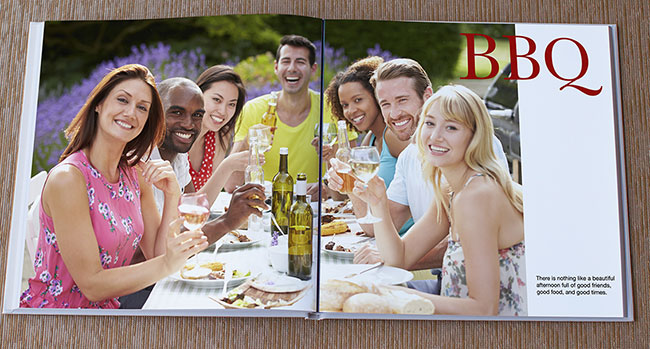 This week is Mardi Gras, and I'm in the mood to party! This got me thinking about party photo books, one of the most fun types of books to make. Not only do I get to relive the day through making my book, I love sharing the memories of good times with my friends and family.
Here are a few "don't forget" tips on how to make a smashing book that will bring the party to life!
1) Include "pre-party" photos of your decorations & settings
If you're hosting a party, you may spend weeks, perhaps months creating the perfect experience for your guests. Don't forget to capture a few photos of the party that you created before the guests arrive. Whether it's festive decorations, imaginative table settings or an incredibly decadent dessert bar, include photos of the pre-party setting. All of the hard work you put into it is part of the experience and should be remembered.
2) Photos or scan-ins of props like invitations & napkins
If you're hosting a special event party like engagements, baby showers or anniversaries, be sure to include any memorable props from the party. Scan in or photograph invitations, napkins or glass flutes that were special to the occasion.
3) Photograph wide shots, backdrops or surfaces like tablecloths, clouds or wall/floor tiles to use as backgrounds
Another way to convey the atmosphere of the party is to photograph surfaces or the party backdrop and use them as backgrounds. Did you use a special tablecloth for the event? Was the party outside at the park? Take pictures of the sky or wide shots of grass or flower fields and use the photo as a background, one of my favorite tools.
4) Ask everyone to take pictures
We live in a marvelous age where everyone has a camera in their pocket. Encourage party-goers to take pictures and ask them to send them to you after the party. This way, you get photos of the party from different moments and perspectives. And more importantly, it allows you to enjoy yourself instead of playing photographer.
Inspire US!
Do you have smashing ideas for a party book? Have you made a party book you're proud of? Share your book project with us at inspireus@picaboo.com for a chance to have it featured on the blog! For details on how to share your book, click here.