The holidays are here! And that means tons of family time. My family likes to cook and drink. So this year, I'm making a cocktail book for my dad. It's chock full of holiday cocktails and embellishments from the Shabby Princess and Peppermint Creative. It's also very personal as each spread is dedicated to a member in our family and their preferred drink.
If you're looking for a fun holiday gift, this is a winner. And if you have a couple of people on your list that might like a holiday cocktail book, order your book before 12/13/11 and get one free with our BEHAPPY promotion. Here's how the promo works: Buy any Classic Book and get a copy free. With this promotion, you can knock two people off your holiday list! This special applies to the following books: Classic Linen, Classic Leather, Classic Book Styles and both calendar sizes.  Here's more info.
Now, let's get down to business. I've included a couple of spreads from my own book and six easy steps to help you create one.
The first spread is dedicated to my dad. After all, it is his book.I selected a "Retro Holiday" background from the Picaboo background library because it matches the button-down shirts my dad likes to wear. And I added some embellishments to make the pictures pop. I also included a recipe, just in case we forget how to make our favorite drinks!

My father likes Manhattans.And when he orders them, he always says: "Up." When he says this, he sounds like the coolest man in the world. My father knows everything there is to know about Manhattans and he loves to tell the history of the drink as though he invented it himself. I've heard it so many times that when he begins the story, I focus on the sounds of the sweet vermouth swishing around the glass. This spread's for you, Harv.

My mom is a white wine drinker. But come December, she gets festive. And her drinks take on the colors of the rainbow. Last year she was real keen on pumpkin. She put it in everything. The best creation was her Pumpkin Eggnog Martini. She decided it took about 20 minutes of whisking to get it just right. And when I say decided, there was a process to it. She kept a notepad on the counter and timed her whisking. Twenty minutes created the perfect concoction. When I took a stab at making one, she told me to whisk until I got tired. Then keep whisking. And when I felt I reached the Whisking Wall, to whisk more. Did you know there was such a thing as a Whisking Wall? This spread's for her.

During the holidays, we take things nice and easy. I think that's because we're all so relaxed. Often, dinner takes longer to prepare than eat. Games of Scrabble can span the length of two movies and when it comes to making drinks, my husband is nothing but thorough. His drink is the Mistletoe Mojito. And he spends all day chopping up the mint and de-seeding the pomegranates. When he finally gets to drinking it, he takes off his shoes, puts his feet up and sips leisurely. It's a religious experience.
As for me, I'm really not that picky. I could go for a light beer or a glass of red wine. So I included a couple of my favorite brands, just in case my father feels like stocking up next time I'm home. I also added a couple of alcohol-free drinks for the kiddos: A Chocolate Peppermint Milkshake and an Eggnog Hot Chocolate. I made the spreads as decadent as the drinks. I plan to present this book to my dad with a Manhattan. Up.
Want to make one for yourself or someone in your family? Here are six easy steps to creating the perfect holiday cocktail book.
1. Open Picaboo X and select "Photo Book" from the left sidebar.

2. Choose landscape or square orientation for your photo book. I picked square because it will fit better in our tiny bar shelf.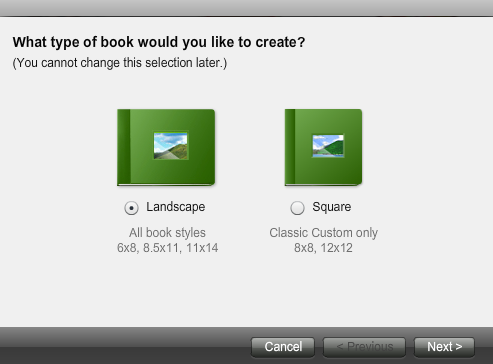 3.  If you want to use our pre-designed holiday layout, choose "Holiday" for your theme. If you'd like to create a one-of-a-kind book from scratch, choose "No Theme" and you can create the layout of your book as you go.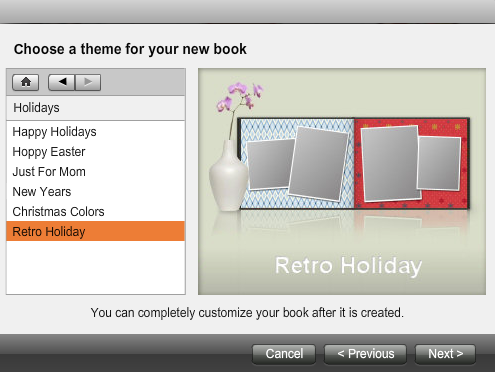 4. Now it's time to select your photos. You can import images from iPhoto, Previous projects, Facebook or Flickr. If you saved your images to a file on your desktop, now's the time to import them. After your pictures are imported, select the images you want to use and then click Next.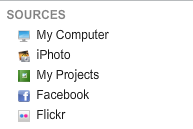 5. You can choose "Auto Create" or "From Scratch." Our "Auto Create" setting automatically places your pictures in a cookbook layout for you. Then you can edit and reorganize your images to your liking. If you chose "From Scratch," your photo tray will hold all of your images, allowing you to drag and drop them on each page.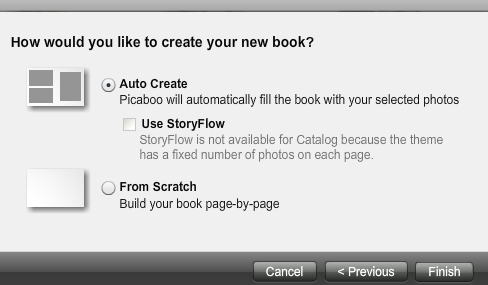 6. Remember to explore our many backgrounds. We've got over 20,00 and many are holiday themed. From ornaments to gingerbread men to color-themed, finding the perfect background is easy. Just type in what you're looking for in the search box in the "Backgrounds" tab on the left sidebar.

And that's it. It's so easy. If you're creating for someone on your gift list, take a look at our Holiday Shipping Guidelines to ensure your gift arrives in time!
What festive drink would you include in a cocktail book? Leave a drink suggestion below and we'll randomly pick two people and award them $10 in

Picabucks

. Winner will be announced here tomorrow.
UPDATE: Congrats to Dolly and Suellen. You were randomly selected using Random.org. You will receive $10 in Picabucks! To everyone else that left a comment, thank you! Look for more fun chances to win Picabucks here on our blog.