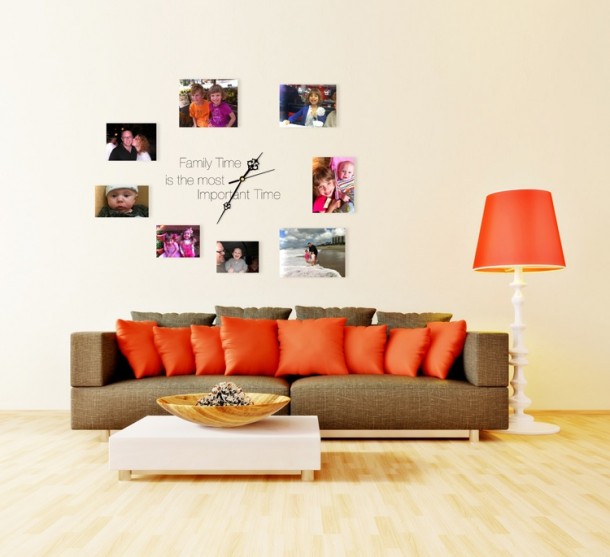 You can make anything with Canvas Prints. Recently, we shared 9 Creative Canvas Print Project Ideas. Today, we'll show you how to make a Canvas Prints wall clock for your family. Just follow these 8 steps to create a family memory clock on your wall.
Step 1: Select 8 Images
The photographs you pick will create the theme for your clock. Choose images that highlight a special day, a birthday or your last vacation. This may be the hardest step because we're sure you have a ton of photographs you love. Your images can be from Facebook, Flickr or your computer. To make it easy, we suggest you create a folder on your Desktop and add the images you plan on using.
Step 2: Open Picaboo
Open Picaboo and select Canvas Prints from the left sidebar of your Project Library.
Step 3: Upload Images
You can only create one Canvas Print image at a time. Depending on your wall space, select from four sizes: 15×10, 24×16, 30×20 and 36×24. Our 15×10 Canvas Prints starts at $69.99. Here's more information on pricing.
Step 4:  Watch Your Crop Zone
As you add your images to Canvas Prints, make sure to pay attention to the Crop Zone. This area is marked on your project with a dotted line. This line defines where the wrap starts on your Canvas Print.
Step 5: Order Your Canvas Prints
Order your Canvas Prints. If you order before midnight (PST) tonight (7/19/12) use coupon code CANVAS40 and take 40% off each Canvas Print! (This is an amazing deal!)
Step 6: Create A Wall Clock
To help align your images, we suggest you create a circle on your wall to serve as a guide for your Canvas Prints. To make a circle, tie a piece of string around a pencil and measure the length of the string to a push-pin. Place the push-pin to the center of your circle. Then, pull the string straight as far as it can go and start drawing your circle. If you'd prefer to trace a stencil, cut out a circle from a pizza delivery box and use that as a guide. Want to paint your clock? Don't forget to apply painter's tape around the edges of your circle. This will allow you to paint the circular area. Make sure to remove the tape after the paint has been applied. Leaving the tape on the wall too long could result in paint loss.
Step 7: Add A Quote To Your Wall
To make the concept work, it's good to have a quote about time. You can use quotes that speak to the time of your life or quality family time. Or you can use the quote we used for this tutorial: "Family time is the most important time." If you're looking for quotes that work for a particular theme, here are some great wedding quotes, family quotes, baby quotes, quotes about being a grandparent and inspirational quotes.To add the quote to your wall, use stencils to create a cohesive look. Letter sizes range from 1/2″ to 60″ and come in a wide array of typefaces. (If you find a quote you love, please share it in the comments.)
Step 7: Selecting Clock Parts
Finding clock parts isn't as hard as you think. Nancy, the women who created the original image, recommended Clock Parts. However, Michael's or your local craft store probably carry wooden second hands that you can paint.Once you purchase the right clock hands, attach them to the center of your circle. You may want to sketch it out first to allot room for your quote.
Step 8: Hanging Your Canvas Prints
This is the easiest step because our Canvas Prints come ready to hang with appropriately-sized hardware. For multiple orders, you may receive your hardware in a separate package.
Step 9: Enjoy
Enjoy your wall clock mural. And if you'd like, we'd love to see how it turned out. Share a picture on our Facebook page!
Looking for some fun projects you can make with Canvas Prints?
Here are 9 Creative Canvas Print Ideas and 5 Fun Ways to Display Canvas Prints.