When I'm making books that have natural sections, I like to add tabs to create a sense of organization and style.  Well…what I really like about them too is watching our friends' eyes open wide with amazement when they turn the page of the book to reveal a two-page-spread with a tab.  "WOW!" is almost a guaranteed response. :)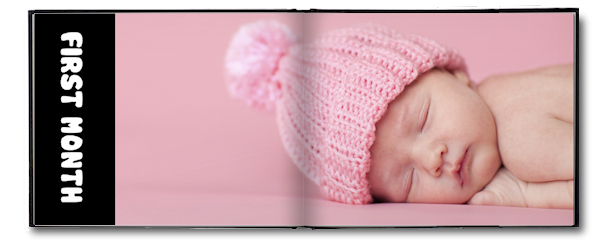 (see more sample images below)
Here are some examples of book ideas that work really well with tabs:
If you're putting together a book of your family throughout the year, add tabs for each season, or different occasions like "Easter", "Graduation", etc.
Baby books should have tabs for each month of the first year, or special occasions like "Visiting Grandma" or "First Christmas".
Create sections in your cookbooks like "Auntie Debbie's Dishes") or by food category ("Salads & Appetizers" or "Soups & Stews").
Tabs are perfect for heritage books too. Use headings like "The Early Years", "High School", "Sports", "Military Years", etc.
To create a tab with a color background:
Select the page you want to create the tab on.
Click the "+ Caption" button located on the right side of Picaboo X beneath your book.
Rotate the caption box using the circular arrows to the right of your caption box.
Click the arrow and drag it to rotate the box vertically.
Type your tab caption (eg. "Easter"), click "Caption Tools" in the sidebar, and set your font color, type and center-justification.
Click the "Background" check box and then the color box to select a color for your tab. Then use the translucency slider to set as desired.
Finally, use the multi-directional arrow around your caption box to move the caption right to the edge of your page. The crop-warning will appear, so expect that the area highlighted will be cropped, and keep the text away from that area.
To create a tab with a pattern or photo background:
Follow steps 1-4, above.
Then, drag-and-drop a texture from your media tray (if you have one) onto your book page and select "Add New Photo". [If you want to use a Picaboo background for your tab, click "Backgrounds" in the sidebar, hover your cursor over the background you want to use, click the "i" and then click the "Add to photo tray" icon and then drag-and-drop from the photo tray to your book page.]
Click on "Photo Tools" to turn off the borders. You can choose whether to leave the shadows on or not.
Drag and resize the image into the tab position and move your caption on top of the tab. In Photo tools, use the "Send Backward" function if your caption is beneath your tab.
Let me know if you have any questions…or if you come up with a neat twist on this idea, share it with us!