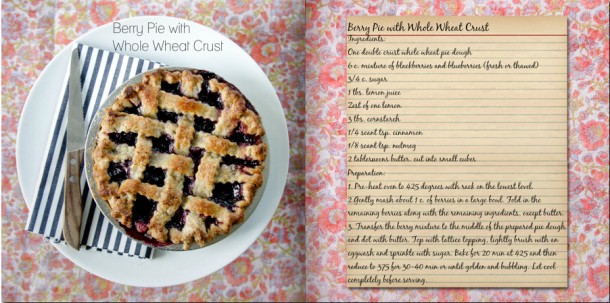 Have a ton of recipes lying around? Why not make a Picaboo cookbook? It's easy and fun! Here are the four simple steps to help you create a one-of-a-kind cookbook.
Step 1: Gather Your Recipes
The first step is to gather all of your recipes. You can use your favorite recipes from recipe cards, magazines, emails or dishes you've found online.  Do you have a friend who makes a special dish? See if they'll share it with you and give them credit in your book!
Step 2: Converting Your Recipes Into A Digital Format
After gathering your recipes, you can digitize them in their original format (see the steps below) or you can type the recipe into your book pages. If you decide to type your recipes, it's easy. Each page of the Cookbook theme has a standard template you can use to enter the name of your dish, the ingredients and the cooking instructions.
If you plan to use hand-written recipes, transferring them into digital images is easy. Here are three ways to do this:
Use a tripod or set your camera on a steady surface. Make sure the room is well-lit. Natural lighting is recommended but a desk lamp will do. Capture your images at the highest resolution.
Any desktop scanner will allow you to easily scan your images. Make sure your scanner is set at a minimum of 300dpi.
Go To An Office Supply Store
Take your recipes to any office supply retailer like FedEx or Mailboxes, Etc and have them scan your recipes for you.
Step 3: Taking Photos Of Your Dishes
How will you show your dishes? Do you plan to photograph your food, use stock images or use Picaboo X backgounds? All of these options will allow you to create beautiful layouts. If you plan to photograph your food, here are a couple of tips that will help you take great images.
Think like a food stylist. Pick a nice background when displaying your food. Table cloths with patterns may distract from your dish while a white table cloth may look drab. Solid, vibrant colors that complement your dish work best. Don't use dishes with busy patterns as they may distract from the textures and colors of your food.  Wood tables are always nice, as are smooth or textured counter tops.
Use natural light. Set up your shot next to a large window or outside. Try not to use a flash, as the light can be too harsh and cause hot spots. To learn more about using natural light, read this article.
Use a tripod whenever possible. This will eliminate blurry pictures.
Zoom in to fill the frame with your dish. A good close-up shot will showcase your food. While you're at it, try different angles. Shoot from below, the left and then right. This can create some really interesting images. Try taking your photos on a slight angle too.
Take shots while you're preparing your dish as this will help inspire your readers. Sample shots could include cutting vegetables, combining ingredients into a bowl or a lineup of all the spices you plan to use.  You can also take a picture of any little helpers.
Watch the clock! The sooner you take a photo of your finished dish, the fresher your food will look.
Save your images as hi res JPGs to your computer. If given the option, save them at the highest or best image resolution possible.
Save your images in a folder on your desktop. This will make importing in the next section quick and easy.
If you don't want to photograph your food, there are many places where you can find free images online. Dreamstime offers a diverse mix of royalty-free images.You can also purchase inexpensive stock images from photography warehouses like iStock and Getty Images. Another option would be to add photos of the ingredients you're using. And Picaboo offers many different backgrounds to jazz up your book. (You'll learn more about this in the next section.)
Step 4: Make Your Picaboo Cookbook
Now the creative part begins! Picaboo makes it easy and fun to make a photo book. Here are eight quick steps to get you started.
Open Picaboo and select "Photo Book" from the left sidebar. If you've never made a photo book before, you'll enter into our Library where all your future projects will be housed.
Choose landscape or square orientation for your photo book.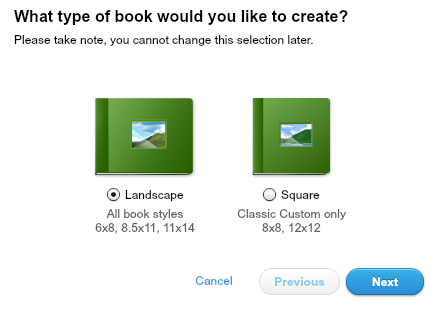 If you want to use our pre-designed cookbook layout, choose "Cookbook" for your theme. If you'd like to create a one-of-a-kind book from scratch, choose "No Theme" and you can create the layout of your book as you go.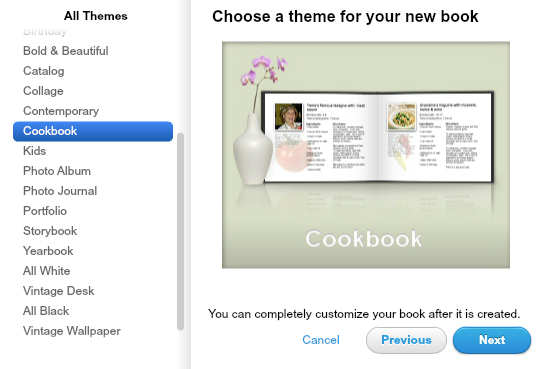 Now it's time to select your photos. You can import images from iPhoto, previous projects, Facebook or Flickr. If you saved your images to a file on your desktop, now's the time to import them. After your pictures are imported, select the images you want to use and then click Next.
You can choose "Auto Create" or "From Scratch." Our "Auto Create" setting automatically places your pictures in a cookbook layout for you. Then you can edit and reorganize your images to your liking. If you chose "From Scratch," your photo tray will hold all of your images, allowing you to drag and drop them on each page.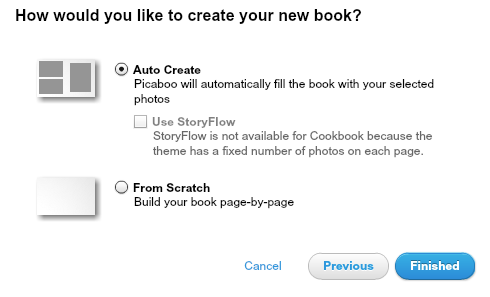 Remember to explore our many backgrounds. We've got over 20,00 and many are food themed. From pasta to pizza to peppers, finding the perfect background is easy. To search through our wide selection of backgrounds, select the background image from the Edit Page option.

For inspiration, check out 7 Tips for Creating a Recipe Book and this sentimental recipe book of pies created by Rachel in honor of her grandmother. The Peach Galette recipe featured below is a page out of her personal cookbook. We love how she paired old-school recipe cards with a modern collection of pies. Rachel took all the pictures herself. And she's not a professional photographer! But she knows the power of natural light. As she puts it, "If you begin with great light, you've got a pretty good chance of getting a great shot." Read Rachel's techniques for using natural light.