Here's my story and tips on how to make an incredible personalized gift to celebrate a commemorative birthday or family occasion.
Birthdays come and go every year – some more special than others. So what do you do for that extra-special someone on a particularly monumental occasion?  In January, when my grandmother's 90th birthday was approaching I was wondering what in the world could I possibly give her that would be meaningful and personal. Aha! The answer was a custom photo book from all of her grandchildren. My grandmother's own mother used to make family scrapbooks entirely from scratch and would spend painstaking long hours making copies for each of her children and grandchildren — all by hand! Today it's different. We have the technology and resources to make extraordinary personalized gifts quickly and efficiently using digital photos and to easy-to-use applications.
So I reached out to my brothers and all our cousins (13 in total) and took it upon myself to make a custom photo book that would give thanks to our "Granny" and celebrate this exceptional milestone.
Corralling photos and heartfelt notes from 13 grandkids located across the country from Oregon to Maine seemed challenging at first, but thanks to the Internet and digital photography I was able to get all of the pieces in a timely fashion. I simply set up a shared folder on Dropbox so each person could add his/her own photos. I requested everyone email me a personal letter to Granny to be included, and I even scanned artwork and old photos from the 70s that were sent to me from aunts and uncles. With all of these great assets, I was excited to create a beautiful keepsake that the entire family could enjoy!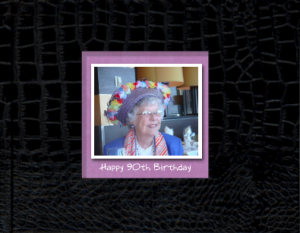 I chose the croc-leather book style for its classic look and design. I started with a theme for the book, but then decided to design page-by-page, which provided me with complete creative flexibility. I used a variety of backgrounds from Picaboo's ever-expanding collection of free background designs, and adjusted custom layouts to fit all of the pictures and text. Having the option to choose fun patterns and colors, enhance images with photo tool, and add embellishments really gave each page a unique personality.
Granny had a small family dinner in Boston to celebrate her birthday on February 28th. When she opened the gift and looked through her book, she was brought to tears. The following day I received three voicemail messages from her thanking me for the beautiful gift.  And I quote, "Thank you for the incredible scrapbook from the grandkids – I've had more fun looking at it and thank you for making my birthday absolutely perfect!"
Five Steps for How to Make a Family Scrapbook or Milestone Birthday Book
1. Get the Family Involved: Contact all of your family members who you want to contribute to the project; make them feel like they're a part of it!
2. Gather the Assets: Set up a shared folder where people can upload their digital photos on a site like Dropox.com — a free service that lets you bring your photos, docs, and videos anywhere and share them easily. Pull old photos from picture frames or scrapbooks and digitally scan yourself to add more history and depth to the project. Ask family members to contribute some words such as a personal letter, a poem or a simple thought or memory.
3. Create Your Masterpiece: Once you have all of the assets, let the fun begin! Organize your images in such a way that makes sense. Working chronologically is one way to do it – but don't over think it. No matter what the flow of the book is, it will be great!
4. Share and Make Edits: Share the book via email or on Facebook with your family and/or friends. Allow them to give feedback so that you can make adjustments. It's always good to have more than one set of eyes on any project!
5. Order and Give: Once your book is complete, order a copy for the recipient as well as additional copies for everyone else in the family. After all that hard work and pride you put into it, you will want everyone to have a book for their own coffee table!