One of my favorite traditions during Christmas is making cookies. Last year, I hosted my first-ever cookie exchange. It was a big hit with my guests. And it got me thinking – wouldn't it be fun to create a Picaboo Cookie Cookbook and give it as a gift to friends and family?  So this year I got down to business and created a Cookie of the Month Cookbook. It features a different cookie each month and some months are so special, they have two. Each month's cookie recipe is themed to go along with that particular month. It was so much fun to collect recipes and photographs for each of the themed cookies. However, the most fun was adding embellishments.
I have been busy lately hunting down and downloading free digital scrapbooking kits. You can find them EVERYWHERE. The Picablog has a wonderful tutorial explaining how to upload the kits into your projects. I was anxious to put some of my free kits to good use in my cookbook.  When I designed my cover, I looked for a kit that would reflect the overall feel I wanted for my book. I wanted to include a photo. On the back cover of most books I do, I like to put a little label that says it was made by me and the year, just to personalize the book.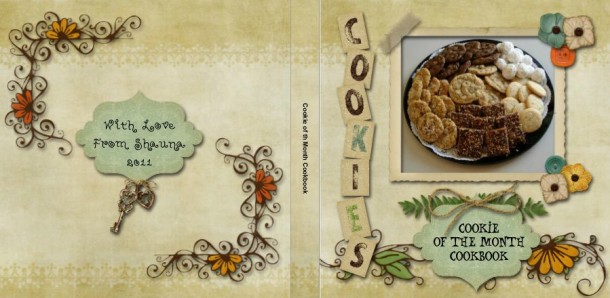 But the inside of the book is where I really went nuts.  Winter-themed pages for January, Valentine pages for February, Halloween, Thanksgiving –you get the idea.  I had a blast using different papers and elements as I created a custom page around each recipe and photograph. I used ribbons and trims to edge the pages, frames to set off the cookie photos, tags for the cookie names and alphas for some of the months.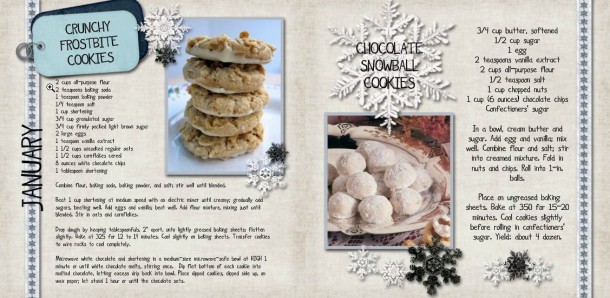 I find it works best to select your background first.  Then position your photo and text, leaving room for other elements on the page such as flowers, bows, buttons,  brads, tags – anything that enhances your layout. With Picaboo's editing features, it's easy to move, rotate, resize and layer your elements to create just the effect you want on the page.
When doing two-page layouts, I usually use the same background on both pages for a continuous flow. I often carry the ribbons all the way across the bottom or top of both pages or place a ribbon border vertically along the opposite sides of the pages. This creates a uniform feeling. I then use the other elements from the kit throughout the layout. On the January layout I used a layered tag for one cookie name. I turned the month name and ran it down the side of the page vertically.  The photos were framed by just the border.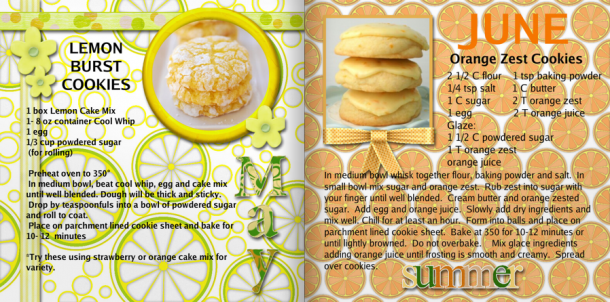 One-page layouts are also fun to create, giving each page a completely different feel.  Each page has its own unique personality.  For October I used the spooky font, running the month vertically again.  On the November page, I used alphas from a kit to spell out the month horizontally along the bottom of the page.  On these pages I used a frame on the photos of the cookies.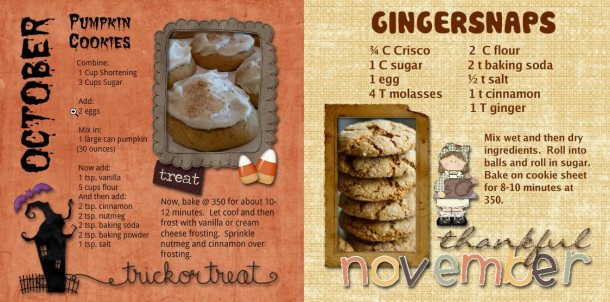 Because I wanted to use all 20 pages included in the basic book price and there are only 12 months in the year, I added some frosting recipes at the back of the book.  Because those recipes were so brief, I was able to use some elements such a clipboards, recipe cards, etc. to type the recipes on.  Using all of these different elements makes each page so different and unique.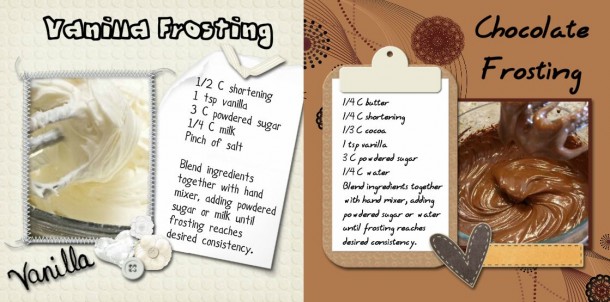 It is So. Much. Fun. Hopefully, my friends and family will enjoy receiving this cookbook as much as I enjoyed making it. Want a quick step-by-step guide for creating your own cookbook? Take a look at this article.