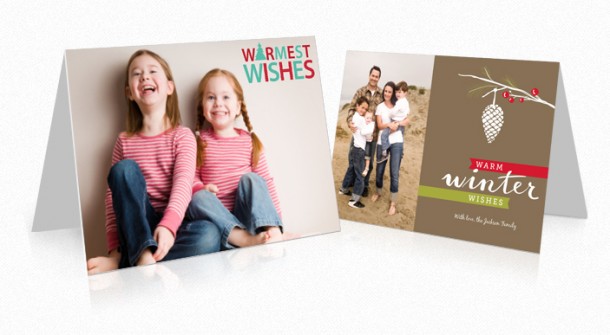 Holiday cards. You've spent hours taking the perfect photo, picking the perfect card and getting it shipped in time to your house. After you've addressed all of your envelopes, you breathe a sigh of relief, knowing the cards are done. Then you realize the fatal flaw in your plan–the lack of a catchy verse.
You find yourself sitting there in stunned silence, knowing any old verse just won't do. These have to be special. Your entire holiday card list is riding on your message. Not to worry, with a little nudge here and a little pull there, we can help you find the perfect wording for your Picaboo Holiday Cards.
May the holidays refresh your spirit and bring you new inspiration and happiness!
Grab a sweater, pour some hot chocolate and enjoy the warmth this holiday season!
Wishing you magical, memorable moments this holiday season.
May the laughter and joy of the holiday season float through your home.
From our family to yours, Happy Holidays!
Wishing you every happiness this holiday season.
Sending holiday smiles across the miles.
May you be overwhelmed with love and special memories this holiday season!
Wishing you Peace, Love and Good Cheer this Holiday Season.
May your holidays be filled with love, laughter and cookies!
Hope the holidays bring you lots of reasons to smile.
May this holiday season and the New Year bring you good health, happiness and peace.
Christmas Greetings: 
May your home always be filled with the warmth and beauty of Christmas.
Wishing you all the joys and blessings of Christmas.
Wishing you the gift of faith, the blessing of hope and the peace of His love at Christmas and always.
May Christmas surround you with beautiful blessings.
If we weren't already friends, I'd ask Santa for you.
God bless your holidays and leave you with laughter, love and memories.
Hoping the Light of Christmas shines brightly on you and yours.
Wishing you a magical and memorable Christmas.
May Christmas, far or near, be celebrated throughout the year.
C-hrist gave H-imself as a R-eward so that I-ndividual know the S-acrifices T-hat he did for M-ankind to A-chieve the gift of S-alvation. Merry CHRISTMAS!
May the glow of Christmas, the spirit of Christmas, and the magic of Christmas fill your heart all year long.
Wishing you peace, love and joy this Merry Christmas!
Joy to the world! Merry Christmas and Happy Holidays!
Through the looking glass of a thousand stars, heavenly angels watch over us and bless us unaware.
May your Christmas be joyful, peaceful and bright. Filled with the love of that first holy night.
Candy canes and little toy planes are things that we adore. But wishing you a Merry Christmas is something we love even more.
During the Festival of Lights, may happiness and love fill your home. Best wishes for a memorable Hanukkah!
Happy Hanukkah wishes are being sent your way!
As you light the candles, may your faith be renewed and tradition preserved. May the season bring peace to your heart!
Experience the miracle of life as you kindle the candles at Hanukkah.
Wishing you eight blessings for Hanukkah.
This is the time to celebrate tradition, freedom and courage. May these values stay with you all year!
Wishing your wonderful family all the heartwarming joys of Hanukkah.
May your home be bright, your family blessed,  and the Feast of Lights be your happiest.
May your Hanukkah be filled with the blessings as precious as our friendship.
Wishing you a bright and cheerful Hanukkah full of love and latkes!
May the holidays bring you many wonderful memories!
Kwanzaa Greetings:
Wishing you a Joyous Kwanzaa.
Celebrate the spirit of Kwanza with the ones you hold dear.
May the light you bring ring clear!
May you find joy in the spirit of unity that Kwanzaa brings.
As diverse as we are, we are all the same. Happy Kwanzaa to you and your family.
May you enter the new year with all the promises the Nguzo Saba hold!
Be proud. Be honorable. Be you. Blessed to have you in my life this Kwanzaa.
Seasonal Quotes:
A lovely thing about Christmas is that it's compulsory, like a thunderstorm, and we all go through it together. ~ Garrison Keillor
Christmas waves a magic wand over this world, and behold, everything is softer and more beautiful. ~Norman Vincent Peale
Blessed is the season which engages the whole world in a conspiracy of love. ~Hamilton Wright Mabie
Love the giver more than the gift. ~Brigham Young
May your walls know joy, may every room hold laughter and every window open to possibility. ~Mary Anne Radmacher
The best and most beautiful things in the world cannot be seen or even touched. They must be felt with the heart. Wishing you happiness. ~Helen Keller
Tips for writing the annual family newsletter: 
Keep them short and sweet. One page is the perfect length.
Add the ages of your children and special accomplishments of the year.
Write about trips you've taken and experiences you've had.
Funny quotes from the year are always entertaining.
Include a couple of lines about each family member. If a loved one has passed, share a fond memory of them.
Prepare them for upcoming events. If you write: "Amy is a senior this year," people won't be stunned to receive her graduation card in a few months.
How to involve the kids: 
Let them help you decorate the envelopes.
If they can write, have them sign their name.
If they can't write, get an ink pad and let them leave their fingerprints.
Grandma and Grandpa live far away? Instead of a family letter, include a piece of custom made artwork from the kids. Or a photo book full of their art!
Whew! Wasn't that a breeze? Feel free to copy and paste, I won't mind. And if you want to add a holiday greeting you like to use, leave it in the comments! And before we part ways, this may be a good time for a Holiday Card Etiquette refresher. Check out that nifty article. It's full of very important information. I should know, I wrote it!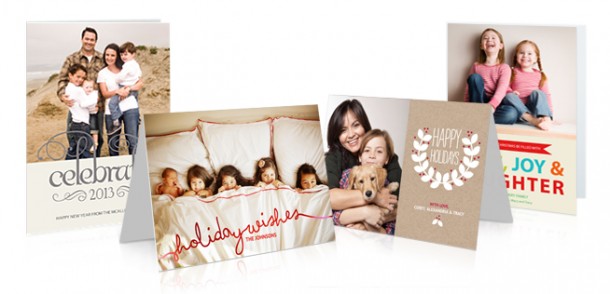 Feeling inspired? Create a beautiful photo book, canvas print, calendar, holiday cards and more! Start one now. See current specials here.