I love our calendars for four important reasons. 1) Everyone needs a calendar. It's essential to everyday life and planning. 2) Once you create a calendar, all of your important dates are saved. So you don't have to remember them. 3) You can start a calendar at any month you'd like. And lastly, 4) A calendar is a gift that lasts ALL year long. A couple of years ago, I got my mom a massage for Mother's Day. She loved it. But the gift was over and done with in 60 minutes. This year, good ol' Chris is getting a calendar. (Don't worry, she's not reading this. Or is she? Mom? Are you here? Did you see what I just wrote?) This will be a good indication of her love for me. (Just kidding.)
The other day, I stumbled upon this lovely calendar and I had to share it. Here's what I like about this calendar. The cover is enticing. I'm a big fan of covers and I love how this cover has a picture of a big brother sweetly holding his baby sister. These soft moments are lovely and I have several images of my daughter holding her sweet brother. I know my mom loves these shots too.
June begins with all things pink. And I imagine that this sweet girl is just as in love with pink as my daughter is. Nice background lovely picture and just a sweet way to begin the calendar.
I love January because I think bath images are so cute and kinda funny. My daughter get crazy hair in the bath tub and it makes for some amusing photos. I included some in my Mother's Day gift because I know my mom likes to see those everyday moments. These are the things she really misses and they highlight how far away she is. Maybe if she lived a little closer she could enjoy this fine little moments. Or at least, I wish. (And this is another reason why calendars make great gifts. If your mom or daughter lived closer you'd have company during these moments.)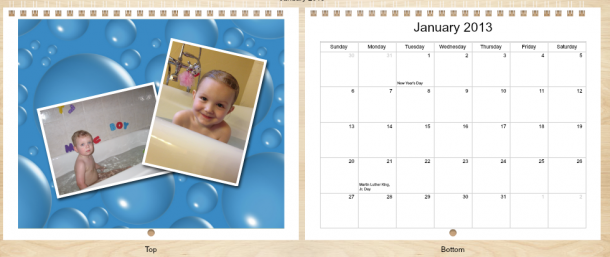 Gotta admit. I'm a sucker for sleeping/napping shots. My kids always sleep with their tushies in the air and it makes me laugh.
Another great reason to give a calendar is because it's easy to make. You can make a calendar in less twenty minutes. Want more inspiration? Check out this short video, eight fun calendar ideas, this calendar gift for mom and 5 cool things about Picaboo calendars.