Whether it was graduating from middle school, high school or college, shopping for my graduation dresses was never like trying on a prom dress or picking out an outfit for a first date. Graduation meant more than those other rights of passage. It was the dress I would be wearing as I celebrated my accomplishments and faced the unknown.
Once I was handed my diploma without tripping over my stilettos, I could only hope I wouldn't fall on my face in the next chapter of my life. The gifts from my family and friends were encouragement that I would find the same success in my future as I had in my past. To this day I still carry the precious book my mom gave me. This little book of quotes from mothers to daughters has made growing up feel less scary.
Be one step ahead of my mother and create a gift custom designed for your graduate. A personalized Picaboo gift is one they will cherish for the rest of their lives.
A Photo Book of Accomplishments
Give your graduate a photo book that celebrates all the great things they've already accomplished. This book will be a little reminder of all the success they've already had when doubt sneaks into their minds.
Tips and Tricks
Start the book from their earliest years and organize your photos in chronological order.
Use shots of your proudest moments like photos of them learning how to walk, eating cake at their first birthday, leaving the house for their first day of school, earning badges at their scout award ceremony, and making the honor role.
Don't forget to use backgrounds and captions to enhance your photos!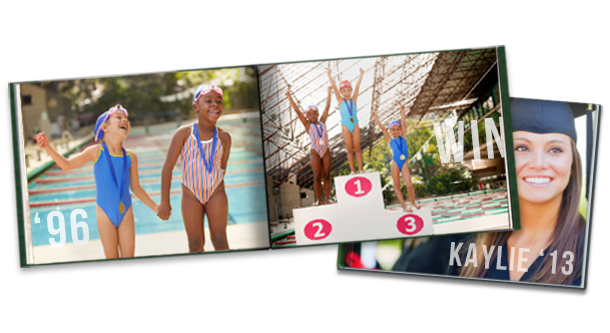 Inspirational Quotes Calendar

This is a great gift for high school or college graduates. Moving out and being away from family and friends can be tough. Give them a gift that'll make them feel comforted, inspired and a little closer to home. A calendar full of your words of wisdom will serve as an encouraging nudge whenever they feel homesick.
Tips and Tricks
Use an inspirational quote for each month.
These quotes can be either originally said by you or your favorite authors or public figures.
Pair your quotes with little pieces of home – photos of family, friends and beautiful pictures of your hometown.
Add reminders for special events to the date boxes like birthdays, Father's Day, and Mother's Day. This way, they won't have to worry about forgetting and, bonus, you'll get a loving phone call on your special day.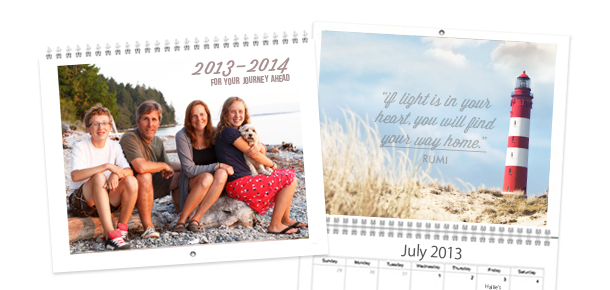 Travel Memories Photo Book
Does your graduate look forward to your annual summer trip to the Bahamas or love adventuring through South America  or Europe with friends? Maybe they studied abroad in college and threatened to never come home. Whatever their travel passions, capture these memories in a photo book. Whether they are going off to college or mingling at their first job, they will love showing off all of the beautiful places and fun memories they've had to new friends or co-workers.
Tips and Tricks
Use Picaboo's beautiful backgrounds to enhance your photos.
Make sure to read 5 Things I Always Include in Travel Books (linked to travel blog post) for travel book tips and tricks.
Don't forget to caption your photos with inside jokes, funny stories and life changing moments!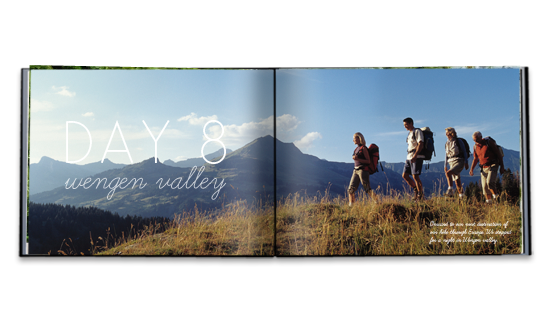 It Seems Like Just Yesterday That… Photo Book 
If your son or daughter is graduating this year, you're probably thinking, "I can't believe it! It seems like just yesterday that…." Don't let the memories of your graduate's childhood fade. Preserve your favorite moments into a photo book. Your graduate will love reminiscing over this gift wherever they may go.
Tips and Tricks
Put your photos in chronological order – From when they were wrecking havoc during their terrible twos, to when they had their first sleepover birthday party, to when they were singing in the school play, and so forth.
Use captions to highlight each moment
Enhance your photos with our beautiful and diverse background selection.
Alma Mater Poster
Congratulate them on their graduation. Remind them of all the awesome memories they've made over the past 4 years with this fun and easy-to-create canvas print or collage poster.
Tips and Tricks
Use a picture of their school as the main focus of the print.
Add the school mascot, the school slogan and the dates they attended.
I recommend choosing a canvas print for a gift this special. Our canvas prints really turn your photos into artwork. And, you won't have to worry about finding a frame!
***
Don't miss out on our current special offers. Enjoy 55% off Classic photo books. Use Coupon Code: FORMOM55