I am somewhat of a photo gift junkie and have found that everyone, even dads and grandpas, love to receive photo gifts. Sometimes, though, I get stuck in a rut when it comes to creating a unique personalized gift. With Father's Day approaching, it's time to focus on the men in our lives and I've come up with three one of kind gifts for those one of a kind guys in your life.
Subway Art Collage Poster For Dad
I love making photo collages and they make fantastic gifts. I am also currently obsessed with "subway art," which is art made with words in different fonts and sizes. Some people call this a type-treatment poster. But regardless of what you call it, it makes a great gift! And with the new Picaboo, you can now add rich text media to your projects. This means you can use different typefaces, point sizes and colors to a single
Caption Box. (This is a big and very cool enhancement!) (FYI: To learn about more new features in Picaboo, check out this company announcement.)
To make my Subway Art Collage Poster for my Dad, I uploaded a photo of my dad and my son and sized it so that I still had some room around the edges. I then used the +Caption button (bottom right) to add different words that are meaningful to these two guys. For example, my son calls my dad "Dzia Dzia," which is Polish for grandfather. And my Dad calls my son "Little Guy." Needless to say, I had to add these words to their collage. I made the background color blue because that's my son's favorite color and it worked well with the colors in the photo. To make a fun Subway Art Collage Poster, make a list of words you want to include and then plop them in. You can make this gift in less than 20 minutes! It's that easy! And so worth it.Want some inspiration? Check out: 8 fun Picaboo Collage Posters and 3 St. Patrick's Day Collages.
A Family Calendar For My Father-In-Law
This is my favorite Picaboo product. Every year I make a photo calendar for my father-in-law with all of the important family dates — birthdays, anniversaries, weddings, etc. My father-in-law is a widower and he counts on receiving this calendar every year so he knows when to send cards! Picaboo offers a lot of different themes to choose from for your calendar. This year I opted for a kid-themed color layout. Last year, I selected Vintage Wallpaper.
One of the many cool things about Picaboo calendars is you can start it on any month of the year. So, every Father's Day, I make a new calendar for my Father-In-Law that starts in July. And since I've made one for many years, I no longer have to add in all the important birthdays, anniversaries and events. Picaboo remembers the dates for you from year to year! This is lovely because now I don't have to email my sister-in-law every single year to ask when her anniversary is (ahem). This year, I didn't add a single new date. It was already complete for me.
For the photos in the calendar, I use pictures of the grand kids. During the months when there are birthdays, the main picture is the person who's having the birthday. I also added cute photos of the kids on the date boxes when it's their birthday. This is an easy visual reminder. Since we have a big family, there were a couple of months that have two birthdays. So I just selected the two-photo page layout and aligned the photos evenly. For months without birthdays, I use photos that correspond to any events in that month. For example, In October, I added a photo of the kids in their Halloween costumes and holiday-themed pictures were added in December. I really enjoy making these personalized calendars and I know that my father-in-law looks forward to receiving one every year. Want more inspiration? Check out this Mother's Day Calendar and this blog post that lists 8 fun calendar themes.
A Recipe Book For Dad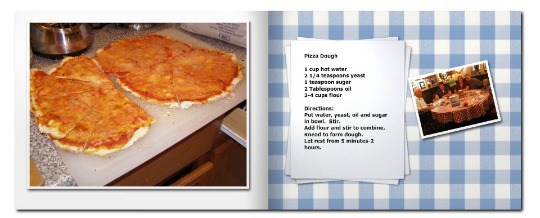 My husband enjoys cooking and he has his own set of recipes that only he makes. The problem is that we can never find a home for the recipes and they are constantly getting lost. I'll often find his personal recipes shoved in my cookbooks or in the junk drawer in the kitchen. You know the one. That's why this year, I decided to create a recipe book that houses his recipes. It's the perfect way to organize his recipes and it's a lovely keepsake of all the yummy dishes he has prepared over the years.
For the layout of the recipe book, I used a standard recipe cookbook theme. The blue and white oil cloth reminds me of a restaurant we used to go to. And my pictures looked nice on the background. One of the amusing things about my hubby is that he takes a picture of every single meal he makes (I'm not kidding) so we have a lot of food photos! If your hubby isn't as photo-happy as mine, you could easily add pictures of your family, kids or pets. That "baby's first spaghetti" photo would fit right in! Or, if you'd prefer, you could scan old recipes and upload the images in as photos. Then I selected lay-flat pages so that the book could be used wide open for long periods of time. This special paper is also a bit more durable than the standard paper and can outlast the grease and creases of many hands. To learn more about Picaboo cookbooks take a look at these posts: A cookbook how-to tutorial, a cookie of the month cookbook, a recipe book inspired by a beloved Grandmother and tips for taking pictures of food in your house.
These are just a few ideas for a personalized Father's Day gift. Want to see 9 Gift Ideas you can make in under 20 minutes for less than $20? Along with some inspiring gifts, you'll also have a chance to win Picaboo prizes!