Don't you wish you could show your dad how grateful you are 7 days a week, 365 days a year? This Father's Day, give Dad a gift that reminds him every day what you might not be able to say yourself. With my help, you will be able to create a custom gift from Picaboo that tells him "I love you" time and time again.
#1 Dad Photo Book
Remind your father of why he's so great with a #1 Dad Photo Book. Dedicate each page to all the wonderful things he does. For example, does he cook the yummiest pancakes? Tell the best bedtime stories? Or is the magic healer of boo-boos? Remind him of all the things he's so good at and tell him why. This lovely and fun photo book will make Dad smile when he sees how much you care and how much your kids notice.
Tips and tricks
Make sure to have a shot highlighting each of his wonderful qualities.
Use our beautiful backgrounds to enhance your photos.
Have old photos you want to include? Simply scan them and import them into your book.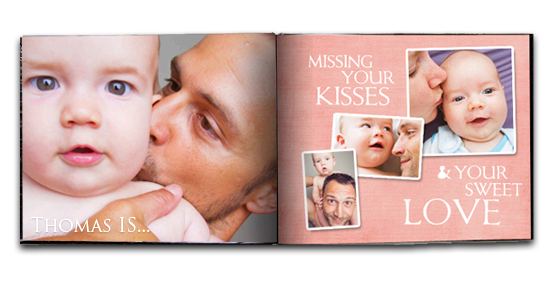 The Travelling Dad Photo Book
Is he an avid traveler? Could he stare at European architecture all day? Does he constantly relive the biggest wave he ever caught in Mexico? Whatever his traveling passion, turn his favorite vacation memories into a travel journal. He is sure to cherish this thoughtful gift for years to come. With tons of themes and backgrounds to choose from, it's easy to create a one-of-a-kind journal so he can relive these adventures time and time again.
Tips and Tricks
In a hurry? Arrange your photos in order in a folder on your Desktop. Upload them into Picaboo. Then select "Auto Create" to have Picaboo arrange your photos in the album for you.
Don't forget to caption your photos with inside jokes and funny stories from the trips!
Daddy-isms Canvas Print
Show your Dad how memorable he is by quoting him on a collage or canvas print. Include all of his favorite expressions like: "Don't make me turn this Honda around!" Or everyday favorites like "You better eat your Clam Chowder," or "Because I said so!"
Tips and Tricks
Use a photo that showcases Dad in one of these moments.
Interview the whole family to get the best Daddy-isms to add to your print.
Make sure to place your text somewhere that doesn't disrupt the photo.
Grilling Cookbook
 Father's Day means warm weather's coming and it's time to break out the charcoal and dust off the grill. Show Dad how much you appreciate all his backyard culinary endeavors with a fun recipe book full of his famous BBQ dishes!
Tips and Tricks
Add in some new recipes that you'd love to eat (rather than cook).
Include pictures from the best BBQ's over the years.
A favorite summertime cocktail? Include some tasty drinks too!
 Coach of the Year Photo Book
Is your Dad a Coach for a little league, soccer, or other sports team? If so, create a book that highlights his leadership and passion. This memorable photo book can feature big games, fun team outings and trips on the road. Be sure to include quotes from the kids as well as their parents. This gift will remind Dad of the team he has built and all that he helped them accomplish.
Tips and Tricks
Don't forget to include a team photo so nobody is left out.
Get everyone involved by gathering shots from all the parents so you have more to choose from.
Have a blank page devoted to signatures and thank you's from the kids.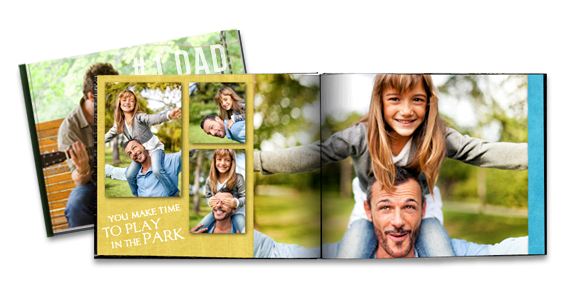 Custom Calendar
Dads are busy and, let's face it, some are totally disorganized. Pick out your favorite family pictures and put together a custom calendar (don't worry you can have it begin in June!). He'll be able to keep track of all his important meetings and appointments along with all those dates and holidays you don't want him to forget.
Tips and Tricks
Match photos to months. Use a photo of your Hawaii vacation in June or your Thanksgiving feast in November.
Add in important dates like birthdays, anniversaries, and upcoming vacations.
Make it more personal with pictures of his favorite foods or sports teams too.
Before He Was Dad Photo Book
As hard as it is to believe, Dad had a life before you came around. He went to school, played sports, and had a favorite pet too. Collect some old photos and take him on a trip down memory lane with his very own memory book.
Tips and Tricks
Reach out to family and friends for photos of dad back in the day.
Try and get shots of him at the same age as the kids.
Put the book in chronological order from his childhood to present.
Memories on Canvas
Have you and Dad ever shared such a special moment that it felt like it belonged in a painting? You can have the next best thing by turning a favorite photograph into a work of art with our custom canvas prints. Whether it's a favorite vacation spot or the first baseball game he brought you to, bring these memories to life!
Tips and Tricks
Upload your picture into Picaboo. Then we'll create a beautiful canvas for you!
Enhance your print by adding special quotes, song lyrics or words with your photos.
Make sure to put the text somewhere that doesn't disrupt the photo.