***
This post is part of our Two Weeks of Love Contest. From now until Valentine's Day, we'll share a book each day submitted by our customers. The author of each book will win a prize and be entered to win a cruise from CruiseDeals.com. If you have any questions about this contest, please read the FAQs here.
***
Congrats to Leslie, our Day 2 Winner in The Two Weeks of Love Contest. Thank you for sharing your vacation book! Since you are the DAY TWO winner, you will receive a $30 Picaboo Gift Card! (Check your inbox, Leslie!)
***
Why do we love this book?
From the beginning, Leslie's book invites you in. The cover entices and the first page seal the deal. And when the trip is over on page 142, you don't want this book to end. Every single page is designed with careful thought.
Here's page two. Isn't this beautiful?
This is a recap Leslie put together of her trip. Isn't this a lovely way to remember every moment?
We also love how Leslie combines past and current moments of history in her book. Here's a great spread devoted to Federal Hall. Then, a few pages later, we're witnessing Occupy New York.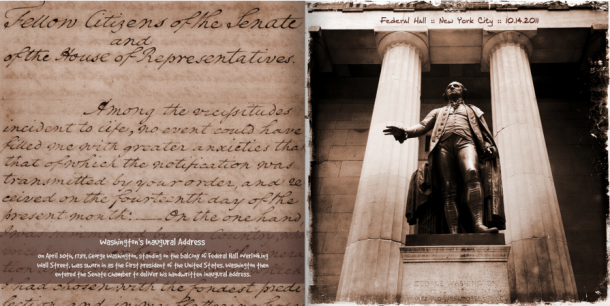 The juxtaposition of past and future makes this book timeless.
How was this book designed?
There are a couple of things Leslie does that makes this book really unique. We love her use of typography. She knows how to include a lot of copy on a page and make it engaging and readable. This is not an easy task!
Look at this typographic spread. What a great way to share fun facts about the Statue of Liberty.
Consistency is an important design element and throughout Leslie's book, she uses backgrounds to house her captions. Sometimes the backgrounds are translucent and sometimes they're light gray. Leslie flips back and forth between both colors to ensure our main focus is on her photographs. This design elements ties diverse experiences together and glides your eye from page to page.
And look how she turned pictures of subway designs and maps into textured backgrounds. This is a great way to set a tone and an environment.
What makes this book so special?
Leslie uses open space to create emotion. Take a look at this spread that showcases the glamour and mystique of New York.
This page begins a beautiful and emotional montage that recounts a touching visit to Ground Zero.
The memorial continues with more open space and amazing photographs.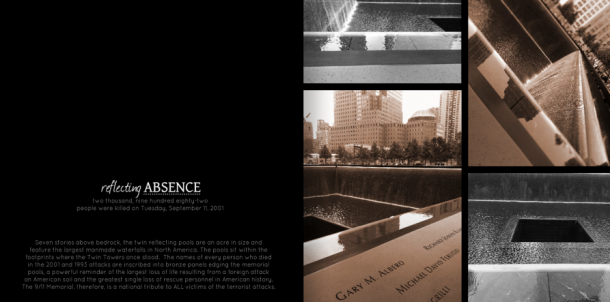 We love how she layered images on this page to highlight the victims of 9/11.
Here's what Leslie had to say about her book:
I created this book for me and my family (my husband and two daughters) about one of our loves: NEW YORK. My family and I have traveled the entire US and New York remains one of our favorite places. From the most recent trip, our hearts were touched immensely by the 9/11 Memorial. Both our 10-year-old and our 13-year-old remarked that it was the most valuable thing we had experienced in New York City. I think the judges will find my 9/11 Memorial pages (photos and words–pages 68 through 95) most interesting! I cry every time I look and read through those pages.
***
Looking for more inspiring Picaboo Stories? Here are 14 amazing Picaboo Photo Books. These books are about kids, moms, baseball, adoption, weddings and so much more. Take a peek. We know you'll be inspired.