With all of the events that occur in our lives, it's important to have a way to keep up with the memories. And I think we can all agree that creating a photo book is a fun and creative way to let the memories live on. At Picaboo, we offer a wide variety of book styles to choose from. Along with our timeless Classic line, which includes the Classic, the Classic Custom and the Classic Leather, we also feature a prestigious line of books that you can't find anywhere else. We did this because some occasions and gifts are worthy of something a little special.  Here is a description of our Prestigious book styles that may inspire you to try one of these beauties….they all feel so good in your hands!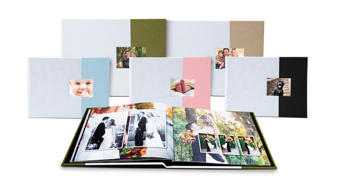 The Cape Cod reminds me of a laid-back New England summer. Sitting on the dock at Hyannis Port, you know… hanging with the Kennedy's–that's the inspiration behind this playful book style. The fun two-toned cover comes in black, green, tan, pink and blue. And by the way, that's baby-blue and pale pink, perfect colors for a  baby book. This book is also great for capturing vacations, family reunions and collegiate events. Made with lay-flat pages and a handcrafted linen cover, this book will definitely stick out on your shelf. (In a good way.)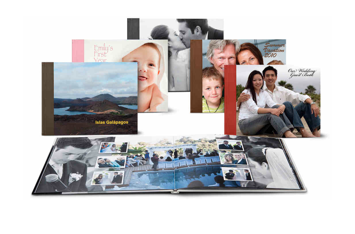 The Madison makes me want to get married all over again (to the same guy)! With a custom laminated cover and a hand-wrapped genuine glove leather binding, this book can easily make you say AHHH or OHHHH. And the lay-flat pages are perfect for showing off panoramic spreads. Like your recent cruise to Alaska or that Key West sunset. Available in black, brown, coffee, red and pink, it's easy to find one that's perfect for any book topic. The leather, by the way, is single cowhide and not scraps put together, creating a perfectly polished and elegant presentation.  The Madison is one of our most popular books.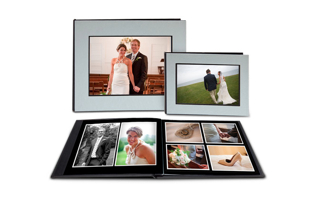 The Modern is a favorite of professional photographers, newlyweds and a common choice for those making a family heritage book. The style features a handcrafted cover with a matte silver frame around an inset cover photo. Made with lay-flat pages, each spread lies flat, creating the ultimate coffee table effect. Something about this book is different. It's thicker landscape format makes it feel extra special, and the bordered photo on the cover resembled a picture in a frame.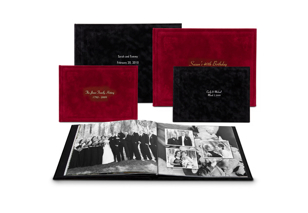 Like Frank Sinatra? This book reminds me of him. With a handcrafted velvet cover available in both black and burgundy, this book takes me back to a more glamorous time. Each cover has a decorative border that is hand-stamped and your book title is debossed in black, gold or silver.  Made with lay-flat pages, this book style is perfect for capturing weddings, milestone birthdays or as a special gift on Mother's Day. But once you see this book, you won't want to wrap it up and send it off. Trust me, I've made that hard choice.  When this book is in your hands, you don't want to let go.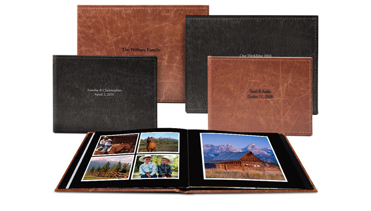 If Ernest Hemingway were alive, he'd choose the Ranch. It's the most rugged of our photo books and it's perfect for capturing those awesome outdoor shots you took this summer. It also makes a gift for Dad who wants to carry around, or show off, a manly photo book. Made with handcrafted full-grain genuine leather (black or brown) and stamped with your own inscription, this book is rough, tough and perfect for enjoying special memories.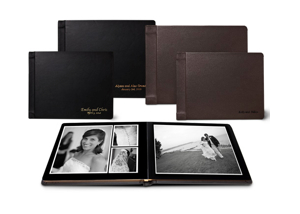 Can we take a moment of silence please? Because this book deserves it. The Flush Mount is the ultimate in photo books. In fact it's so special, it comes in a presentation box because we know this book is gonna be passed down from generation to generation. So you're probably wondering, what makes this book so special??? For starters, the cover is made completely by hand. The full-grain genuine leather is hand wrapped over thick Masonite board, hand-pleated at the rounded corners and finished up with two lines of custom stamping on the front. And by the way, full-grain leather is the real deal. It's not scraps of leather bonded together. Single hides without blemishes are hard to find. And that's one of the many reasons why this book is so unique. It really is the ultimate wedding album. But it's also perfect for retirement gifts, bar/bat mitzvah albums and as a gift for a first-time mom. With a variety of leather colors to choose from, you can make a traditional black Flush Mount, or spice it up with red or white.  Pages of these books are printed on the highest quality silver halide photo paper and adhered to solid board. Trust me…this is the real deal.
Now is the perfect time to choose one of our prestigious books as we're offering them for 25% off until 11/14/11 at 11:59 PM (Pacific Time). Read the details.