Here is an overview of the changes we released this week
Picaboo.com, Redesigned with you in mind
Come check out our Brand New Look and tell us what you think on our Facebook page.
Psst… There's some not-to-miss New Features, too. Come see!
Also you can now log in to your Picaboo account and access your cart, your order history and your account details right from the home page.
Switch to 'Easy Mode' for effortless photo book design.
In the editor, you now have two tabs at the top: 'Creative Mode' (with all the options you are used to) and 'Easy Mode'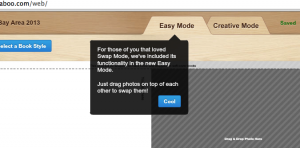 With 'Easy Mode'…
There is no need to remove a photo before replacing it. Simply drag and drop a new one over it.
Only the key editing options are available. But fear not, you can always toggle back to Creative Mode.
The editing panel on the right is collapsed by default. Click on the paintbrush icon to display the options.
*Also available for Cards.
Sticker Happy
For the kid at heart – Sticker some fun into your next photo book project. While in the editor (in Creative Mode), click on the smiley face in the editing panel on the right. Search and select your perfect sticker, then drag and "stick" on the desired page.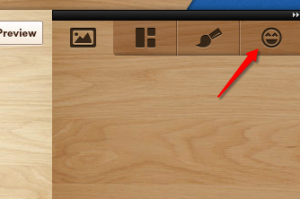 Crowdsourced Card Designs
We turned to the Picaboo community to help build our 2013 collection with our first ever Holiday Card Challenge. We were blown away by your submissions! See our best picks in this holly jolly round up.
Card Back Design
Now there's more space than ever before to express your creativity. Add a personal touch to the back of your cards with this stylish new feature.
You can now log into your Picaboo account to access your cart, order history and account details right from the home page.